The easiest and most direct way to get people to join your Ning Network is to invite them. To invite new members, sign in to your Ning Network and go to the Invite tab to invite your friends. You can invite people to join your Ning Network by manually typing in their email addresses, or you can import your contacts from an address book stored with your email provider or on your computer. You can also share an invitation link in an email or on a website.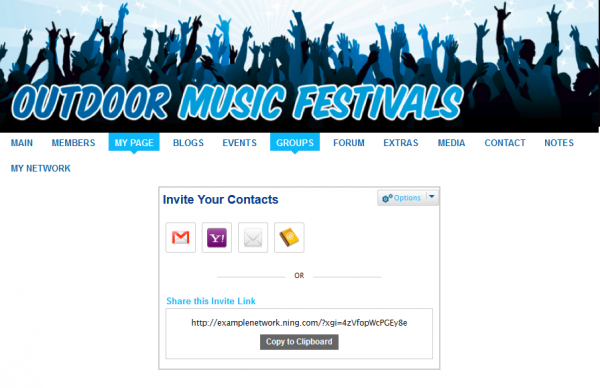 There are six buttons to choose from for how to invite people to your network. Click on a button to open up this invitation option.
Import from Gmail or Yahoo!: Just click on the service, then click on the "Import" button" to type in the address and the password for your email account — you'll immediately be able to invite any of your contacts to your Ning Network.
Enter Email Addresses: If you have a particular set of email addresses that you want to send invitations to, you can click on the white envelope to enter these email addresses manually in this section. Enter multiple email addresses into the "Send To" field.
Import from Address Book Application: If you are the Network Creator, you can also upload a .vcf or .csv contact file from services like Microsoft Outlook or Apple Address book. Just click on the book icon to access this option. You'll be able to invite any contacts that you've stored here to your Ning Network. This is only an option for Network Creators.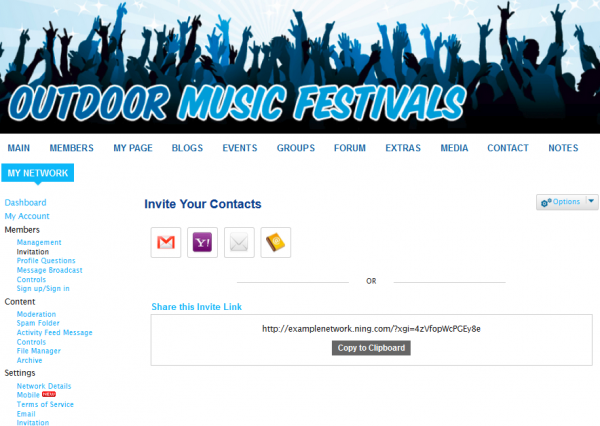 Similar Articles: