As a Network Creator, you have the ability to disable some features for members on your Ning Network. These include sending invitations, sharing content via Facebook, sharing content via Twitter and sharing content via "Share" links. These features are enabled by default.
To disable members' ability to send out invitations to others, head to My Network > Settings > Invitations. Look for the Sharing Permissions section. Uncheck the box to disable invitations and sharing functionality altogether, or check the box and enter a number between 1 and 200 to allow your members a limited number of invitations per day.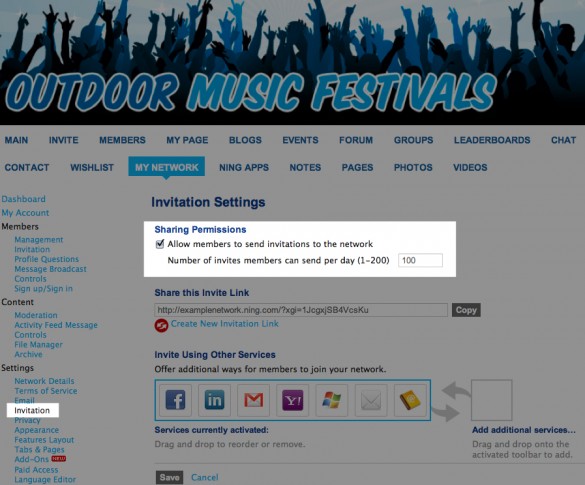 Unchecking the box next to "Allow members to send invitations to the network" will affect members in that they will no longer be able to send out invitations, and the "Invite" links will be removed from your Ning Network. When creating a group or event, members will only be able to invite their friends who are also on the Ning Network.
To disable specific sharing functions, such as the Network Like button, head over to My Network > Settings > Features > Share Links.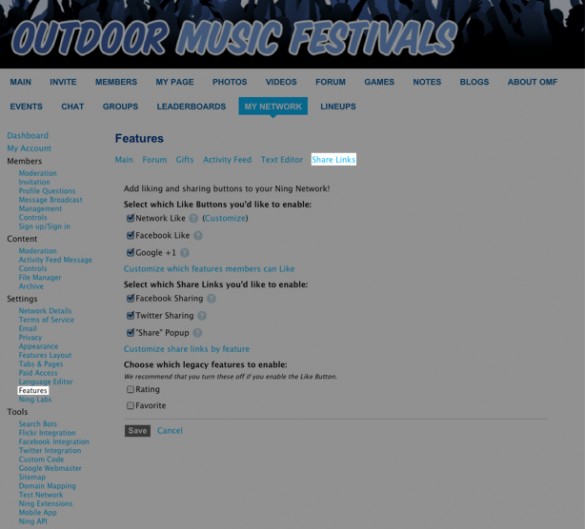 Disabling these features will only affect members. As a Network Creator or an administrator, you will still be able to see and use the features you disable. If you're using custom CSS or Javascript in order to hide these features, we recommend that you remove the code, which will be in the Custom Code section of your My Network tab, or the Advanced section of your Design Studio.
Disabling the features listed below will have the following consequences for members:
Facebook sharing — Removes the Facebook links and Facebook checkbox on profile pages, preventing members from posting directly to Facebook.
Twitter sharing — Removes the Twitter links and Twitter checkbox on profile pages, preventing members from posting directly to Twitter.
Share links — Hides the Share links that appear at the bottom of content pages as well as on profile pages. This will also hide the Share links in media players, which will prevent members from seeing embed codes.
Similar Articles: