With a persistent Chat bar at the bottom of every page of your Ning Network, you can see what's going on at a glance.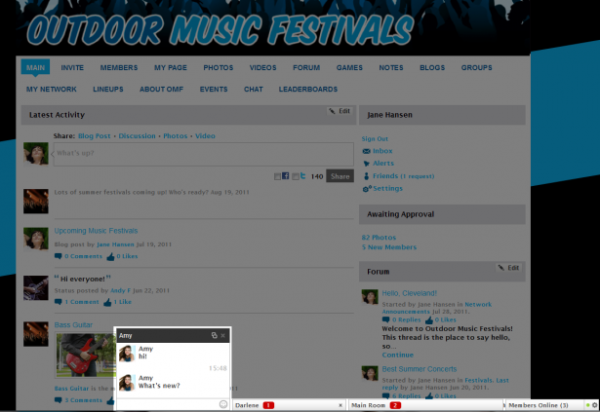 The Chat bar will display the public chat area for your network called the "Main Room" as well as the number of members online. When the Main Room tab is minimized, a red indicator with the number of unread messages appears. Clicking on either tab will expand the windows to let you see messages or message other members privately. You can also stretch the chat windows to make them taller by clicking the center of a chat pane and dragging it upwards. The taller chat windows will even stay the same height when you move between pages on your network.
When you receive a private message, a new tab with that message will pop up. If you minimize it (by clicking within the header that contains the member's name) and receive another message, another red indicator with the number of unread messages is displayed.
The icon furthest to the right toggles your online status — the green circle indicates that you're online, while the red circle indicates that you're disconnected. You can also use this icon to toggle sound on or off.
Similar Articles: