4 Seconds. That's how long you have to wow people on your Ning Network (and any other website), according to multiple studies. Any longer than that, and you've lost your chance to win over a new member. With such a brief window to grab someone's attention, the last thing you want is for your Ning Network to still be loading after 4 seconds. As the gateway to the rest of your Ning Network, your Main Page needs to be particularly trim and speedy. A slow-loading Main Page means that people will abandon your Ning Network without discovering all the great content it has to offer. Based on the early data we've gathered so far, it's clear that if you put too much stuff on your Main Page, you're hurting the growth of your Ning Network. The trend that we've seen looks something like this: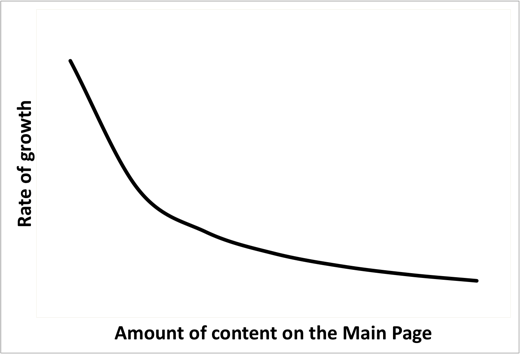 Put simply, it's the 4-Second Rule in effect. The good news is that there's plenty you can do to limit the amount of content on your Main Page and focus on the things that count. We've put together a few basic guidelines that will kick your Ning Network into high gear.
Pick your favorite 3 or 4 embedded widgets and lose the rest.
An embedded widget is any piece of content loaded from somewhere else. These include YouTube videos, flash games, Twitter feeds, advertisements, PollDaddy widgets, and just about anything else you can think of. While embedded widgets can add flavor to your Ning Network, try limiting the number to 3 or 4 on your Main Page if you're looking to attract new members. Here's why:
Your Main Page will only load as fast as your slowest embedded widget. An embed that is slow or unavailable can block or severely delay the rest of your Main Page from loading. And when you're pulling content from another website into your Ning Network, loading these foreign objects can take a lot of time.
Embedded widgets are like small applications. If your embeds are not well-written, they will quickly use up the limited resources in your browser. This noticeably slows things down and can even cause your browser to crash.
Even beautifully written embedded widgets can be heavy. A single flash player (SWF) will slow down your Main Page, even if it is a music player, video player, or photo slideshow built by Ning. Limit the number of SWFs you display on the Main Page.
For every embed on your Main Page, you should ask yourself how much value it adds to the member experience. If it's critical, great. But if it is just nice to have, consider removing it if you're looking to draw in more members. You can always keep a healthy rotation to keep things fresh. Another trick is to take a screenshot of an embedded widget, and hyperlink the screenshot to the widget itself on a separate page. This keeps things visually interesting without dragging down your Main Page. Don't forget — you have 4 seconds to impress your visitors. You're going to do that by having a few great pieces of content, not by overwhelming them.
Choose the right display options for your features.
Limiting the number of embeds will go a long way, but you should also control the display options for your Ning features that appear on the Main Page. While we're doing everything on our end to optimize the performance of your Main Page, the laws of physics dictate that if you go all-out with 20 features, your Ning Network will get slower.
Pick your favorite RSS and display it in Title view. One way to speed things up is to simply have fewer RSS boxes on the Main Page. Another way is to click the "Edit" button on the RSS box and choose Titles Only instead of Detail View in the "Display" drop-down menu. This is a great option when your RSS feed is media-rich and is pulling in photos or videos from an outside website.
Don't go all-out with blog posts. Media-rich blog posts that contain photos, flash players, and custom widgets will hamper performance in the same way that embeds in text boxes do. Try displaying 5 or 10 blog posts, and consider displaying Featured blog posts only. That way, you have tight control over what blog posts will show up on the Main Page. And just like with RSS, you can choose to display Titles Only instead of Detail View to achieve the speediest results.
Think about what you're putting inside your text boxes. Try keeping this number of text boxes on your Main Page down to 2-3. In these text boxes, try putting the most lightweight code to show awesome custom content while keeping your Main Page speedy.
Similar Articles: