Add-Ons are features that you can add to your network which are not already included at your network's plan level. For a monthly fee, you can purchase a particular feature that will help you meet your network's needs.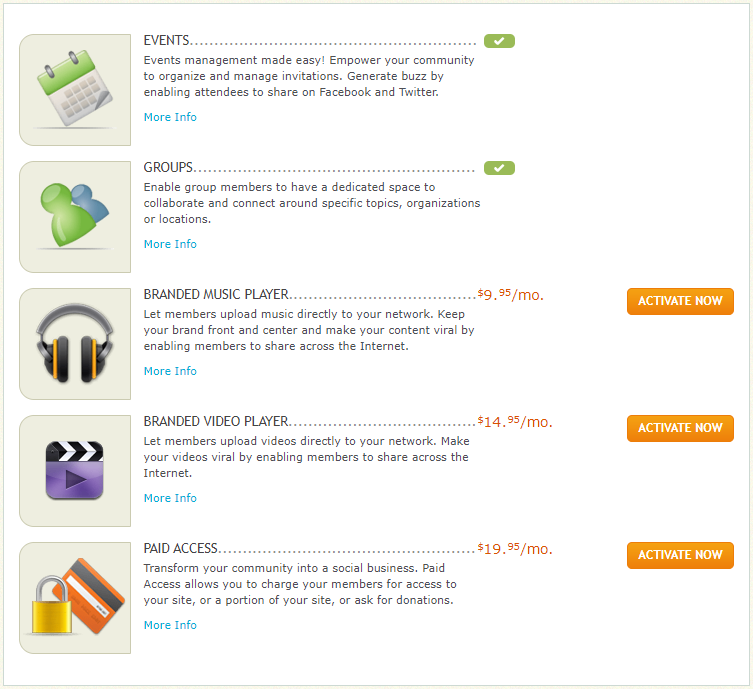 The Add-Ons page can be found by clicking on your My Network tab and clicking on the "Add-Ons" link in the Settings section of your dashboard. You can learn more about an individual feature by clicking on the links below.
There are five Add-On features that you can choose from:
Events
The Events feature is a great way to let members know about upcoming conferences, concerts, or parties related to the theme of your Ning Network.
Groups 
You can use groups on your Ning Network to create communities within the larger community. The Groups feature comes equipped with pages, a discussion forum, RSS feed, text box and comment wall.
Starting from 2017, Events and Groups add-on is free for all subscription plans.
Branded Music Player
The Branded Music Player allows you to upload music and share it across the web. You can also embed it externally into almost any other website out there.
Branded Video Player
The Branded Video Player feature allows you to upload videos and share them across the web. You can also embed it externally into almost any other website out there.
Paid Access
The Paid Access feature allows you to charge members for access to a page, group or your entire network. Please note that this feature is not a plan-specific add-on, but can similarly be purchased and added to any network.
These features are the same as those found on Ning Plus or Ning Pro networks. Features that your network already comes with, depending on the plan level, will appear with a green check box next to them, and cannot be added as a second instance of that feature on your network.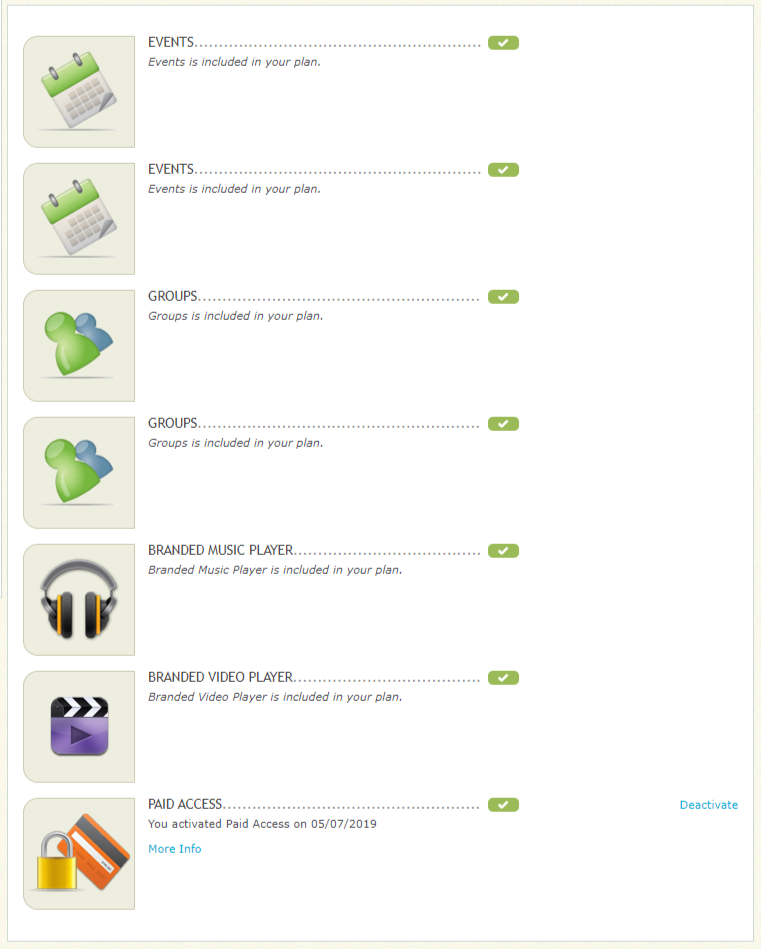 To get started with adding a feature to your network, see: Activate an Add-On Feature on Your Network
To deactivate an Add-On feature you've purchased, see: Deactivate an Add-On Feature on Your Network
Similar Articles: