You can deactivate any add-on feature you have purchased. If you reactivate the add-on feature in the future, any content previously contained in the feature will reappear on the network.
To deactivate your add-on feature, click on the My Network tab to get to the dashboard. From there, click on the "Add-Ons" link under the Settings section. Any add-on feature you have activated will appear at the bottom of the Add-Ons list and will display a "Deactivate" link to the right of it. Click on the link to deactivate the feature.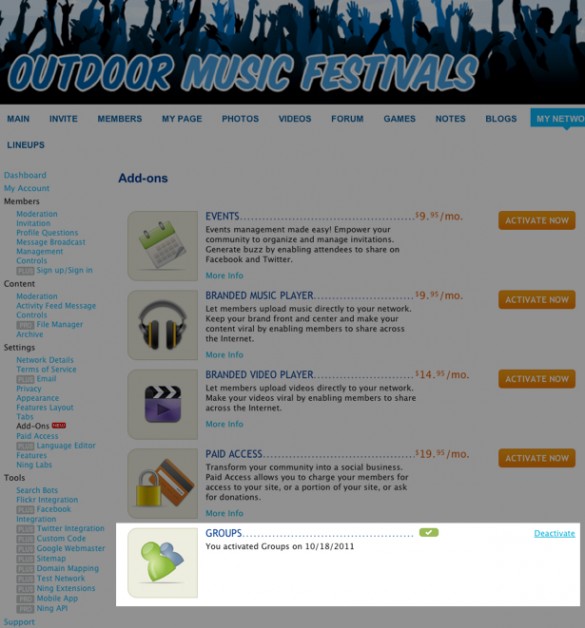 A lightbox will prompt you to confirm this deactivation. Deactivating a feature will cause the add-on subscription to be canceled at the end of the current billing cycle. You and your members will continue to have access to the feature until the subscription term expires.
For networks on an annual plan, the feature will expire on the billing date which your account is billed. This means if you are regularly billed on the 14th of October every year, your add-on subscription will expire on the 14th of the following month.
Click on the "Confirm" button to finalize the process.
Your account won't be billed again for this add-on feature.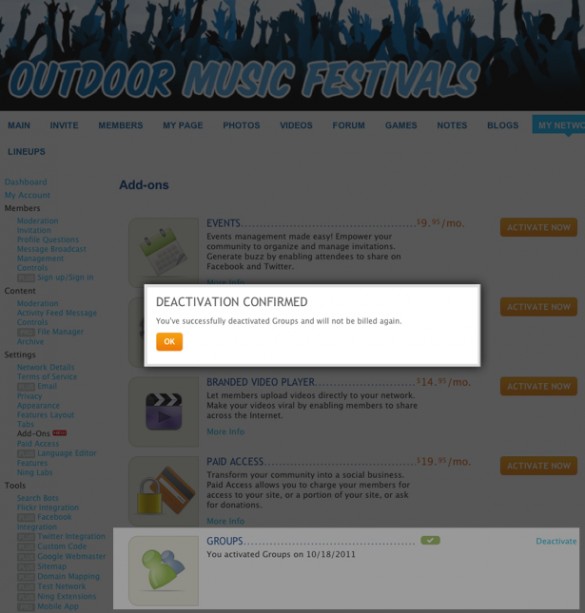 Please note that refunds are not issued for unused portions of an add-on feature that you deactivate.
Any content that exists within the add-on feature, such as an event created in the Events feature, will be hidden and inaccessible from members once the monthly subscription period for the add-on feature expires. Until the end of the term, the feature will remain accessible.
To limit access to the feature before the term expires, you can manually remove it from the network by going to your Features Layout page and dragging and dropping the feature into the "Drag here to remove" section, and saving your changes.
Similar Articles: