Comments are a quick and easy way to interact with other members on your Ning Network. Comments are short notes (including text, hyperlinks, embeds and images) that you can leave on profile pages, photos, videos, forum discussions or blog posts on a network. In some locations, you can even attach a file to your comment.
To add a comment, enter your text into the Comment box field and click on the "Add Comment" button to post your comment. You can delete a comment you've posted by clicking on the "x" to the right of your comment. You can also edit your comment for up to 15 minutes after you've posted it, so if you think of something to add, go for it!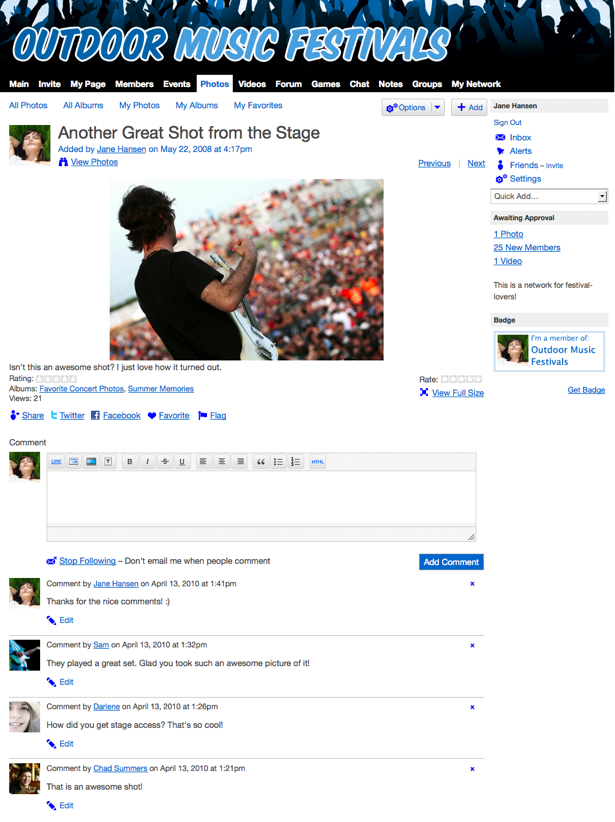 Comments can be moderated. If you see a message showing that your comment is pending approval, the poster of that content item or the member whose wall you're posting on will need to check and approve your comment before it appears on their page.
For forum discussions, blog posts, videos and photos, your comment or reply can be up to 40000 characters (this includes HTML characters and formatting). For profile pages, your comment can be up to 2000 characters. If your message is within these limits but you're being told otherwise, it might be due to hidden formatting elements. Click on the paper icon to paste your comment in as plain text. This will remove all formatting from your comment that you may or may not be aware is present.
If you want to keep up with all of the comments on one item, click on the "Follow" link that appears beneath the Comment box. You will be sent email  notifications whenever anyone adds a comment to this item. To stop following, go back to the item and click on the "Stop Following" link that then appears beneath the Comment box.
Check out the related articles for more information about commenting on your Ning Network.
Similar Articles: