You can choose to approve discussions before they are posted on your Ning Network.  Head to the My Network tab and click the "Controls" link in the Content area. Check the "Approve forum discussions before they appear" box, then click "Save" at the bottom of that page.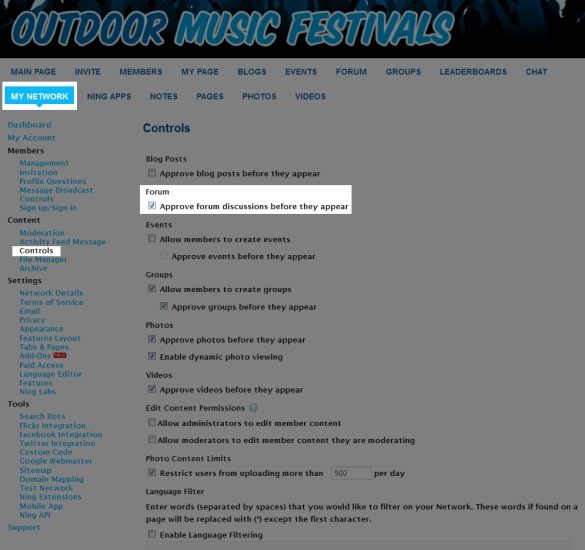 The next time members add a discussion to the Forum feature or to a public group, you and your administrators will receive an email notification letting you know you have content awaiting approval.  You'll also see a link in the "Awaiting approval" box in the right column when you sign in.  Click this link and you'll be taken to a page where you can review the discussions before approving or deleting them. You'll be able to see which category or group the discussions was posted to, approve or delete an entire page of discussions, or approve or delete a set of discussions added by a particular member.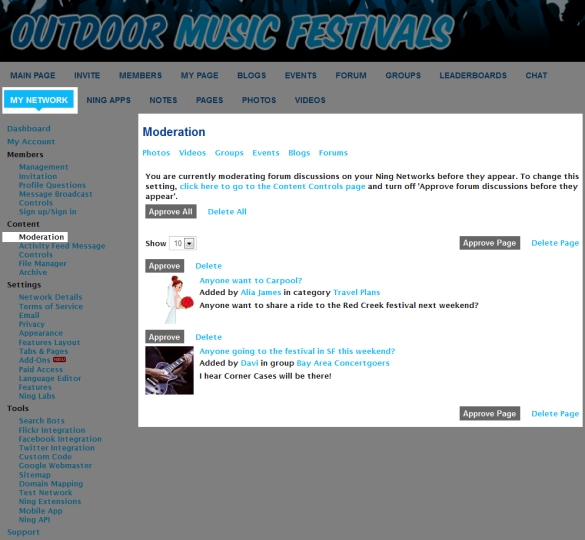 As mentioned above, Forum moderation applies to both discussions added to the standard Forum feature and to public groups, while private group discussions are unaffected. Forum moderation only applies to new discussions, not replies and can be approved by Network Creators, Administrators, and Forum Moderators (but not Group moderators).
It's important to consider the trade-offs before enabling Forum moderation. For networks with extra strict privacy concerns, or those affected by spam, it's a fantastic tool. However, it can also dissuade some members who might think waiting for approval is too much trouble or that it feels too much like pre-emptive censorship.
Similar Articles: