Your Ning Network's Dashboard provides at-a-glance statistics about your Ning Network. It highlights recent announcements, showcases top content and is your gateway to customizing all of your Ning Network's features. As a Network Creator, you'll be directed to your Dashboard automatically when you sign in to your Ning Network. You can also access it by clicking the "My Network" tab.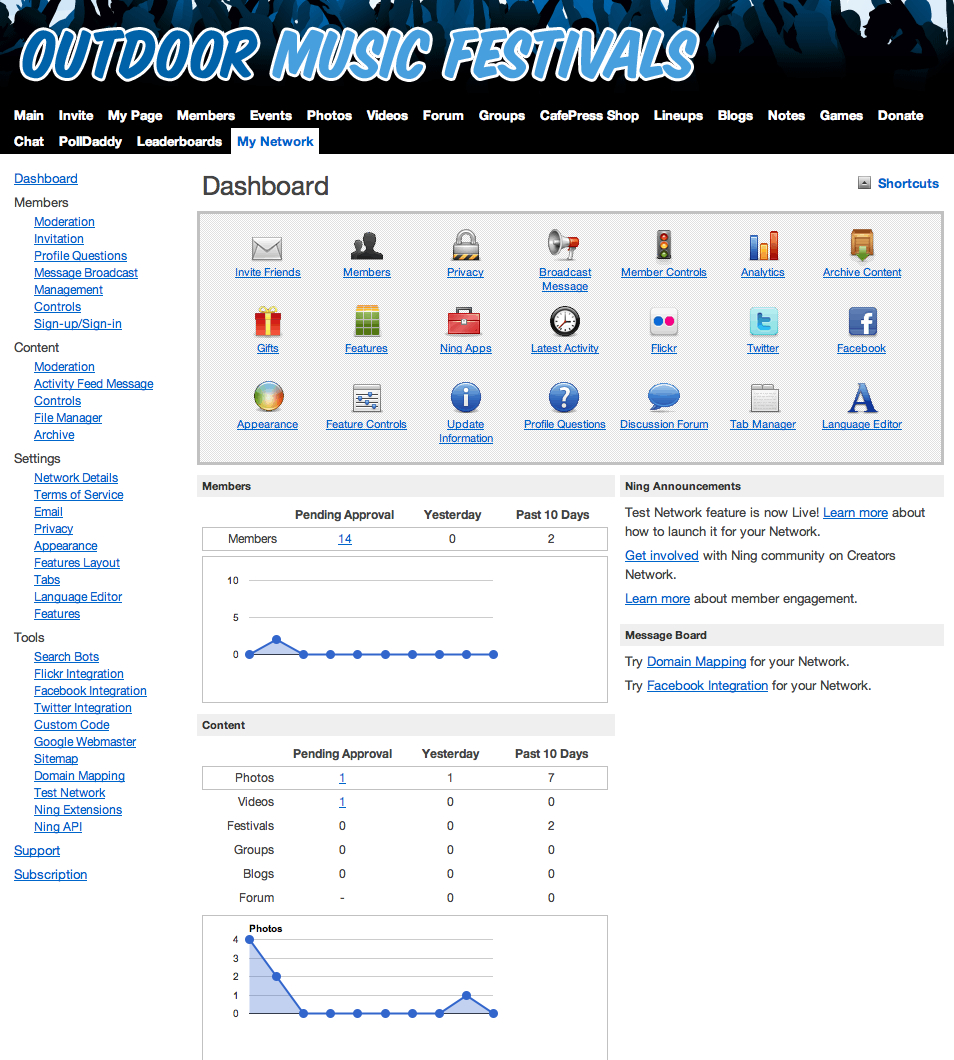 The center area of your dashboard is a dynamic snapshot of your Ning Network. The "Shortcuts" triangle will reveal commonly-used icons, such as links to your Members area, Profile Questions, and Feature Controls.
Members
The Members section gives you a snapshot of information about members who have recently joined your Ning Network. It includes a table which shows members awaiting approval and members who have joined in the past 10 days.  Clicking the number under the "Pending Approval" column will take you to the Member Moderation page.
Content
The Content section of your Dashboard shows content pending approval and content added in the last 10 days. All of this is broken down by content type — there's a unique row for Photos, Videos, Blogs, Events, Forum discussions, and Groups. Click on the number in the "Pending Approval" column to moderate content in each feature, which will take you to the Content Moderation page for that content type. Underneath the Content Section table, a chart shows day-by-day contributions from your members. Hover over a particular content row in the table, and you'll see the relevant information in the chart below.
Control Panels to Customize Your Ning Network
On the left side of your Dashboard, you'll find control panels that allow you to make customizations to your Ning Network. These are divided into the following areas:
Members — Moderate new members, export member data, and set controls over what members can do on your network.
Content — Moderate content, set limits and control the types of content members can add.
Settings — Customize your network's appearance, tabs, and feature set.
Tools — Control the technical aspects of your network such as domain mapping, Facebook and Twitter integration, and add custom code.
Support — Allows you to contact Ning's Advocacy and Support Team directly (Ning Plus and Ning Pro only).
Subscription — Change your network's subscription plan.
Ning Announcements & Message Board
Under Ning Announcements, you'll find messages from Ning Team about upcoming features, company updates, and other communications. The Message Board section shows communication specific to your Ning Network. It will recommend features you haven't added yet but that are available on your plan and may be helpful, such as Domain Mapping for Ning Plus and Ning Pro networks.
Leaderboards
This area of the Dashboard displays top content on your Ning Network. Hover any piece of content, and you'll see a tooltip that lets you feature, comment, or share it. Learn more about Leaderboards.
Similar Articles: