To leave a Ning Network you are a member of, just go to the "Settings" link found in the member module that appears on each page of the network. This will bring you to your Profile Settings page. Click on the "Leave this network" link at the bottom of the page. In the message box that pops up, check the box next to "Delete my content" if you would like to remove content* posted by you on this network.  If you would like to leave the content on there, uncheck the box. Network Creators and Administrators also have the ability to delete your content. You can also include a message for the Administrators of this network as to why you are leaving.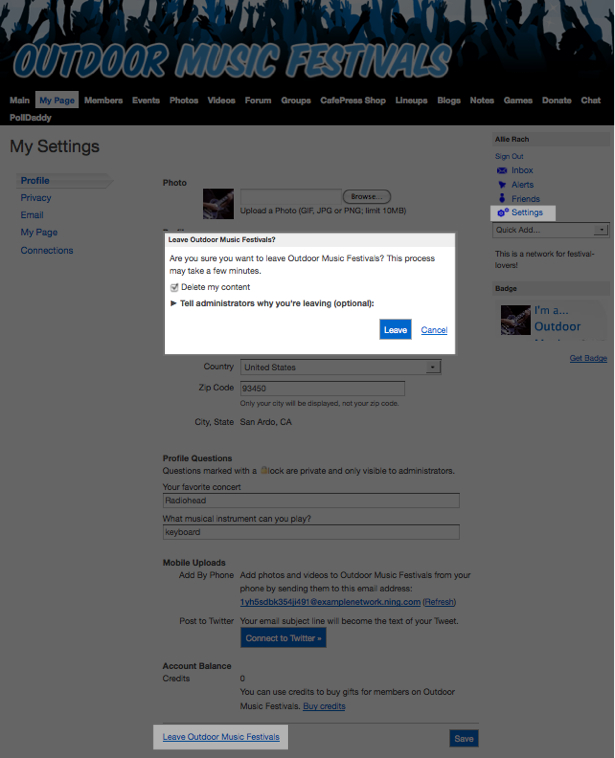 Click the "Leave" button when you are ready, and you will no longer be a member of this network. If you are the Network Creator, you will not see any "Leave this network" option. If you wish to transfer over a network to a different person or account, please see Transfer Ownership of a Ning Network.
If you wish to be a member again at a later point, just sign up as you did the first time. Depending on the Privacy settings of the network, you may have to wait for your membership to be approved, or you may need to be re-invited to join the network. The Network Creator or another member should be able to assist you with that.
Should you decide to leave a Ning Network and need to report a situation that you believe we should be aware of, please contact us at abuse (at) Ning.com.
As a Ning Pro or Plus Network Creator, you can edit the text that displays in the box that pops up when a member clicks on the "Leave this network" link. To make that change, just go to the Language Editor in your dashboard and search for a word or phrase currently in the pop up window text (such as "Are you sure you want to leave" in the example above). For more information on what you can do with the Language Editor, see Introduction to the Language Editor.
*Please note that certain categories of content you've posted, such as groups you've created or discussions you've started, will not be automatically deleted during this process. That's because other members may still be using those groups and discussions. If you wish to request deletion of this remaining content (groups & discussions), please contact the Network Creator.
Similar Articles: