As a Network Creator, you can create a Facebook App that allows members to post to Facebook directly. Setting up a Facebook App is a great way for members to introduce their Facebook friends to your Ning Network! This sharing app will also provide a way for members to invite their Facebook friends to join the network, should the Network Creator choose to enable this function.
Please note that these instructions are for sharing and inviting functionality.
Facebook Social Sign In requires a separate app explained in
this article
.
Creating your Facebook Sharing App
To get started with creating your Facebook Sharing app, navigate to the dashboard from your My Network or Manage tab. Click the "Facebook Integration" link under the Tools heading (or click the Facebook icon if you are showing icon shortcuts).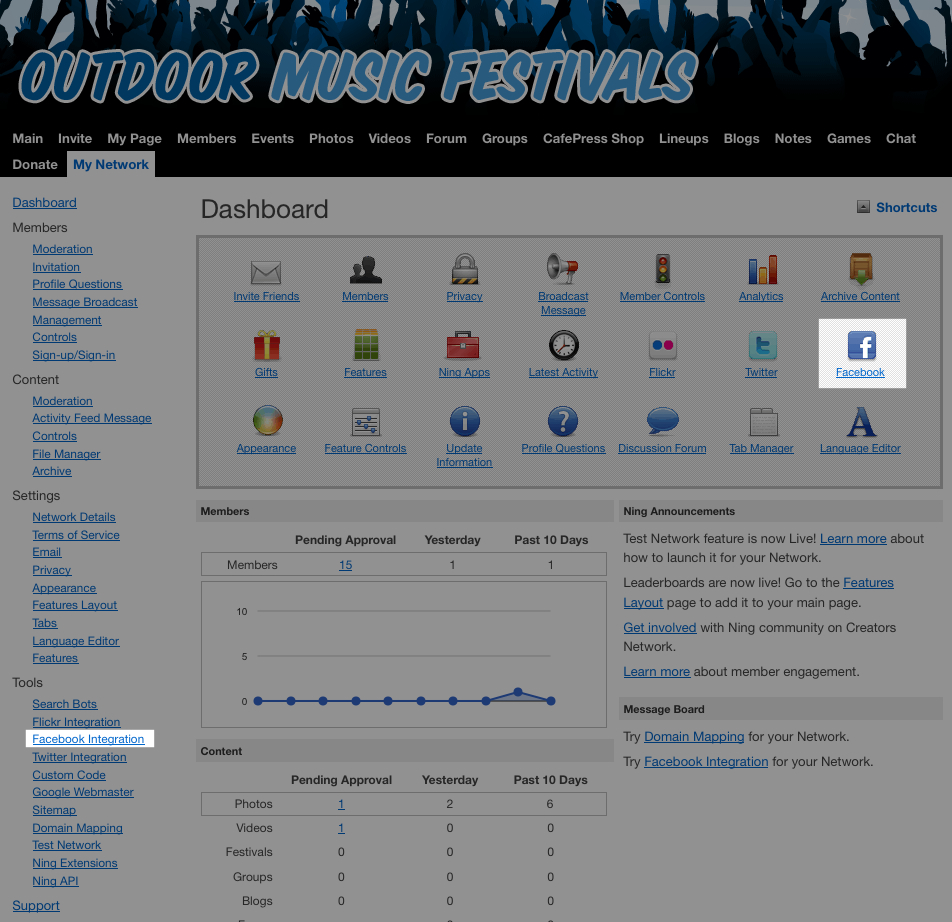 This will take you to your Facebook Integration page.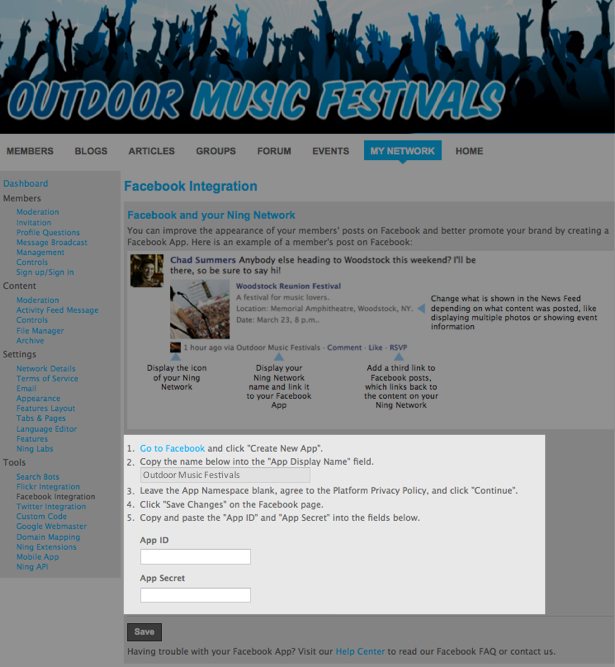 Click on the "Go to Facebook" link to open up a new tab where you will be directed to the Facebook Apps page to create a new Facebook App. If you aren't immediately directed to this screen, paste this URL into the address bar: https://developers.facebook.com/apps.
Click on the "Create New App" button.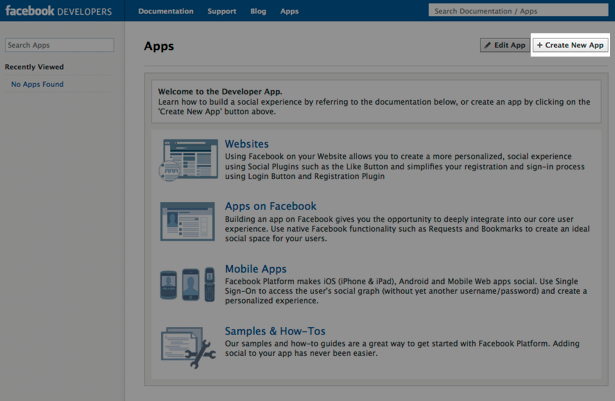 Copy the name you see in Step 2 of your network's Facebook Integration page. Paste this name into your new Facebook App's "App Name" field. Leave the other fields blank and click "Continue."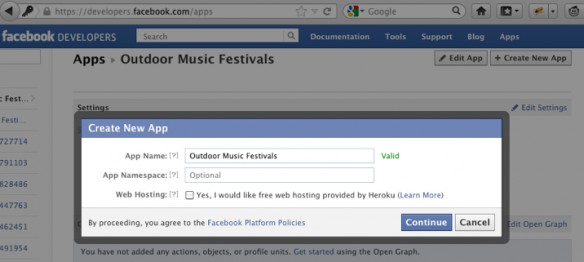 You'll be prompted to fill out the Security Check Captcha in the next pop-up window. Enter the characters you see in the space provided, then click "Submit". If you can't read this information, you can click on a link in the pop-up window to refresh the Captcha or to hear an audio version.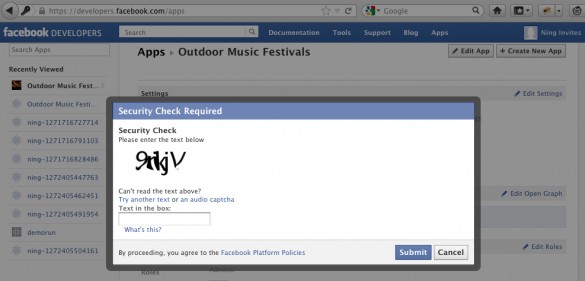 After filling out the Captcha and clicking "Submit," you'll be taken to your Facebook App's Basic Settings page.
Once on your Basic Settings page, select the radio button next to "Disabled" for the new Sandbox Mode field.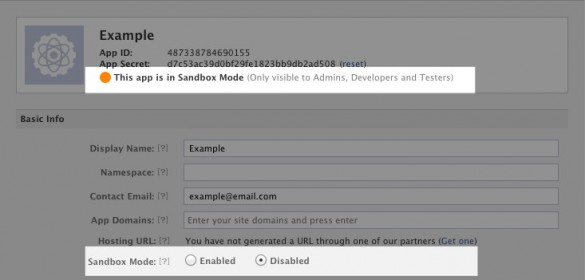 For Networks Using their Ning.com Domain:
Your Facebook Sharing app as it's now set up on Facebook is good to go! Just save your changes and skip the step for domain-mapped networks. Your next step will be to paste the App ID and App Secret into your network's Facebook Integration page in the two provided slots.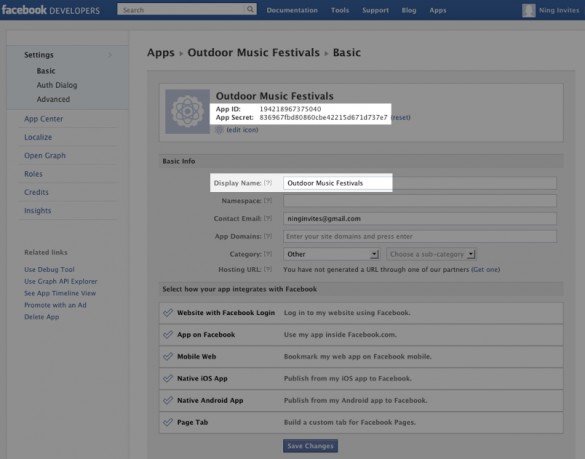 For Networks Using a Custom Domain:
Domain-mapped networks need additional information added to the Facebook Sharing application, in order to identify it with the network. This additional information is necessary for your Facebook Invitation feature. Before you save your Facebook Sharing app, you'll want to do these two additional steps:
Add your network's custom domain in the "App Domain" field in this manner: examplenetwork.com
Click on "Website with Facebook Login" and enter your network's custom URL as it appears in your web browser's address bar: http://examplenetwork.com
You can see how this looks here: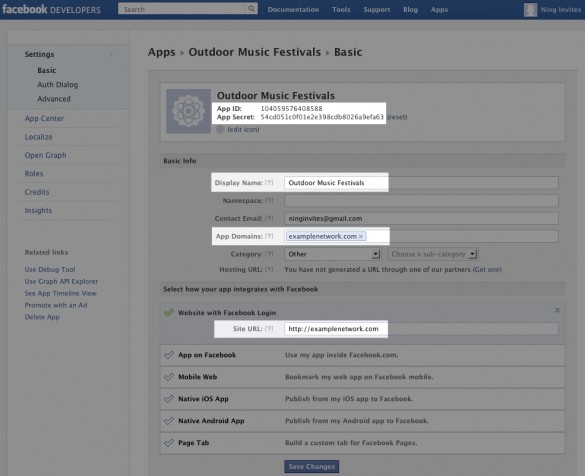 Once that's done, save your changes. Changes may take several minutes before taking effect.
Adding the App ID and App Secret to your Facebook Integration Page
Once you have created your Facebook Sharing app on Facebook and saved it, copy the App ID and App Secret you see on the page. You'll be pasting these two strings into your network's Facebook Integration page. After you paste them in, save your changes on the Facebook Integration page.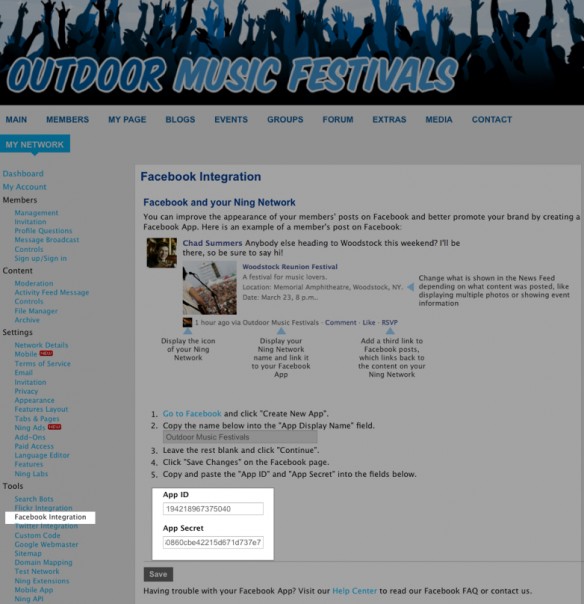 Now you can share your content, invite your Facebook friends, post directly to Facebook and make your network fully social. You're all set!
Need to edit things? 
Your Facebook Integration page will now show a management page.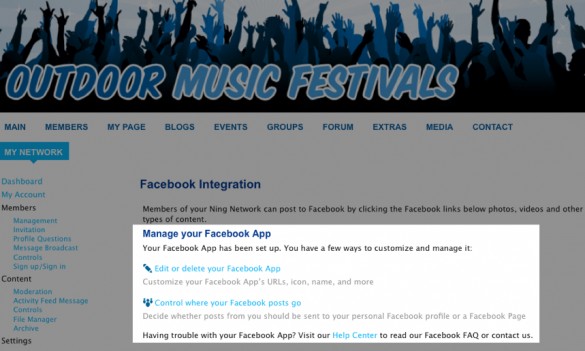 From here, you can do the following things to your Facebook Sharing app:
Edit or delete your Facebook App – This link will take you to Facebook where you can customize your app or delete it.  You can find more information about how to edit your Facebook App here.
Control where your Facebook posts go – As the Network Creator, you can decide whether your posts should display on your personal Facebook profile or your Facebook Page. Clicking this link will direct you to your personal Connections page. Check out this tutorial on how to set this up.
If you are the Network Creator and already have a Facebook Page, you additionally have the option to post to your Facebook Page instead of your personal Facebook profile. Please note that if you are not the Network Creator, you can connect your account to your Facebook profile, but not to a Facebook Page. Once you connect to your Facebook Page, all of your posts to Facebook will be posted to the Facebook Page and not your personal Facebook profile.
Your Facebook App can also serve as a Facebook Page. People who see posts from your Facebook App in their News Feed will be able to become fans of your Facebook App. To learn more about posting to your Facebook page, see: Send Posts Directly to Your Facebook Page

Similar Articles: