Watermarking Your Videos & Photos
Your Ning Network
I don't want to say that I have a "favorite" feature of your own social network on Ning. That would be like saying you have a favorite child.
But one of my favorite features of your own social network on Ning is the ability to customize your flash video player and flash photo slideshows on your social network on Ning.
You can watermark them so they look like this video from the Offshore for San Francisco Surf & Happenings:
Or this video from American Idol Fan Central:
I'd also note for you newbies that – in addition to these videos being branded for their particular network – they are both play-able directly from this blog. The watermarks link back to Offshore and Fan Central, respectively. Try it out.
How do you do this for your social network on Ning? It's easy.
Customizing Your Video Player
When you are the Network Creator, you'll see a box on your Videos main page to customize your video player:

When you click on that link, you'll see these options: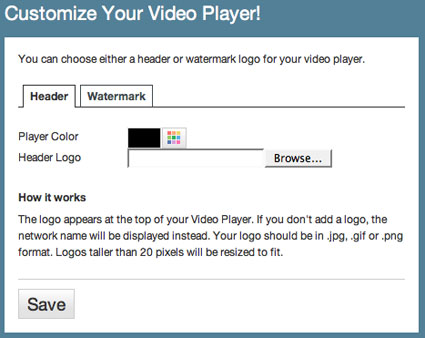 You can add your logo to the header of your video player or as a watermark. I recommend going with the watermark because it is cool, but as I mentioned, I love this feature.
Customizing Your Photo Slideshows
Now that you're addicted to watermarking your videos, you're going to want more. You can feed this need for watermarking by adding your own logo to your photo slideshows. Here's the photo slideshow from Offshore again:
You'll see the same link to customize your photo slideshows on the Photos main page. Click on that link and you'll see these two options:
Work your magic by deciding on the slideshow's color and adding your own logo. That's all you need to do.
Summary: I Love this Feature
Customizing your video player and photo slideshows really takes your social network to the next level. I highly recommend this for any Network Creator. It is guaranteed to make you smile.