When you believe in your cause, there's nothing to hinder your success: a story of a network that made it right
Community
Monetization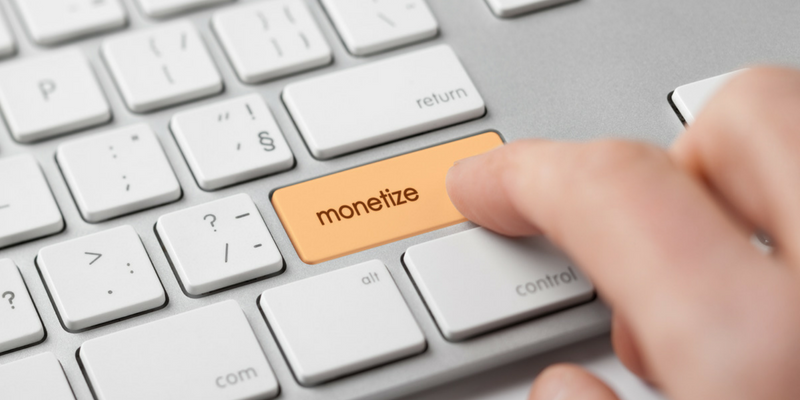 In the light of Ning's e-commerce platform release, we decided to share an inspiring story of success. We hope that it could motivate our network creators to aspire for greater achievements with their community building efforts. If you have been nurturing an idea of monetizing your network but still have doubts whether it is worth a try, then this story is for you!
Ning has seen a plenty of networks centered around many different topics. All of them are unique and have remarkable stories behind them. However, there's one that surprised us from the very start. The network that managed to take the best of Ning and turn it into a well functioning mechanism. The network that allows its creator to manage a huge community of devoted members, attract more followers every day, and effectively generate income at the same time. Isn't that a dream of any network creator?
Who's in the spotlight today?
Her name is Heidi St.John. She's not only a professional mom who has raised seven beautiful children. She is also a successful writer, blogger, life coach, author of popular podcast series. And, most importantly, creator of an outstanding online network with a resolute name – MomStrong International.
The MomStrong network was started as an attempt to unite mothers who wish to raise their children with a Biblical worldview. Heidi's initial idea was to help women around the globe find answers to the most disturbing questions they are facing in the world full of misunderstanding, confusion, cruelty, and indifference. By sharing her own experience as a mother and attempting to aid younger moms in seeking truth through their belief, Heidi is seeking to make it easier for women to handle their daily duties. And eventually bring up a healthy generation with strong moral values.
As it turned out, there are thousands of mothers out there seeking guidance. Now Heidi is trying to help as many of them as possible – and to do it more efficiently, she chose Ning!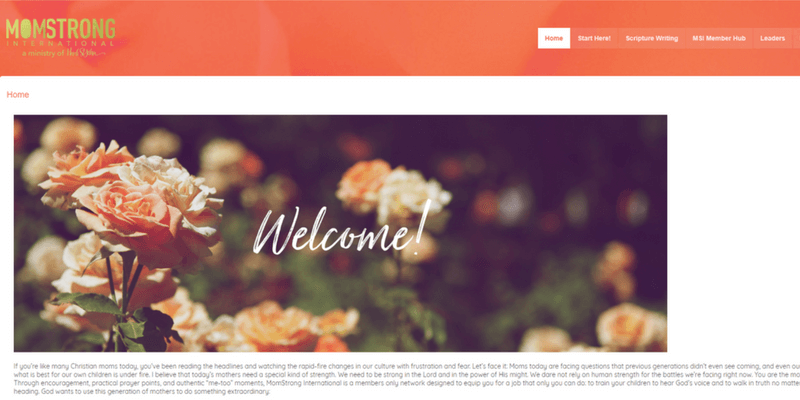 How it all came together
Heidi has been writing and coaching for over 10 years prior to creating her online community on Ning. She has published several books and released podcasts that had massive success (35k downloads per episode!). Heidi has been building her audience for quite a long time. So making a social network that could gather all her followers under one roof was a no – brainer.
Heidi's husband is a programmer and web developer. However, due to the tight schedule, he couldn't afford to spend too much time to create a network from scratch. That's why he had to figure out another solution for his wife. He browsed several popular community building platforms available on the market and eventually arrived at the decision that Ning had the most robust offering to fit Heidi's needs perfectly. That's how MomStrong met Ning!
What made Ning a perfect bet for MomStrong
From the very outset, Heidi had a very clear idea of what her social network should look like and what functions it has to perform. With her requirements as a reference point, Heidi's husband was looking for a community builder with features including Forums, Paywalls, and simple interface.
Forums enabled Heidi to promote discussions and encourage communication within her community. Thanks to this feature, she can always keep in touch with her network members, answer their questions as soon as possible, offer advice, and broach issues that are relevant to her audience. Besides, Heidi came up with a smart idea to use closed groups on the forum to implement paid video content. This is one of the ways how she monetized her network by offering paid access to her premium content.
The possibility to set up paywalls enabled Heidi to introduce a paid membership on her network. Paid members get access to all content on the website and can use the whole range of its special features. For example, they get an opportunity to chat with Heidi in person and participate in cooperative challenges. Like the one called a Scripture Writing Challenge which became increasingly popular among the network members. In this way, Heidi can offer the best of her knowledge and expertise to those who don't mind to contribute a modest amount to support her cause.
And, the last but not least, Ning's simple interface allowed Heidi to design and launch her own online community with her small staff, facing no need to hire a specialist. And we have to admit, MomStrong International does look great, having a feminine and welcoming feel to it! Heidi chose the same color scheme and overall design as employed for her newest book. That really helped the website to maintain the image associated with Heidi and what she does.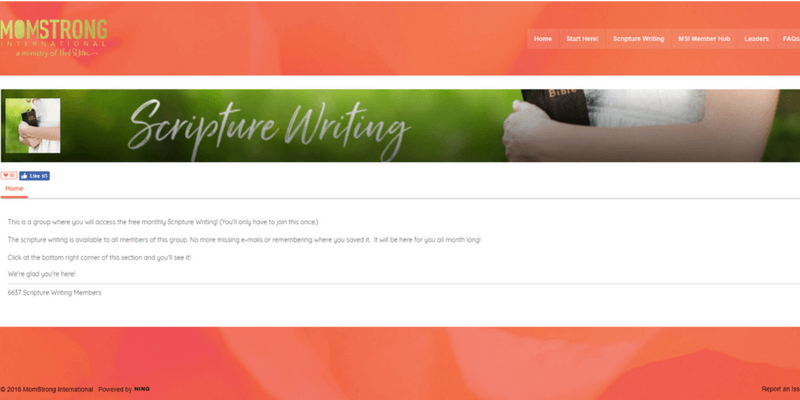 Plans for the future
In the future, Heidi is planning to grow her network, engage more people, and go on with her monetization efforts. She is highly interested in introducing Ning's Member Ranking System to let users acquire different statuses and achievements for the points they earn participating in various activities, like the Scripture Writing Challenge.
Additionally, Heidi is going to explore the newest feature from Ning – the Donations. She believes it can enhance the profitability of her network and help it grow faster.
There's still much work ahead to make MomStrong International even better, but Heidi is as optimistic as ever. She's ready to take up any challenge, looking forward excitedly to what future holds for her and her network.
Amazing how ingeniously network creators use the potential of the Ning platform to achieve their goals. Heidi's example is remarkable, no doubt. But there are more networks out there that made it right and are now very successful. If you have an interesting idea you're passionate about and use all of the possibilities at hand, there's nothing to prevent you from building an online community. And make it as successful as MomStrong International.
Also, if you're a mom and interested in joining the women at MomStrong International, it's open for anyone, so head on over and check it out!