Adding a page to your network can help you showcase more custom content on your network. You may use it as an introduction, tutorial, music fan page or whatever best suits your Ning Network's needs. You can add content like widgets, photos and videos. You can also allow members to comment on your new pages.
To create a page, go to your Tabs & Pages manager from the Dashboard and click on the "Add New Page" link. In the "Tab Information" section, name your page's navigation tab and select the radio button next to "Create a New Page". Set the tab as a top-level or sub-tab, then determine whether the tab will be visible to "Everyone", "Administrators" or "Members". If you have set your network to "Private", you will only see the "Administrators" or "Members" options.
(You can also visit /page/page/list to see all of your current pages and create a new one without a tab by clicking on the "Add" button there.)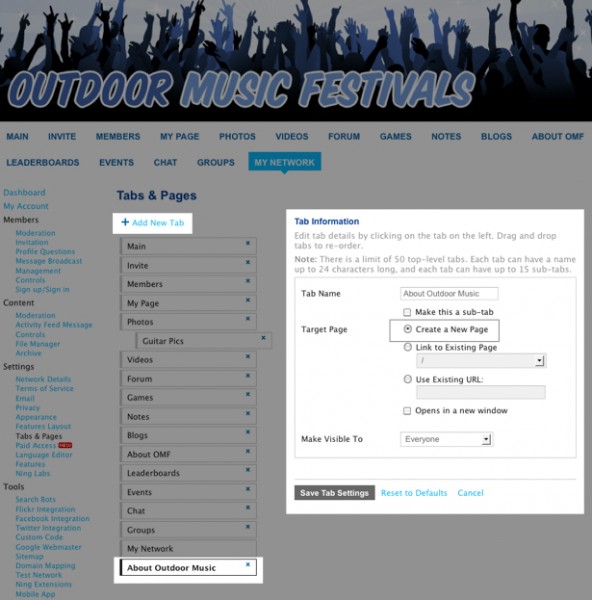 Save your changes when you're done. Click on the new page tab you've just created to be taken to your new Page. To edit it, click on the "Options" drop-down menu and select "Edit".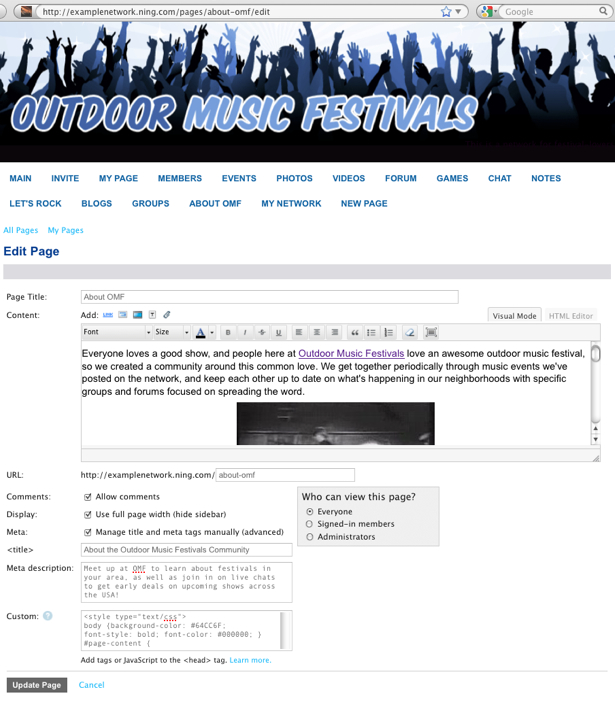 Add links, images, videos, files, widgets or HTML to make your page just right. Make it a place for discussion by checking the box to "Allow comments". Unchecking the box next to "Show sidebar" will hide the sidebar that appears on every page of your network. This allows you to use the entire space to really showcase your content.
To determine who this page will be visible to, select the radio button next to "Administrators", "Signed-in members" or "Everyone". This setting is tied to the tab visibility you specified on the Tabs manager page, so if you've created a tab for the page, the privacy settings will be synchronized. This means that a change made to the privacy of a tab will also be applied to the page it links to and vice versa.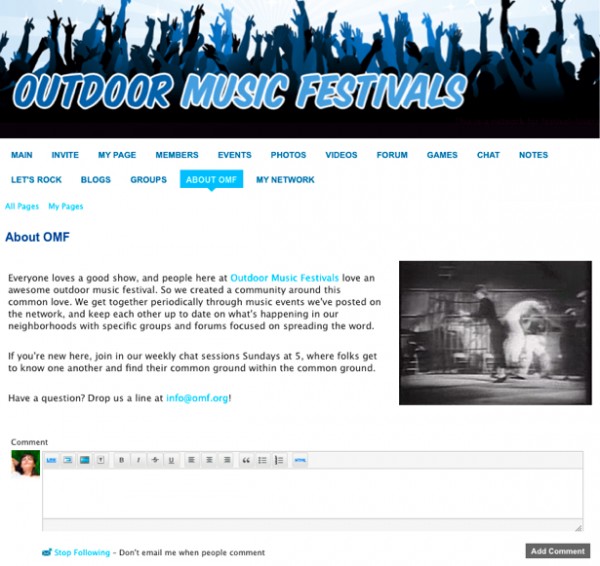 Please keep in mind that your members will not be able to add pages to your network and that you can choose to set the visibility of your page to allow everyone, your members or just your administrators to view it.
If you'd like to edit the URL for your page, click on the editable field next to your page's current URL. Remove the /page from your URL, if you wish, and make it a leaner and easier-to-remember address. Changing the URL here does not update the URL linked to the tab for this page. Make sure to go to your Tabs & Pages manager in your dashboard and change the link there.
A page you have changed the URL for will show up in the Tab Information section of the Tabs & Pages manager. Just click on the "Link to Existing Page" drop-down menu to find and select the appropriate URL slug (/about-omf in this example). Be sure to save your changes.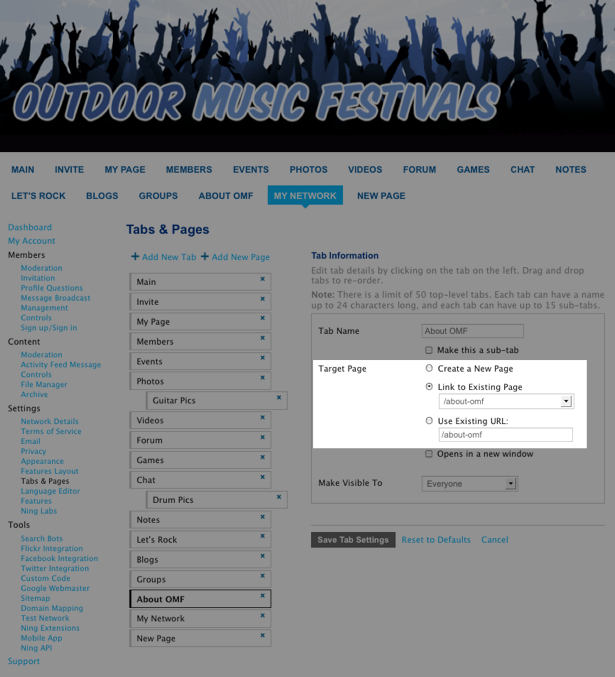 Creating a Page using the Tabs & Pages manager is a great tool to help you customize your Ning Network. Customize your pages even further by adding <head> tags to them! See Advanced Page Customization for more information. To learn more about adding a tab to your Ning Network, click here.
Similar Articles: