Want to customize your page further? If you're familiar with head tags, you can improve search engine optimization on your network by adding keywords and a description to any page you create in the Pages feature. To do this, go to a page you have created, and click on the "Edit" link from the "Options" drop-down menu.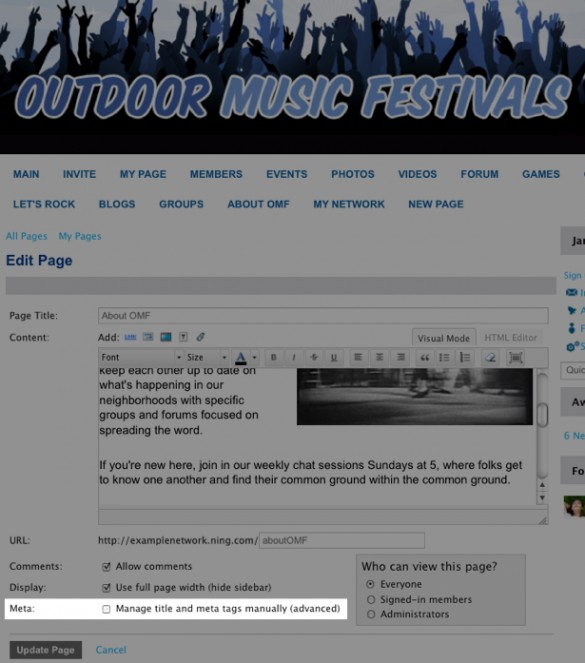 Check the box next to "Meta" to expand the options beneath it.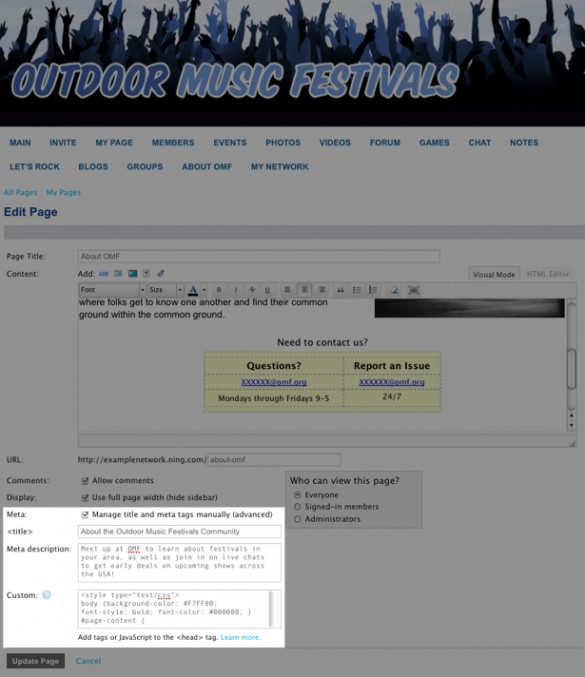 The <title> tag is the title of your page. Adding your page's title here can help increase its visibility in search results.
The "Meta description" box is where you can add a description about your page, much in the same way as you can add a description about your network in the Network Details page. This description will appear beneath the link to your network in the returned search results. Use this box to compel someone to click on the search results link for your page.
If your network is private, Google won't see the information provided here on any page. Learn more about privacy and your network here.
The "Custom" box allows you to insert any <link>, <meta>, <style> and <script> tags to the page.
<Link> tags let you link to external customizations, such as by connecting a stylesheet from somewhere else to your page, which affects the appearance of the page, and the page alone.
<Meta> tags are useful in search engine optimization on your network. Tags added here can improve your network's overall visibility in search results.There are a number of <meta> tags to choose from, and some are better than others. You can use meta keywords and meta content language tags, to name a few. Meta keywords work in a similar fashion to blog or photo tags, and increase your page's chances of turning up in search results for certain terms. Choose your words wisely, as misuse of this tag can cause your network to be blacklisted by search engines. Research other similar sites to yours, and get an idea of which kinds of words give your page the best possible results. Meta keywords added here will not override keywords added to your Network Details page. Learn more about SEO and your network here.
<Style> tags allow you to edit the appearance of your page, similar to the effect a <link> tag would have, but rather than grabbing customizations from an external stylesheet, you can add in the specific customizations of your choosing here. Customizations added here should affect only the page you are editing. However, take care with the string you enter, as an overly general <style> tag may over-apply and affect your network's appearance elsewhere.
<Script> tags are commands that you can add here to apply expressly to this page. Want a welcome window to pop up for visitors to this page? Add that tag in the "Custom" box. If you have a JavaScript command that needs to be at the <head> level, add that here.
Unchecking the "Meta" checkbox will reset your meta tags and erase any customizations you have made.
Similar Articles: