RSS feeds equal instant content. Chances are there are one or two RSS feeds provided by major news outlets or professional organizations that could be of huge value to your members.
If using RSS sounds too technical, don't sweat it. A few things to know:
RSS is simply a way popular Internet destinations provide an up-to-date feed of content that appears on their site.
Most news sites provide these kinds of feeds.
If your Ning site is public, it generates its own RSS feeds.
Anytime you see an RSS icon, click on it to view the underlying RSS feed.
You can copy and paste that RSS address into your Ning site, either via your Activity Feed or in a standalone RSS module on your Main Page.
You can add RSS feeds from external websites, blogs, or other Ning Networks to your Ning Network. This is a great way to express yourself a bit more and pull in content that other members might be interested in.
If you aren't sure where to find public RSS feeds, try
RSS Search Hub
or
Search 4 RSS
, two search engines devoted exclusively to uncovering RSS feeds.
As a Ning Plus or Pro Network Creator, you can add up to 25 RSS feeds to the Main Page. We recommend choosing just one or two great RSS feeds and sticking to those.
To add an RSS feed to your Profile Page, first copy the URL of the RSS feed you want to display. Next, head to your My Page on the Ning Network and locate the RSS box (which appears at the bottom of the left column by default, but can be moved). Click the "Edit" button.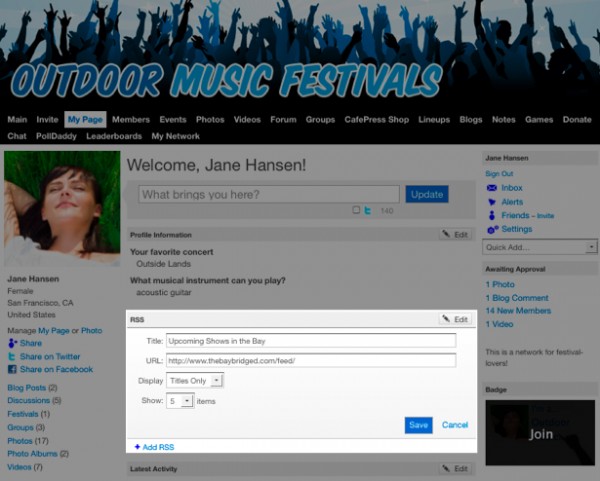 Paste in the feed you'd like to display on your My Page. You can give the RSS module a title (for example, "Upcoming Shows in the Bay"), choose how many items to display, and select either "Detail View" or "Titles Only" from the drop-down menu. Click "Save," and you're all set.
To add an RSS feed to the Main Page of your Ning Network, head to the My Network tab and click on Features Layout under the "Settings" section. Drag the RSS module to the location you'd like it to reside on your Main Page. Click "Save," then go back to the Main Page and add the URL of your desired RSS feed.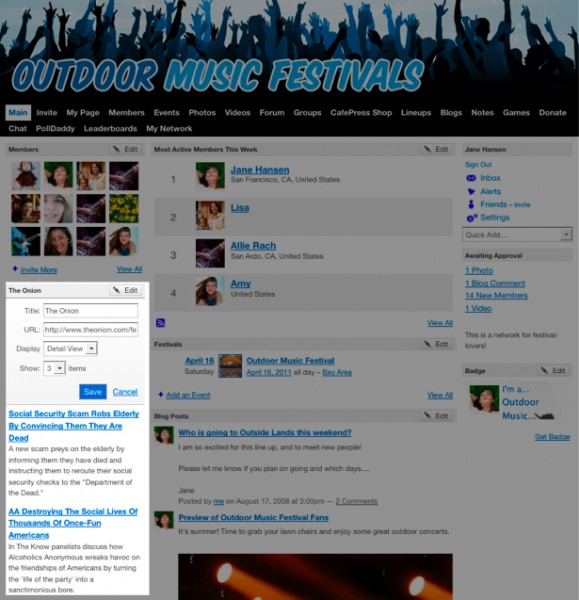 Here are just a few examples of RSS feeds you might want to add: entries from your external blog, movies you've rented on Netflix, a custom news feed for a topic area related to your Ning Network, or an RSS feed from another Ning Network you manage or belong to.
If your RSS feed does not appear to be working properly, make sure you're using a valid feed by checking it on a Feed Validator site like this one.
Similar Articles: