Making a custom header can seem daunting, but it's not that hard. You'll need to start with the image of your choice, crop it or resize it to be the correct size, and then upload it to your Ning Network. The width of your Ning Network's header area is 955 pixels (the height is up to you, but we recommend trying a height of 150 pixels and seeing how that feels).
Choosing a Theme That Works with Your Custom Header
Try to think of a color palette or design you can use as the background and body color for your social network. Then, choose a theme in the Design Studio. If you're planning on adding a custom-made header, a basic theme without a lot of additional graphic elements is a good place to start. In this case, we've chosen to start with "Flashing Lights" because we like the black background of the header and the overall sleekness of the design. We think it will work well with what we have planned.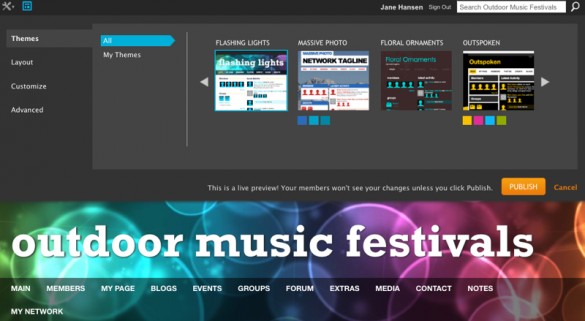 Adding the Header Background Image
The next step in creating a custom header is actually creating the image you'd like to use as the header background. For simple headers, you'll want an image that your network name and tagline can live on top of and still be read. Use an image that encompasses the theme of your social network in one glance. Get as creative as you like. If you're intimidated by designing graphics, start with something basic and improve it later.
Once you've created and saved the header image on your computer, you're ready to add it to your social network:
Open the Design Studio panel.
Click on "Customize".
In the Page Background area, click on the camera icon and choose the image you want to upload.
Preview or Publish when you're ready.
Logo, network name, tagline, or just an image?
The default for your header is that your network name and tagline will appear. You can always Remove Your Network Name and Tagline. Or, you can add a Network Logo if you want that to appear instead of a network name and tagline. Some people choose to just use an image that does everything they want it to do in the image. A good example of this is the Ning Example Network.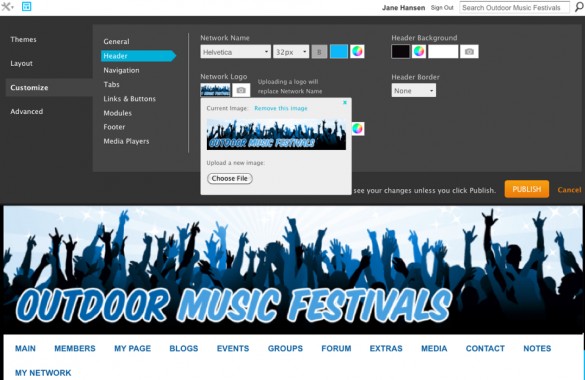 No Photoshop Skills? Try a Free Online Image Editor
Don't have skills with Photoshop or other image editors? Don't worry. There are a ton of free online image-editing services that will let you create an image to use as your header. One of our favorites is Pixlr. It offers an easy-to-use Photoshop-like interface. After you've created your header, you can also experiment with their Pixlr-o-matic service, which lets you try out all kinds of neat filters on your images (kind of like you would using Instagram). Highly recommended!
You can also use a program like Gimp (free for Windows), Seashore (free for Mac), Photoshop or even a free Web site like Web Resizer to crop or resize the image's width to 955 pixels.
Similar Articles: