We've added a Spam Watchlist to the Moderation section of your Dashboard. This feature allows you to safely keep an eye on a suspected spammer without alerting them or removing their content before you're certain. The Spam Watchlist provides an easy way for Network Creators and Administrators to access and track suspected spammers. If someone posts something that is deemed to be spam, their name and content item (or items) will appear in the Spam Watchlist.
In the Spam Watchlist, no action is taken against the suspected members. Action will be taken if or when the Network Creator or Administrators decide what should be done.
To access your Spam Watchlist, go to your My Network tab and click on the "Moderation" link that displays beneath the Members section. From there, click on the "Spam Watchlist" link to access this page.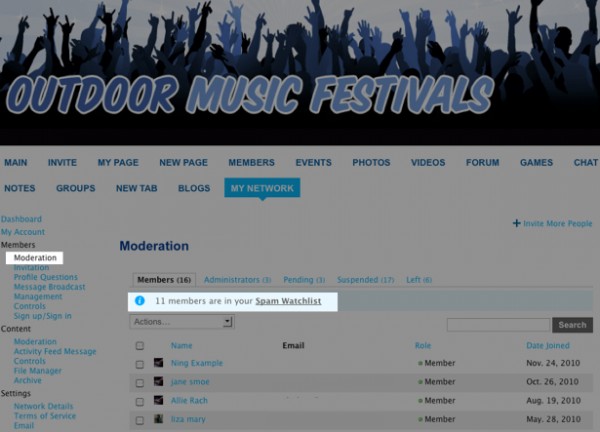 This link will only appear if there are any members in the watchlist.
The Spam Watchlist provides members' names, email addresses, dates when they joined the network, a spam score, the number of suspicious content items they've posted, a snippet of an item in question, and an IP address if it's available. The spam score ranges from 0-1 and indicates the likelihood that a particular member is in fact a spammer. If you see a score of 1 next to a member in the list, we'll bet they're a spammer. If you see a lower score, you'll still want to keep an eye on them, but they may be a legitimate member on your network after all.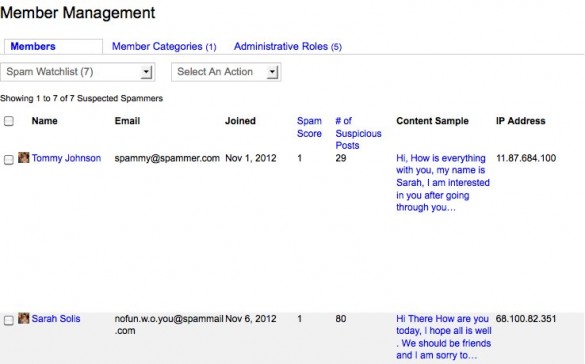 New content from these members who appear in the Spam Watchlist will be published as normal.
Click on the member's profile to see what activity they have had on the network, or click on the content sample to see the content item in full. In order to protect your members and your network from spam, you can examine the list of possible spammers in your Spam Watchlist and either suspend them or mark them as "Not Spammer".
If you determine a member in the Spam Watchlist has mistakenly been flagged as a spammer, you can check the box next to their name and select "Not a Spammer" from the drop-down menu. This will remove them from the list and refresh the page to reflect these changes. Their content will not be removed and they will not appear in the watchlist again.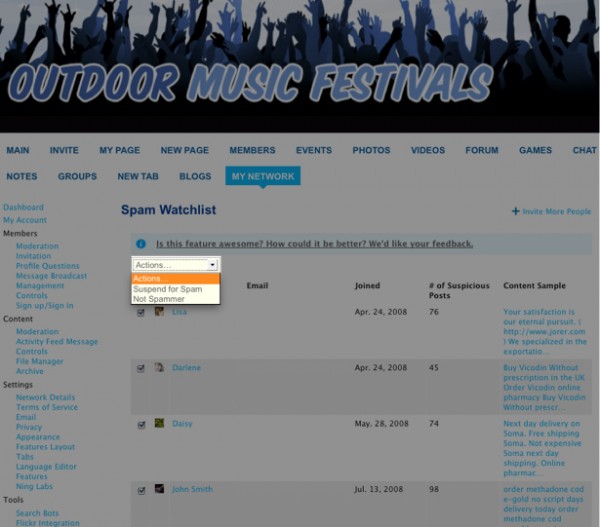 If, however, suspicions are confirmed and the member is a spammer, select the "Suspend for Spam" option from the drop-down menu. You will then see a lightbox informing you that performing this action will suspend the member, delete their content and mark "Spam" as the reason. Content that is removed when suspending a member for spam will not be restored if the member is later reinstated on the network.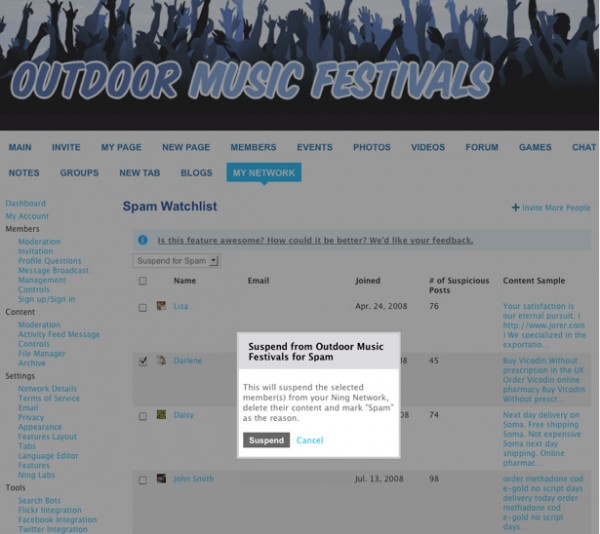 No action will be taken on these suspected spammers unless you suspend these members yourself. Taking action will remove the member from the Spam Watchlist. Network Creators and Administrators are exempt from the Spam Watchlist and won't be flagged as suspected spammers.
Similar Articles: