Assign a member to moderate a specific piece of content
Ning's Tips and Tricks
As we wrote earlier this week, choosing and promoting the right Network Administrators can help you manage your social network's members and content. Administrators have access to the Manage page, just like Network Creators, though they don't have access to the Premium Services, Network Information or Analytics sections.
If you don't want to have a full Network Administrator on your social network, you can always use the Roles feature to set up multiple levels of administrators to help you manage and moderate a specific feature, like photos or videos. You can do this from the Manage Members page by clicking the "Manage Roles" link.
On this same page, you can also assign an administrator to one specific piece of content. You can have a member of your social network manage an individual discussion, forum category, video, photo, note, event, page, or group. This feature is useful for times when you upload exclusive videos, or share a photo with your entire social network membership — situations when you expect a lot of traffic and comments on one piece of content.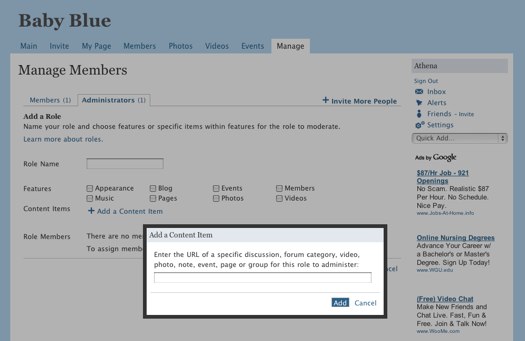 To create an administrator role for a specific piece of content, click on the Manage tab and then select the Members icon. From there, choose the "Manage Roles" option and select "add a role." Once you click on the "Add a Content Item" option, paste in the link from the specific piece of content you want to be moderated.
After you've created and named your role, click save and head back to the Manage Members page. Locate the member you'd like to assign your new role to. Check the box next to their name and then, from the "Actions" dropdown, select the new role with your content item. Since this might not be obvious to the member you assign it to, it's always a good idea to send them a message and let them know!