Control the privacy settings for your Ning Network
Ning's Tips and Tricks
Some Network Creators want to share their social experience with the world, while others create Ning Networks just for close friends and family. To embrace these different preferences, flexible privacy settings are built in to every Ning Network.
As a Network Creator, you have many different options when it comes to the privacy of your Ning Network. To adjust the privacy settings, go to the Manage page and then click "Network Privacy":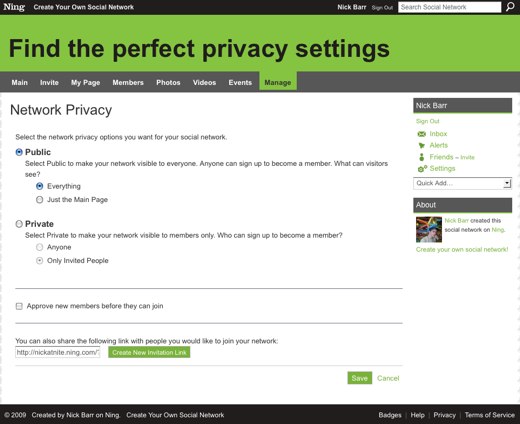 From this page, you can choose the ideal privacy settings:
Your Ning Network can be Public. This means that members and non-members alike can view your Ning Network. You have the option of making Everything visible or Just the Main Page. If you choose "Just the Main Page", visitors will have to sign up to see any other pages.
Your Ning Network can be Private. This means that anyone who visits the URL of your Ning Network will go straight to a sign-in page. You have the option of allowing Anyone to sign up, or Only Invited People. This second option means that new members will have to receive an invitation from an existing member in order to be able to join your Ning Network.
For both public and private Ning Networks, you can turn on member moderation by checking the Approve new members before they can join box. When member moderation is turned on, an Administrator or Network Creator needs to approve or deny every member that wishes to gain membership.
The most private Ning Network you can create will be set to Private, Only Invited People, and will have the "Approve new members" box checked.
Members of a Ning Network also have extensive control over their own custom privacy settings, and we'll detail those in a separate post.