Introducing Ning Virtual Gifts!
Updates
Every day, millions of people come together across Ning Networks to explore, express, and meet new people around their interests and passions. Today, we're giving members another meaningful way to connect with Ning Virtual Gifts.
This customizable virtual gifts offering is unique in that it can be highly relevant to the activity of your Ning Network. As a Network Creator, you can pick and choose from hundreds of virtual gifts. Best of all, you can add your own custom gifts to the Gift Store. Check out how Lost Zombies is using virtual gifts for some creative inspiration: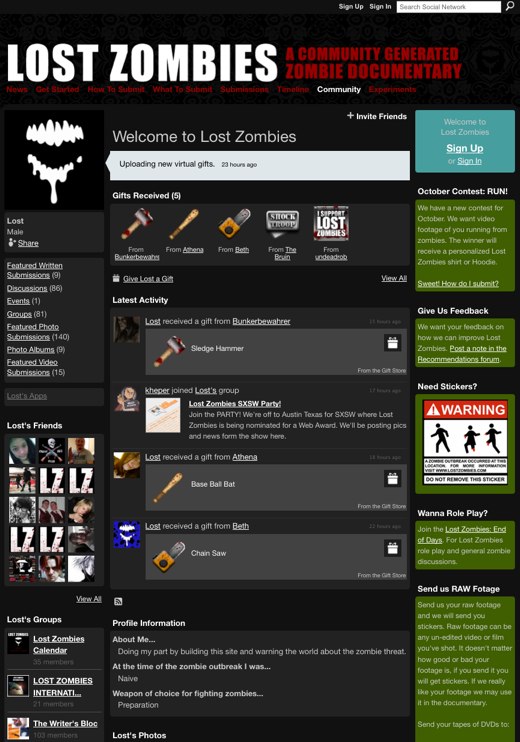 Ning Virtual Gifts is also the first revenue-generating feature on Ning, and it comes with a 50/50 revenue share between Ning and the Network Creator. And in the spirit of giving, we've given every member of your Ning Network 100 credits to get started. We explain the process of giving a gift and earning revenue in detail below.

Share the love
To give someone a gift, just click on the "Give a Gift" link. You can find this link in the Gifts box on any My Page, or on the Members page. From here, you can pick a gift, enter a personalized message, and choose the privacy settings of the gift: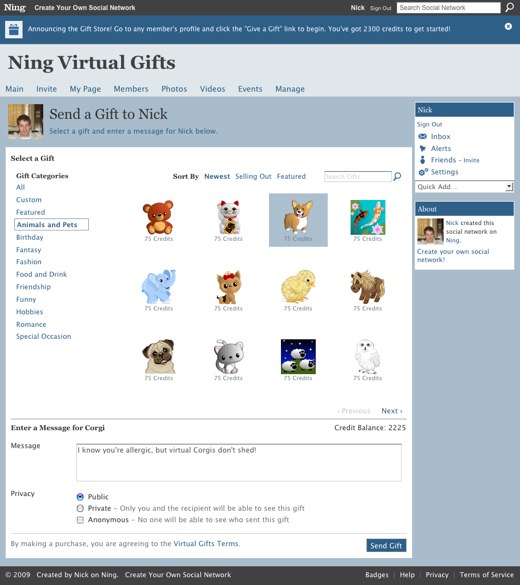 Just click "Send Gift" to complete the transaction. At launch, each gift costs 75 credits, or $1.50. You can purchase more credits through the Gift Store with a PayPal account.
Share the revenue
In addition to providing greater engagement among members, the Gift Store also provides Network Creators with a new revenue opportunity via our Virtual Gifts Incentive Program. Once enrolled in the Incentive Program, Network Creators are eligible for a 50/50 revenue share with Ning on all qualifying gift transactions. Ning Network Creators will receive revenue payments starting at the beginning of 2010, and payment begins once a Network Creator has earned a minimum of $100. To enroll in revenue sharing, sign in to your Ning Network and click the new "Gifts" link from the Manage tab: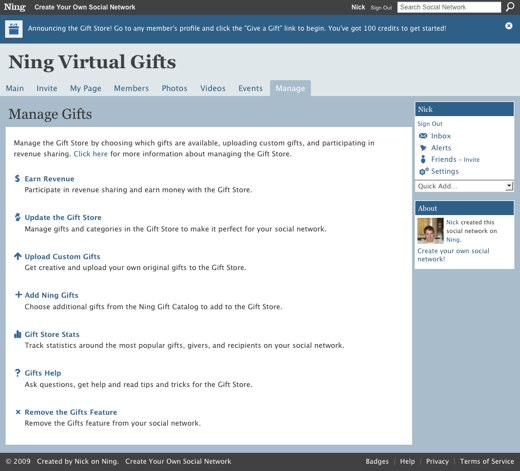 From here, click the "Earn Revenue" link and enter your information to enroll in revenue sharing. For more information about the Virtual Gifts Incentive Program, check out our article here in the Ning Help Center.
Make it your own
The Gift Store on your Ning Network comes ready with hundreds of gift options, but with more than 1.6 million Ning Networks based around tens of thousands of interests, you're bound to have something in mind that's not yet available. That's why we've added the ability to upload a custom gift perfect for your Ning Network.
To upload a custom gift, click on the Gifts icon on the Manage page and select the "Upload Custom Gifts" link. From there, you can upload an original image for your gift. Gift images must be smaller than 10 KB, and they can be uploaded in PNG, GIF, or JPEG format. For more information, check out this article in the Ning Help Center that walks you through creating and resizing a custom gift. We'll also post more tips here on the Ning Blog in the coming days.
In addition to being the place to upload custom gifts, the Manage Gifts page is also your place to add more virtual gifts as they are created, to remove specific gifts or categories, and to track statistics around the most popular gifts, givers, and recipients on your Ning Network. Here's a look at the statistics you can track on the Gift Store Stats page: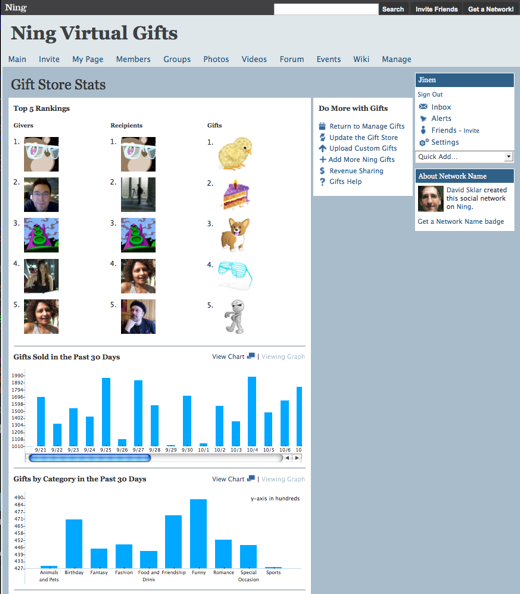 The Manage Gifts page is also the place to remove the Gift Store if it's not right for your Ning Network.
For more information about managing the Gift Store, check out this article in the Ning Help Center. And we'd love to hear your thoughts as you and the members of your Ning Network begin exchanging virtual gifts!