Cancel a subscription during your free trial
All brand new Ning Networks receive a 14-day free trial when their subscription is created.  If you decide at any time during that period that you no longer want to continue developing your Ning Network, head to Ning.com and click the "Sign In" link on the right.  Enter your account credentials and click on the "My Networks" tab at the right of your account page. Please be sure to use your Ning.com email address and password, and not your network credentials (if they differ).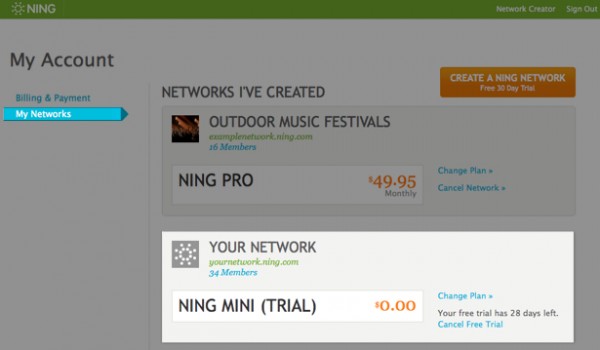 Locate your trial network and click the "Cancel Free Trial" link.  The amount of time you have left on your trial will be noted just above this link. A lightbox will pop up, asking that you confirm your choice.  To go ahead with deletion, click "Yes, delete my network and cancel my trial."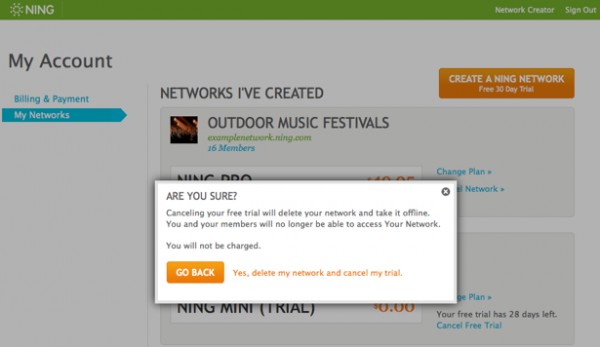 Canceling your free trial will delete the network.  Please note that when this is done, it will not be possible to restore the network.
Cancel an active paid subscription
For information on our billing and refund policies, please see  https://www.ning.com/billingpolicy/
In order to cancel an active paid subscription by phone, please call one of the two phone numbers below:
1-855-233-6436 USA/Canada Toll free
0-808-189-2035 UK Toll free
When you call, make sure you have the following information on hand so that we can process your cancellation by phone:
The Ning network URL you want to cancel: http://examplenetwork.ning.com/
Your Email Address: the email address you used to create the network
The other way to cancel a Ning Plus or Ning Pro subscription outside of a trial period is to sign in to the network you'd like to cancel. Click on the My Network tab to go to your Ning Network's Dashboard. From there, click the "Support" link and then click the "Contact Support" link.  This will take you to a new page where you can choose "Cancel my Ning Network" from the drop-down menu.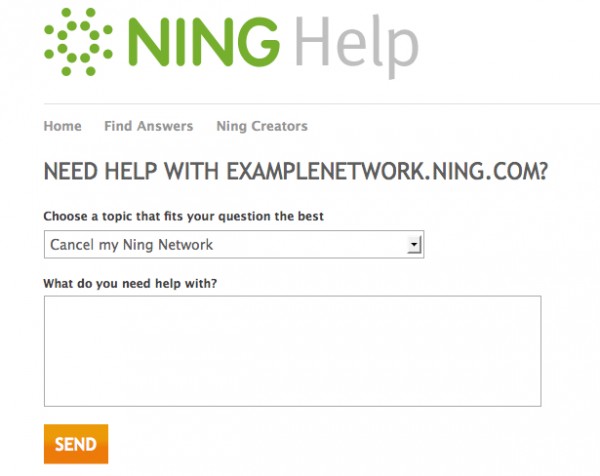 If you are unable to access your network, you can also submit a cancellation ticket from the Help Center. Be sure to choose the "I'd like to cancel my Ning network" option.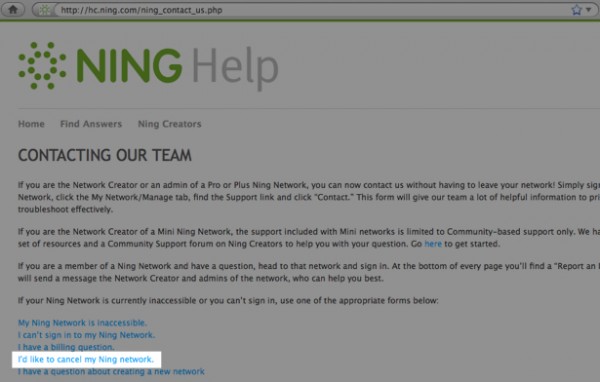 Tickets submitted directly from the Help Center may not receive the same response time as tickets submitted from the network Dashboard of Pro and Plus members.
Once you submit the ticket, you will receive an auto-response with directions on how to proceed. If you want to cancel a network, reply to that auto-response with a link to the network you wish to cancel, to confirm that you want this canceled. Once we receive your request, we'll let you know when it's all squared away. We will back-date the cancellation to the date of your request, regardless of when it was processed by our team. This will automatically make the appropriate adjustments to your account per our Billing & Refund Policy.
Similar Articles: