In addition to appearing in your My Page Latest Activity feed, Status Updates will also display in the Latest Activity feed on the Main Page. You can change your privacy settings for status updates by clicking on "Settings" in the upper right-hand corner of any page. From your Settings page, select the "Privacy" link on the left. This will allow you to view all of your privacy settings.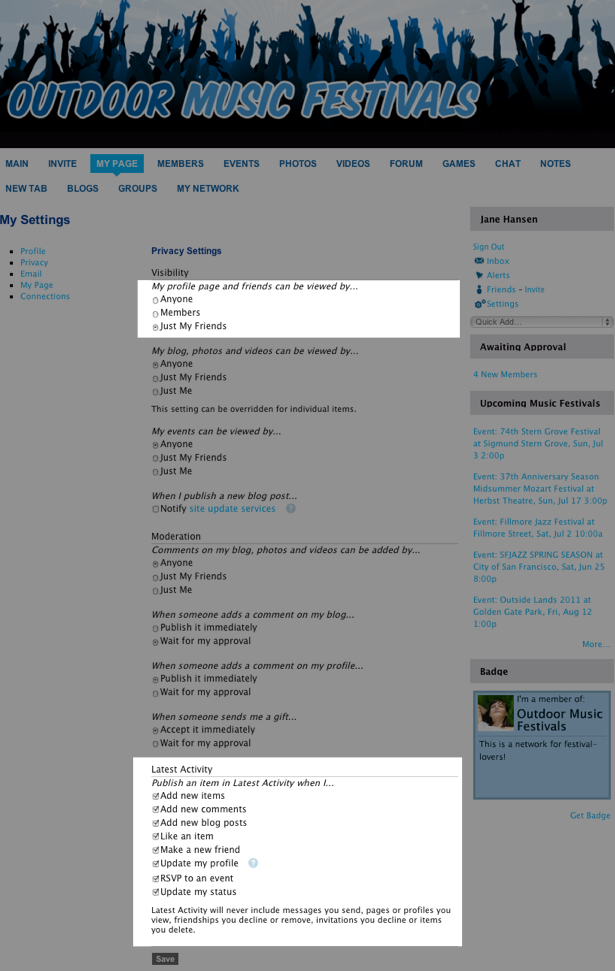 Set your profile page visibility to anyone, members or friends, to control who can see your My Page. This will also affect who can see your status updates.
Posting your status update on the Main Page when you have visibility set to "Members" or "Just My Friends" will cause the status to appear momentarily on the main page for you as the poster, but anyone else will only see what your privacy settings dictate. Refreshing the page will update the Latest Activity feed. This setting will allow for your status updates to appear on your My Page and not on the main page.
If you decide you don't want your status updates appearing in the Latest Activity feed on the main page or on your My Page, just uncheck the box next to "Update my status" and click "Save."
Similar Articles: