You can control the privacy of your Ning Network by navigating to the My Network tab and clicking on "Privacy" under Settings.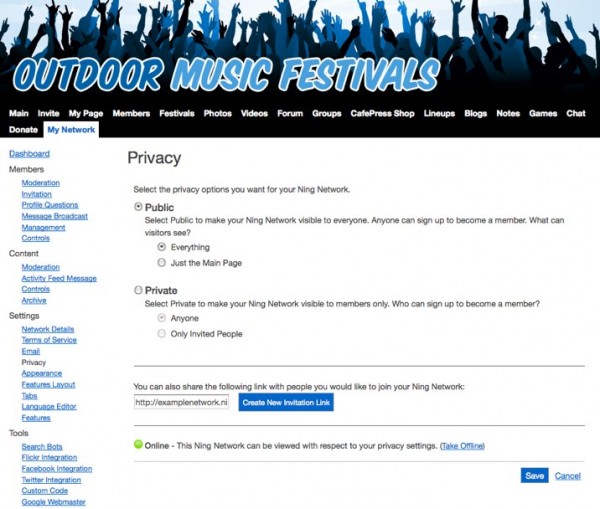 There are several privacy options to choose from:
Public- This means that members and non-members alike can view your Ning Network.

Everything-Â visitors can see all pages of your network without signing in.
Just the Main Page– visitors will have to sign in to your network to see any other pages.

Private- This means that anyone who visits your Ning Network will be directed to a sign in page.

Anyone– anyone can sign up to join your network.
Only Invited People- the invitation only option means that the only members who can join your Ning Network are those who have received an invitation from a current member or who have been sent the invitation link by an administrator. Invitation links remain valid for 90 days.
If you want to make your Ning Network as private as possible, you can set your Ning Network to Private- Only Invited People, and check the "Approve new members" box on the "Controls" page which is located under Members on the My Network page.
You can change the privacy settings of your Ning Network at any time. If you change it from Private to Public or vice versa, your network will briefly go offline while the changes take effect.
You can take your network offline at any time by clicking on the "Take Offline" link and clicking the "Save" button.
Can I be Googled?
 If you set your network to be private, Google will not be able to index it. Want to be public but make specific pages private? You can 
Edit Your Robots.txt File
 and specify which pages are left out every time Google crawls your site.
Similar Articles: