By default, anyone can view your My Page and list of friends on a public Ning Network. However, you can change the privacy settings for this page at any time. You can set your My Page to be visible to everyone (default), to only members of the Ning Network or just to your friends on the network.
To change the privacy of your My Page, click on the "Settings" link in the right column of the page and click "Privacy" on the left. Choose the levels of privacy you'd like then scroll down and click "Save."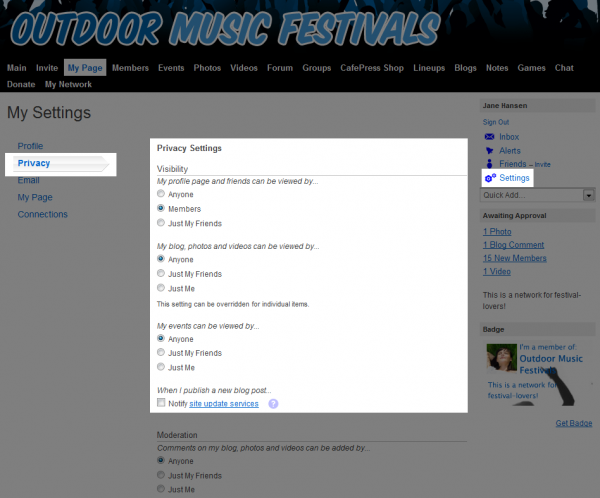 By default, all photos, videos and blog posts you add to the Ning Network will still be visible to everyone. You can also choose the privacy level of the content you add from this page. You can overwrite this setting for particular items when adding them or by editing them after they've been added to the network. Changes you make to these settings aren't retroactive, so you'll need to update the visibility of previously uploaded photos, videos, or blog posts.
If you've changed the privacy of your My Page, visitors who don't have access to your My Page will only be able to view your name, photo and basic information, like age, gender and location.
Network Creators and administrators will still be able to view all member My Pages in full, regardless of privacy settings. In addition, Network Creators and administrators can limit access to their My Pages, just as other members can.
Similar Articles: