To make your Ning Network successful, it's important that members feel comfortable expressing their opinions and sharing photos, videos, and anything else you might ask them to contribute. You can make sure your members are comfortable by moderating your Ning Network.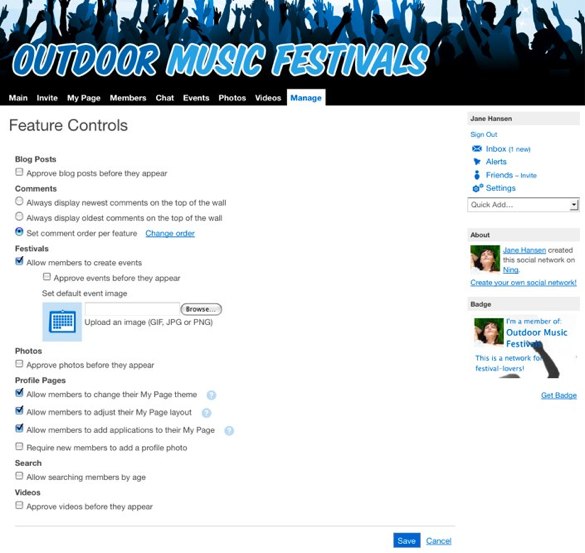 It's not hard to moderate your Ning Network, but it does take some thought and monitoring. Don't spend too much time focusing on the negatives – the best way to build a positive environment is to stay positive, encourage your members to participate, and react quickly when something goes wrong. Moderating your Ning Network – and doing it right – is key to building a positive reputation.
Active and successful Ning Networks don't turn on moderation at launch. This allows people to instantly join and get the gratification of immediately seeing their photos, videos and other content added to the Ning Network. This in turn makes them want to upload more photos and videos, which makes your Ning Network more active.
We recommend a reactive approach to moderating. The best way to moderate your Ning Network at the beginning is to simply keep an eye on the members that are joining and the content they're adding, from profile comments to forum threads to photos. You can immediately delete any item on your Ning Network that is inappropriate or off-topic by clicking the 'x' next to that piece of content.
You can always suspend individual troublemakers. If you find one member in particular is causing problems or breaking your community guidelines, you can instantly suspend him or her from your Ning Network. Suspending a member gives you the option to remove all of the content he or she has added to your Ning Network, including profile comments, forum threads, photos, and videos.
Members have built-in moderation controls, too. Members of your Ning Network have their own built-in privacy and moderation settings, so they can control and even delete the comments on their profile pages, photos, videos, and blogs. Members can also contact you via the "Report an issue" link at the bottom of every page on your Ning Network, and in fact you'll find that when one member is misbehaving, others will report the problem to you.
As your Ning Network grows in size and activity, you may find that you want a bit more control over the members and content on your Ning Network.
You can always add in moderation controls as your Ning Network grows, though we recommend turning on only moderation for those features that you've specifically seen would benefit from this. For example, if you've seen members joining to promote external services or products that don't belong on your Ning Network, you can opt to turn on member moderation. Use these moderation controls sparingly and you'll find that your Ning Network continues to grow.
Similar Articles: