If you have a Ning Plus or Ning Pro network, you can Use Your Own Custom Domain using GoDaddy as your registrar by following the steps below:
1.  After signing in to GoDaddy.com, you should be taken to the My Account tab.  If you're already signed in or are not already on this tab, click "My Account."
2.  On the My Account page you will see a list of your domains. Click "+ Domains" to expand the Domains section.
3. Click the "Launch" button next to the domain you wish to use with your Ning Network. (If you don't see this link here, it's likely that you've changed the name servers for your domain to point to a different registrar. You can either reset them to the defaults by clicking on the Manage link under Name Servers, or you can setup a CNAME using the DNS configuration system of the registrar that is managing your domain.)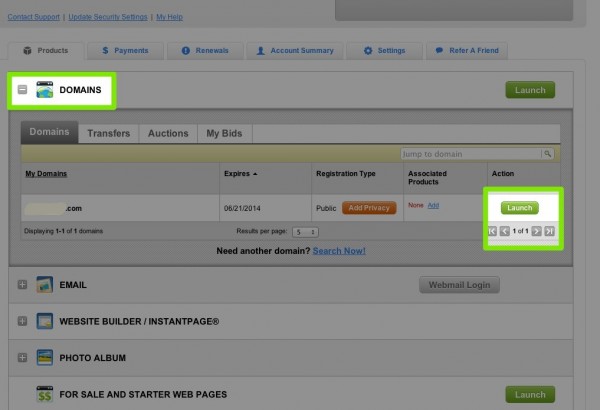 4.  From the Tools menu, select DNS Manager.
5. Once you are in the DNS Zone File Editor section, locate the A (host) section to modify the "@" entry. Hover over the Points to field and click when the pencil icon appears. Enter Ning's IP address: 208.82.16.68.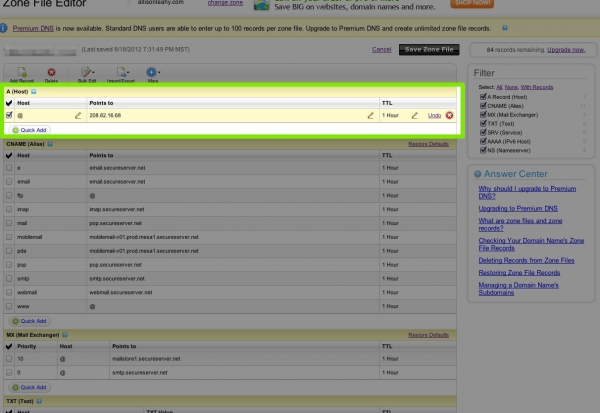 6. Under CNAMES (Alias), you'll need to modify the Points to field of your WWW entry. You can do that by clicking on the pencil icon that appears on the right in the Points to field. Make sure to enter your Ning Network URLÂ without the http:// or www in the Points to field. (If you want to point your social network to a subdomain other than www, such as community, social network or anything else, then you'll need to enter that in the Alias Name field.)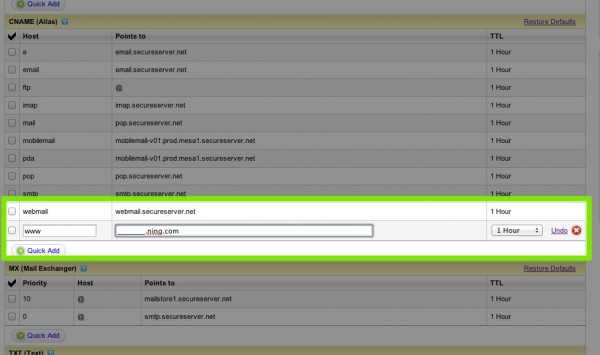 7. Click the "Save Zone File" button up at the top of the page, click "OK"Â and you're done! Well…almost.
Please Note: Your changes may take up to 48 hours to appear.
8. The final step will be to add your custom domain to the Domain Mapping section of your Ning Network. After 48 hours, sign in to your network and head to My Network>Tools>Domain Mapping. Insert your custom domain into the Alternate Domain 1 field, select the radio button next to the domain name you want to appear in the web address toolbar, and click "Save."
If you're still unable to access your Ning Network through your domain mapped URL, check out our Troubleshoot Domain Mapping Issues guide.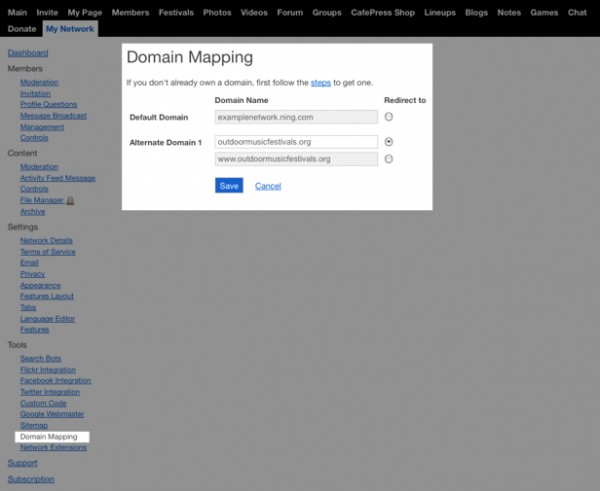 Similar Articles: