One of the great things about your social network on Ning is that you can easily make it the hub of your online presence. You can even set up your social network so it appears under your own domain name. Using your own domain name brands your social network and makes it a place people will seek out when they want to learn more about your brand.
Good Charlotte has taken advantage of this feature to make their social network the top place to get to know their fans and communicate band news. They've mapped their social network to their domain GoodCharlotte.com.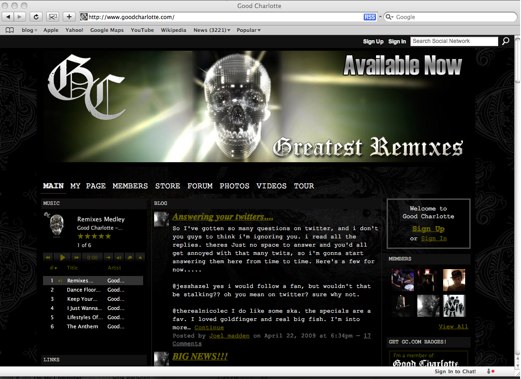 All of the Good Charlotte band members are active on their social network, using their blogs to post everything from notes from the studio to personal revelations. A few months ago singer Joel Madden broke the news on GoodCharlotte.com that he and girlfriend Nicole Richie would be having their second child. Spreading news like this via their social network first is rewarding and encouraging to members who've joined to show their allegiance and get a bit closer to the band they love.
If you'd like to have your social network on Ning appear under your own domain name, it's easy to set up. First, you'll need to own a domain. If you don't already own the perfect domain you'd like to use with your social network, GoDaddy has a special promotion just for Network Creators on Ning.
Next, you can purchase the premium service to "Use your own domain name" from the Manage tab on your social network. Just click the "Premium Services" link. Then you can set up your domain so that your social network on Ning appears under it. It's easy to do, and we have a number of detailed tutorials for setting this up in just a few short steps on the Ning Help Center. In no time at all, you can extend your social network as your brand's web presence with your own domain name.
No related posts.