Start fundraising on your Ning Network
Ning Apps
Ning's Tips and Tricks
Earlier this week, we wrote about how you can use Ning Apps to add a store to your Ning Network. Ning Apps are also incredibly useful for driving donations and fundraising efforts. Hawks for Homeless is a Ning Networks that's using a Ning App to help drive donations to the The Midnight Mission in Los Angeles: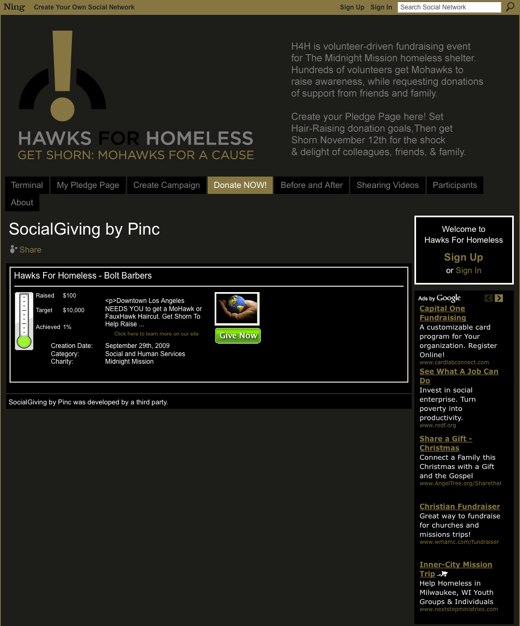 Other Ning Networks like TuDiabetes and The Hoot Owl have launched similar fundraising efforts. Adding your own fundraising Ning App takes a few quick steps.
First, go to the Manage page and click the Ning Apps icon. From there, click the "Fundraising" category on the left side of the page to see all Ning Apps created around donations and fundraising. In this example, we're adding SocialGiving by Pinc but you can also check out Impact Challenge, Citizens Voice, and Social Pledge. Click "Add Ning App" and SocialGiving by Pinc will automatically be added to a tab on your Ning Network.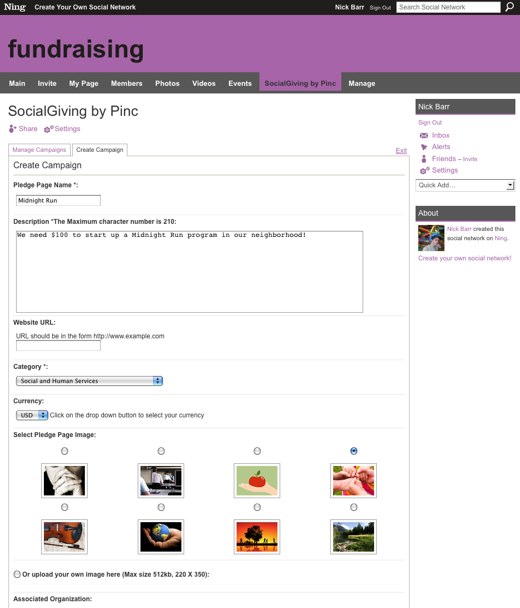 To set up your SocialGiving Ning App, first read over and accept the Terms & Conditions. Then customize your fundraising details and goals. Once your campaign is live, you can manage it by clicking the "Manage Campaigns" tab on the top-left of the SocialGiving Ning App.