The Ning Like Button and the Facebook Like Button are great ways to increase member engagement and promote the best content on your network. Ning and Facebook Likes are also part of the algorithm for the Leaderboards feature, so both help to surface the most dynamic members and content in that feature, as well.
Once enabled, you and your members will be able to like things right from the Main Page of your network, and from the detail pages of any content with just a click.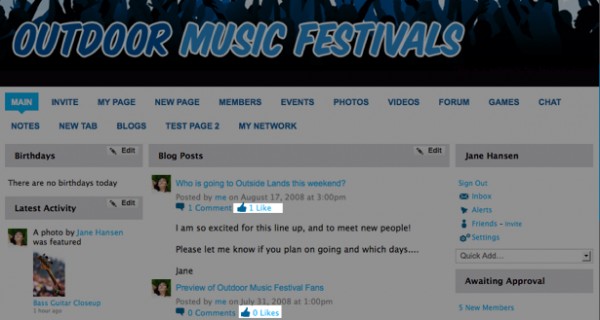 You'll also be able to see your and your members' Likes month-to-month on personalized My Likes pages.
To enable the Like feature, sign in to your network and click the "Features" link under the Settings section of your My Network tab. Then, click on the "Like Button" tab at the top of that page. Here you can choose to enable the Network Like, Facebook Like or both, and can choose the icon you'd like to use to denote this feature on your network. You can also choose how you'd like to refer to the feature on your network and can even customize its name further using your Language Editor.
Once you've chosen which Like Buttons you'd like to enable, click the "Customize which features members can Like" link to select the features where members will see the Like Buttons. Click the boxes next to all features you want to enable liking on and click "OK."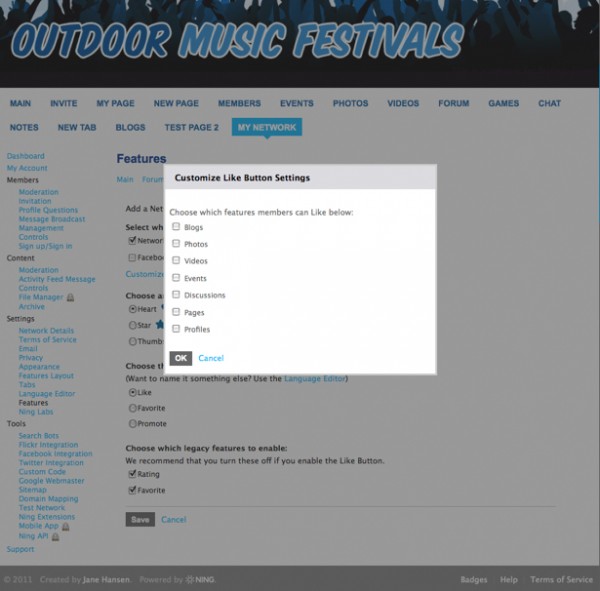 Networks created before the Like Feature was introduced will also have a Rating feature on photos and videos and the ability to Favorite content. We recommend that Network Creators disable these legacy features when the Like Buttons are adopted on a network, because they do not contribute to Leaderboards and don't help to drive member engagement nearly as much. Uncheck the box next to these features to disable them.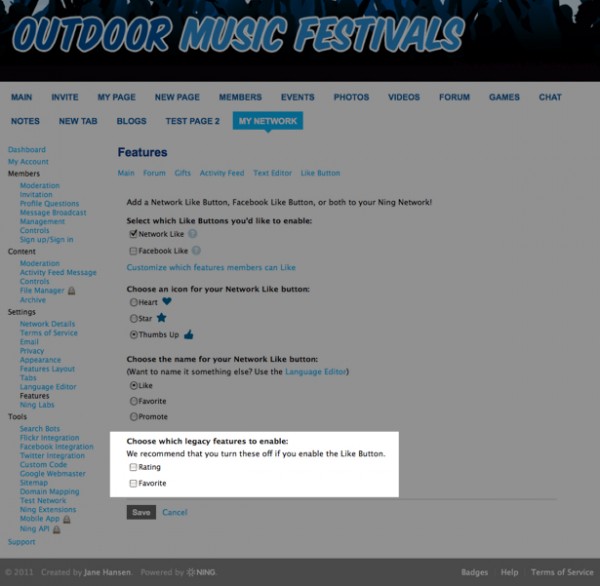 Once you have all of your settings as you'd like them, click "Save" at the bottom of the page to enable the Like Buttons on your network.
Similar Articles: