Gifts are small graphics which can be purchased and given to other members of a Ning Network. You can give gifts to anyone on a network. These gifts will appear on a member's Comment Wall, Latest Activity feed and Gifts Received module.
To send someone a gift, just click on either the "Give ___ a Gift" or the "Attach a gift to this comment" link on his or her My Page.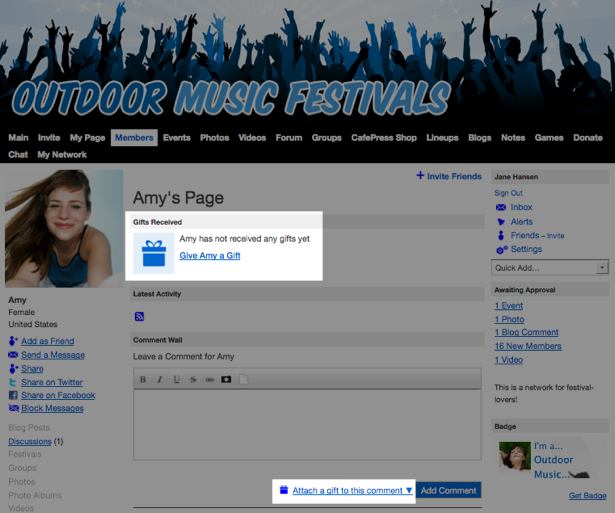 A new page will open where you can pick a gift, enter a personalized message and set the privacy settings for this gift. You can also send this gift to additional members.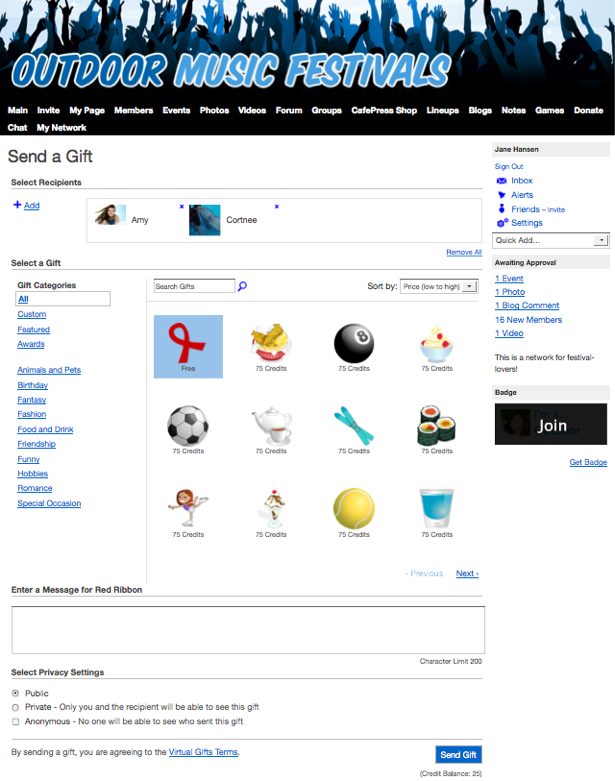 Setting the gift's privacy as "Public" will enable everyone to see the gift you sent. Setting it to "Private" will allow the recipient to see from whom the gift was sent. Setting it to "Anonymous" will hide the sender from the recipient.
Most gifts cost a certain number of credits. Your current credit balance is listed just below the "Send Gift" button. A PayPal account is needed in order to purchase credits. This can be done by clicking on "Settings" from the member account module that appears on every page and clicking on the "Profile" link. Near the bottom of the page, you will see a Credit Account Balance section where you can purchase credits.
When you have made your selections and are all set, click "Send Gift" to complete the transaction.
As a Network Creator, you also have the ability to create a custom gift. Go to your My Network tab and click on "Features" under the Settings section, then click on the "Gifts" link. Here, you will be able to manage your Gift Store. Create a gift, add additional Ning Gifts to your Gifts store, or choose which gifts are available to your members by clicking on the "Update the Gift Store" link. You can also track statistics around the most popular gifts, givers and recipients on your Ning Network.
If the Gift Store is not right for your network, you can remove it altogether. For more information about the Gifts feature, check out the related articles.
Similar Articles: