5 Best Conversion Practices For Good Landing Pages
Monetization
SEO/SEM
Yesterday I was walking in a small cozy park near my house. In springtime, every single thing that is capable of blossoming blossoms; even those that can't try to! ☺
I was observing birds and bees navigating buds and landing on fully open flowers when it occurred to me that they are like web surfers Googling for necessary information. Web users are like bees, essentially: they only land on flowers (pages) with honey (useful information). So I started wondering what makes your landing pages attractive to "bees," i.e. to your visitors.
Here are some simple yet useful tips on how to achieve a high conversion rate for your landing page. If you want to be a high achiever, employ these tricks to make landing pages that convert.
Best conversion practices for landing pages
There are several major rules to apply to landing pages. These rules form a checklist that helps you find out whether or not your pages will convert. Keep in mind that you must experiment with different landing pages, and the final word always rests with the users.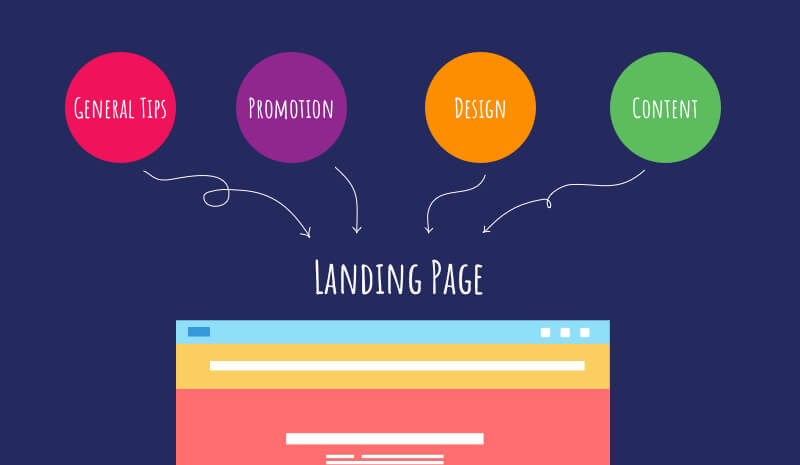 1. General Tips on lead generation

Your landing page must have one purpose and deliver one message only. Do not confuse your visitors: if they come to buy, say, a bottle of vitamins, do not call them to join a healthy lifestyle movement.
The number of your landing pages influences lead generation directly. According to influential marketing reports, even a small increase in the number of pages (just from 10 to 15) will give you more than a 50% rise in leads.
Nowadays, we're witnessing the unprecedented growth of mobile lifestyles and the tendency to shop from mobile devices. Make your landing pages mobile friendly, and their conversion rates will skyrocket. Think about using Accelerated Mobile Pages.
Remember security. A focus on security will quickly repay your investment of time and money: noticeable security symbols build customers' trust in a website.
2. Design Tips for better conversion

The headline of a landing page must conform with the advertisements your visitors click on to get there. Do not disappoint them by making them land on a page about creams if they clicked on an ad for cookies.
It's a deplorable fact that modern people have short attention spans. Canadian scientists discovered that the current average attention span amounts up to 8 seconds only, as compared to 12 seconds back in 2000. This being so, try to place important elements above the fold of a page so your visitors will be able to see all of them at once without scrolling.
Your call to action must be clearly visible and jump out at visitors immediately. It's better to welcome your visitors in the hero shot. It would be great if you used a CTA button several times throughout the landing page, especially if your page requires a lot of scrolling.
You can direct visitors' attention to a CTA button with the help of special elements (arrows or the direction of a model's glance).
Refrain from using stock pictures. Do not make you visitors feel nauseated by using hackneyed images or low-quality photos.
Pay as much attention to formatting as possible. Do not underestimate matters of size, font, and so on. Clearly highlighted values of the offer have a better chance of attracting views and clicks. An aesthetically appealing page helps convert indifferent visitors into grateful and loyal customers (at the least it shows you care about their eyesight).
3. Structural elements
Think about adding relevant videos to your landing page. You can provide a preview or demo of your product. Marketers claim that video clips increase page conversions up to 80%. As for their position, they should be placed below the fold.
If you want any form to be filled in on your landing page, make it simple, short, and easy to grasp. "Brevity is the soul of wit" is a universal wisdom.
Offer several payment options, as well as the opportunity to return to the previous action. People do not like to be trapped in a single selection situation.
4. Content Tips
Assure that all page elements are in sync with the overall topic and goal of the page. They must hinge upon one common concept. Verbal and visual clutter on a landing page is analogous to obscenity in social behavior – it's absolutely unacceptable.
Textual content should be analyzed and filtered. Use few words, select them well, and keep them to the point. Texts must be carefully worded and conform to the corporate tone of voice.
Ban trite expressions and stale stories. Create unique and ingenious calls to action, headings, individualized reviews, and so on. Keep in mind that people prefer customized and unusual things.
If you intend to display testimonials on your landing page, use authentic ones to add to your image and trustworthiness. In case you want your clients to write reviews of a product, provide them with incentives. And there's one more way to increase the reliability of your LP – if you have responsible partners, you may mention them (after obtaining their permission).
5. LP Promotion Tips
Perform A/B testing and let users determine which page is best.
Increase your trustworthiness by providing free trials. People like getting something free of charge; they perceive it as a sign that your project can be trusted. People want guarantees against risk and loss.
Know your audience characteristics cold. Offer them things they're interested in. Do not offer women's health products to men, or advanced computer games to retired bookkeepers.
Break your traffic by sources and drive it through different channels to separate landing pages. This will help you find out which channel performs best with a particular page.
Establish trust and good relations with your customers by adding your contact details or relevant personal information (e.g. phone numbers).
Employ useful widgets to increase your conversions. Widgets attract visitors' attention and remind them about important things.
Use eye tracking techniques and heat charts to discover which parts of your landing page are the most interesting for your visitors, and adjust them accordingly.
As you can see, it's as easy as pie to create high converting landing pages if you know these tips.
Conclusion
A good conversion rate for a landing page is like tasty honey extracted by bees from the most beautiful flowers. Bees generally swarm around the most fragrant flowers; they feel the honey's presence instinctively; they sense it. While creating a landing page, appeal to your visitors' senses to drive them to your page in the same way nature drives bees to the best flowers. Cultivate your "flower" to bring you as much "honey" as possible!
If you want to get our educational content regularly, stay with us! Ning website builder www.ning.com/website-builder