Why Should You Switch Your Site to HTTPS?
Security
Cybersecurity and data protection are real headache of the technologically driven century we live in. Since everything we convey is online and exposed, many companies and ordinary users are afraid for the safety of their private data. Many examples exist where security issues lead to financial loss or exposure of important plans and projects. According to 2017 Identity Fraud Study, $16 billion was stolen from the US consumers in 2016, and the number of identity thieves is only increasing over the years.
(Source: Federal Trade Commission, Consumer Sentinel Network.)
Fortunately, HTTPS was introduced to the world. Migrating your website to HTTPS is a security factor you owe to your consumers or visitors. You can have the most user-centric website with the best customization features but if you do not offer data security, your traffic amplitude will be flat in a minute.
Switching HTTP to HTTPS will rank your website higher on local search results. Not so long ago, Google gave an official public statement making the usage of HTTPS a ranking factor. This means that the search engine will prefer the HTTPS sites, pushing the secure domain to the head of the line.
According to Mozcast, since the number of websites that are using HTTPS and SSL are appearing in the top positions on Google search, the announcement has gone up for 25 %.  The percentage will only increase in future because now Google even warns the users that their connection may not be secured when they are connecting to a site served on HTTP instead of HTTPS.
What is HTTPS?
Why is HTTPS important?
Why should you switch your site to HTTPS?
We have all of the definitions and stats below.
What is HTTPS (Hypertext Transport Protocol Secure)?
HTTPS is a standard web transfer protocol or HTTP that adds a security veil on the transiting date through a secure socket layer or SSL certificate, or transport layer security protocol connection (TLS).
HTTPS provides encrypted communication and secure connection between a remote user and the primary web server.
The purpose of HTTPS is to enhance the security layer over the protocol for sensitive data and transactions like billing details, credit card unique numbers, and login credentials.
Data sent using HTTPS security certificate is secured via Transport Layer Security protocol (TLS), provides three key layers of protection:
Encryption – Data is encrypted so nobody can listen to conversation and track activities of users while they are browsing the Internet.
Data integrity – Data cannot be modified during transfer without being detected.
Authentication – Proves that your users communicate with the intended website. It protects against man-in-the-middle attacks and builds user trust, which translates into other business benefits.
It's supported by all of the available web browsers and initiates a secure connection automatically.
How to Make Your Website HTTPS?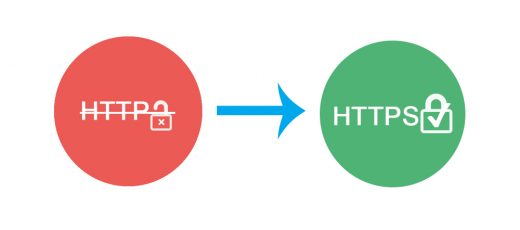 Even though many companies still hesitate to migrate the number of websites with hypertext transport protocol secure is increasing. Ultimately, everyone will use HTTPS because, besides SEO, that is the other way businesses can improve their search engine ranking.
The reason why so many people hesitate is that the migration process is a lot more complex and is not something that can be done with just one click.  There is a high mistake risk which could affect the performance of your website and ultimately damage the organic search.
The migration process starts with a crawl of your website which is followed by multiple tasks that you need to do perform before you complete the procedure.
Here is what you need to do:
Do a quick checkup of the robots.txt files and other URL's for blockage
Update the htaccess file and the XML Sitemap
Make sure the XML sitemap does not contain any URL's on the hold HTTP protocol
Check the header response code
Create profiles in Google Search Console, Google Analytics, and Bing
You will spend a lot of time on the migration process. Fortunately, your site will gain a lot of benefits in the end.
The process can be tough especially for a large business that has many components on the website but it must be done if the search engine ranking is important to you.
Do small B2B websites really need the HTTPS switch?
The uptake for a smaller B2B website is relatively low. The reason is the lack of awareness of SSL certificate or the complexity of the switching process and the negative effect on the SEO. Search engine optimization is of great importance for small businesses.
Entrepreneurs can improve their digital presence with other factors such as page optimization, Google views or mobile activities which affect the ranking far more than switching to HTTPS.
The importance of HTTPS as a ranking factor for small business is low.
Final thoughts
The benefits you will get from migrating to HTTPS are worth the risk. Quality cybersecurity is the new standard promoted from all of the biggest companies and people in the IT industry.  All of the entrepreneurs or business owners that have E-commerce websites or run huge corporations are obligated to make the change. Fortunately, blog owners do not need to migrate because they will only witness a small increase of the web traffic which can be achieved with other tools like SEO and marketing.
It really depends on the level of security you need to provide to your consumers and visitors. If you are a community owner built by a social media network builder, the migration process will be even easier. For instance, Ning can assist you in the migration process. Link to create your website on the Ning: https://www.ning.com/website-builder/ The best part is that they give their members an option to choose and shift back and forth between HTTP and HTTPS.
However, migrating constantly form one mode to another is not the best practice since it can affect dramatically your search rank. For the same reason, if you use a paid option of using HTTPS, do not forget to subscribe for using it further on time. If you decide to switch your network or website from HTTP to HTTPS, it should be a carefully weighted decision.
It is a personal decision that has much to do with the preferences of your target audience and what really suits your business model then trying to fit in and stay ahead of trends. Keep in mind that SEO is achievable with other tactics as well. Do not make a decision based on the achievements of the other websites. Find out what really suits your business values and stick with the best solution for your model.