8 Secrets To Run Your Content Marketing Smoothly
Guest Posts
8 Secrets To Run Your Content Marketing Smoothly
Content marketing is known to be an essential part of operating a successful business on the internet. Without an appropriate content marketing strategy, an online business would not be able to show off their expertise, gain the trust of new followers, and drive more sales to their business – all of which are important goals to reach for a business before they can consider themselves successful. Even though content marketing might seem somewhat confusing when a business owner is still new to this term, with a little bit of practice and by following the right steps, a business owner can take their company from serving a handful of clients to delivering their products or services to millions around the globe in a matter of months.
Forbes report that a recent study found approximately 62% of marketers seem to be reporting that they are becoming better at executing effective content marketing strategies. The results were relatively similar amongst marketers who represented B2B (Business To Business) and B2C (Business To Consumer) companies. With an increasing amount of marketers and business owners becoming more acknowledged with content marketing, more competition is also arising. If you haven't compiled the perfect strategy for your business yet, then now is the best time to take action. Consider the tips we are about to share here to help you create a more successful content marketing campaign that will not only increase your brand awareness but also take your business to new heights.
1. Make Blogging A Priority
Blogging is not just a hobby anymore. Publishing frequent blog posts have become an essential part of any company's content marketing strategy. You need to make sure your company has a blog – and that you are publishing relevant content on your blog on a frequent basis. Blogging helps to keep your audience entertained and informed, while also establishing authority for your brand in the industry your business is targeting.
2. Use Social Media Networks To Your Advantage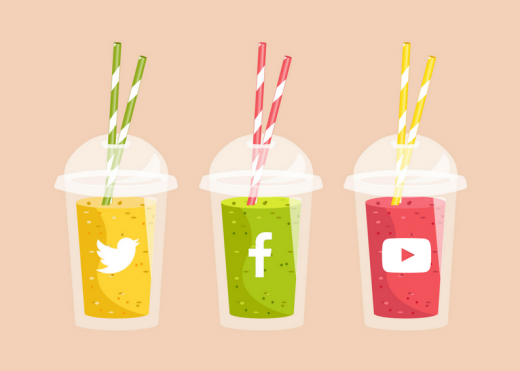 Apart from blogging, social media marketing also needs to be at the top of your content marketing strategy's to-do list. Social media marketing has helped thousands of businesses increase their brand awareness, drive more traffic to their website and boost their number of sales. Blue Fountain Media explains that even though Google has admitted that their social media marketing does not directly affect search engine rankings, at least 58% of online marketers do report observing higher rankings when they are active on social media networks.
3. Repurpose Your Existing Content
Posting short and useless blog posts is a waste of time, effort, and money; thus companies need to make a priority of publishing higher quality content – this includes content that consists of 1000+ words and no language errors, as well as accurate and relevant information. This can all take quite a lot of time and money; thus repurposing existing content is a great way not only to target additional platforms for promoting content but also to save a lot of money. A single blog post can be repurposed into multiple social media posts, images that can be shared on image sharing platforms, infographics and even videos.
4. Guest Blogging
Guest blogging is not a new type of content marketing method and has a lot of potential for any type of business – big or small. The idea is to publish a blog post on another blog that already has an established database of readers. There are many advantages to using guest blogging in your content marketing strategy. Firstly, you gain access to the established database of readers that the blog owner has already gained. You also get a high-quality backlink from that blog – many blogs that accept guest posts have high metrics and are already ranking high in Google. If you find it difficult to identify a good match, then use a sponsored content platform, such as ProvenSEO, to help you find the right blogs to guest post on.
5. Video Marketing Is A Must
Video marketing is more popular than ever before, with the average internet user now claiming that they would rather watch a video to learn more about a product than read through a long and time-consuming article. Hubspot reports that a recent study of them revealed that 51.5% of professional internet marketers claim that video marketing is their best performer when it comes to measuring the ROI (Return On Investment) of their marketing efforts.
6. Create Engaging Content
It is important not only to concentrate on creating high-quality content that is free of spelling or grammatical errors, and to make sure all content published is relevant to a particular topic in your industry, but to also ensure that all published content is engaging. Comments, shares and other actions should be requested – a reader will be much more likely to comment on a blog post when you end the post with a question. They would also be more likely to share the blog post when you ask them to do so – and when you make it easier for them to share your content. You can take a look at iHeartRaves and INTO THE AM, these websites have great blogs with engaging content.
7. Influencer Marketing Is More Useful Than Native Advertising
With an ever-increasing number of devices utilizing ad blocking technology, native advertising methods are becoming obsolete. When a device is equipped with this type of technology, the browser will automatically block certain advertisements from being loaded when a person is browsing the internet. With influencer marketing, however, the ad blocking technology is bypassed as the advertisement is created in such a way that it looks natural. Influencer marketing has become more popular than ever – and if you have not yet included this strategy in your content marketing plan, then you need to ensure you set out a budget for hiring at least one influencer in the next year – at least to see how effective this strategy could be for your business.
8. Focus On Search Engine Optimization
Similar to how influencer marketing is a winning strategy for avoiding the adverse effects of ad blocking technology, search engine optimization also offers an excellent way to bypass the effects of ad blockers. When setting up your brand's website or when publishing a new blog post, make sure to use a tool such as SEMRush to find keywords you can optimize your content for. Also, take advantage of these keywords when guest blogging and posting content on other platforms. When you rank higher in Google, you are more likely to attract more targeted visitors.
Conclusion
Content marketing might seem like a task that requires a lot of learning and skill at first, but when you approach this essential marketing strategy in a smart way, things can become much easier. We have shared eight of the most important tips that business owners and marketers should take into account when they compile a new content marketing strategy. When these tips are considered, it becomes easier to set up a winning and successful strategy that will not require constant adjustments or a significant amount of time to become effective. Ning in its turn is always here to help you implement all these solutions to your own benefit, providing everything you could possibly need to build a visually appealing website incorporating vivid images, memorable videos, engaging blog posts, etc., and allowing you to integrate seamlessly into popular social media including Facebook, Twitter, Google and more. Relying on Ning for all of your content marketing needs will save you both time and effort.
Let's start create business website with Ning.