How to Use Snapchat: A Beginner's Guide in 5 Steps
Social Media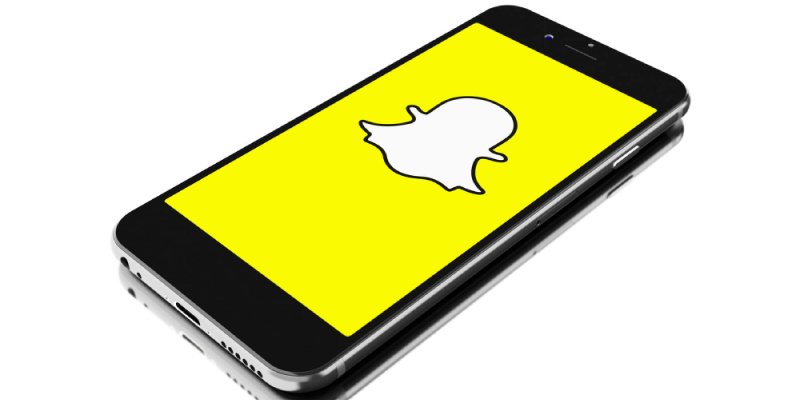 If you haven't heard about Snapchat yet, you must have been on vacation to the moon. Or perhaps you're just getting old for keeping up with all the fancy social platforms that have been sprouting up like mushrooms in the recent years. Jokes aside, Snapchat is one of those social applications that have swiftly gained tremendous popularity around the world, claiming its place in the pantheon of the all-time greatest.
But unlike the giants like Facebook, Instagram, Twitter and others that have been around for quite a while now, Snapchat has been able to expand its user base to the mind-blowing 188 million daily active users just over the last five years! The growth dynamics definitely worth the applause.
Indeed, Snapchat has become immensely popular, especially with the younger generation of social media users. It is reported that 78% of people using the app are in the age of 18-24. So if you own a website or blog (or a business) targeting primarily young audience groups and want to get more publicity, knowing how to use Snapchat is critical for your digital marketing.
What is Snapchat
Snapchat is a multimedia messaging application focusing on sharing photos and short videos. Just like any other social platform, Snapchat allows users to build extensive networks of contacts, exchange instant messages, and share engaging visual content.
However, there is also an array of exclusive features the application is known for. These include:
Focus on the instant sharing

of photos and videos made "on the spot";

Broad possibilities for image and video editing

: photos and videos can be modified using text captions, doodlings, visual filters, various graphic overlays, etc.;

Embedded augmented reality tools

allowing to add animated visual effects and sounds to photos and videos;

Limited content availability

: shared photos, videos, and messages referred to as "Snaps" can be viewed only once; Snaps disappear immediately after viewing;

Personalized cartoon avatars

known as Bitmoji which can be used as custom stickers applicable to Snaps.
These peculiarities have made Snapchat one of the most popular social platforms to date – and a major point of interest for marketers around the globe. Mobile website design is important for your business.
Snapchat basic terms
Being a social application with a wide range of unique features setting it apart from the competition, Snapchat has elaborated quite an extensive user vocabulary. Some specific terms are must-know for newly initiated users.
Snap

: A photo or video captured and sent through the Snapchat app. Chat messages sent to friends or groups of friends are also referred to as Snaps. As mentioned above, a Snap can be viewed only once before it disappears for good (unless you don't save it to Memories). If a Snap remains unopened for 30 days, it will be deleted as well.

Story

: A set of Snaps shared with your Snapchat friends (all of them or only selected ones). A Snapchat Story stays visible within 24 hours.

Custom Story

: A Story created collectively by several Snapchat friends. There are two types of Custom Stories. Group Stories are those to which several selected friends can contribute. Geofenced Stories can be only contributed to by people located at a specific place (as long as the Ghost Mode is turned off). A Custom Story remains active as long as somebody adds a Snap every 24 hours.

Friends

: Your contacts on Snapchat. You can exchange Snaps and instant messages with each friend individually or with entire groups.

Snapstreak

: A series of Snaps exchanged by you and your friends within 24 hours in three consecutive days. A Snapstreak will break if no Snaps are sent within 24 hours.

Snapcode

: A scannable QR-like code assigned to each Snapchat profile. It is used to add new friends and access the application's specific features. A Snapcode can also be created for any website for easy linking.

Bitmoji

: A cartoon avatar representing a user on Snapchat. It can be fully customized, added to your Snapcode, and used for creating custom stickers.

Memories

: Snaps and Stories saved to your camera roll. These can be reviewed or added to your new Stories anytime.

Filter

: A graphic overlay that can be added to Snaps for decorative purposes. There are many different filters available, some of them are limited to specific locations, events, holidays, seasons, time of day, etc.

Geofilter

: A filter bound to a specific geographic location. You can access geofilters only when the location tracking is on.

Lens

: An augmented reality (AR) animated effect added to a Snap. Unlike filters which are applied to photos and videos after they are captured, lenses are enabled before taking a Snap.

Snap Map

: A map on which Snapchat users' location is tracked so you can see where your friends are and whether any interesting events are going on nearby. If you don't want to reveal your location, you can switch to a Ghost Mode anytime.
Step 1. Starting out with Snapchat
Obviously, before you can start using Snapchat, you have to download its application and create an account. Snapchat is a mobile app so you will find it both on Google Play and App Store.
Install the Snapchat app on your smartphone and open it. The log-in screen will appear.

Tap the

Sign Up

button to register a new profile.

Enter the requested information in the fields you'll see on the subsequent screens, including:
First and last name;

Birthday;

Username: this will be your unique name on Snapchat so make sure you won't regret it because it cannot be changed later;

Password;

Email;

Phone number.
Verify your account. An SMS with a confirmation code will be sent to your phone. Enter the code in the corresponding field.

Add friends. The app will offer you to automatically search your phone contacts to find friends who are already on Snapchat. Tap

Continue

. You will then see the list of suggested friends. To add friends, tap

Add

next to their names. Tap

Skip

if you don't want to add any friends just now.
That's it! Your Snapchat account was successfully created, and you can now start exploring the app.
Step 2. Exploring Snapchat's home screen
As soon as you finish creating your profile, the app will take you to its home screen where most Snapchat features can be easily accessed.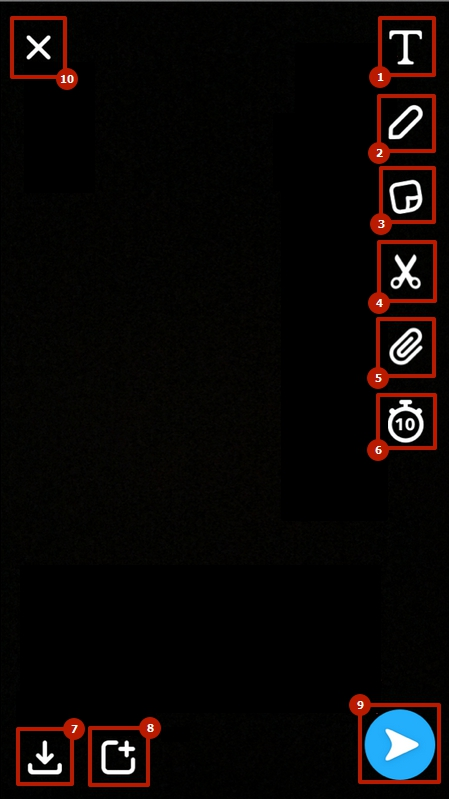 You'll see a camera screen with a few handy widgets that allow you to operate the app's core features. Let's break them down:
Profile screen

: Here you can view your Snapcode, profile data, and trophies, create a Bitmoji, add friends, start a new Story, and access the app's general settings.

Search

: A tool that allows you to search for friends, chats, Stories, etc.

Low-light mode

: Improves the quality of Snaps taken in dark environments.

Toggle flash

: Turns the flashlight on and off.

Switch cameras

: Select a front camera or selfie camera.

Friends

(can also be accessed by swiping right): Opens the list of your current Snapchat contacts and recent chats; here you can also see whether anybody of your friends has sent you a Snap; by tapping one of the contacts, you can start a chat with a friend.

Memories

(can also be accessed by swiping down): Here you can review the Snaps saved to your camera roll.

Discover

(can also be accessed by swiping left): A page where you can find Snaps and Stories recently added by your friends, publishers you are subscribed to, and other users or brands you might be interested in.

Capture button

: Makes a photo or records a video depending on how you interact with it.
Step 3. Capturing a photo or video
If you want to take a photo, simply tap the circular capture button located in the lower part of Snapchat's camera screen. To record a video, tap and hold the button. Keep in mind you can only record a video that lasts no longer than 10 seconds per one Snap. If you keep holding the button after the time runs out, the app will continue recording, but the video will be sent as a second Snap.
To apply Snapchat lenses:
Point the selfie camera at your face (or the front camera at the face of your friend);

Tap on the face you see on the screen; the selection of available lenses will appear;

Preview the lenses by scrolling through them and choose the one you like;

Tap the capture button to take a photo or tap and hold to record a video.
Step 4. Editing
Once you have a photo or video, the app will offer an array of fun tools to mess around and get creative with.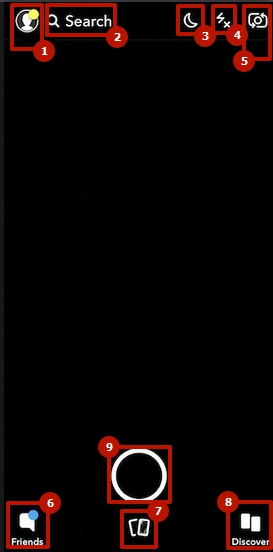 Here's what you can do with their help:
Add text to an image;

Doodle: color and size of the brush can be changed;

Add a sticker;

Cut out any part of an image to save it for further usage (e.g., as stickers), erase an object, customize the background or change the color of objects in a Snap;

Add a link: your friend will have to swipe up to see the website you linked back to;

Set viewing timer: allow friends to view a Snap for a limited period (up to 10 seconds) or disable the time limit;

Save to Memories: save a Snap to your camera roll;

Add a Snap to a Story;

Send a Snap to selected friends, groups or Stories;

Delete a Snap.
As you see, there are plenty of exciting things you can do with your Snaps to make them more engaging for people you share them with.
Step 5. Sending a Snap
To send a Snap to your friends, all you have to do is tap the arrow icon on the editing screen. Once you do it, a list of friends and Stories will show up. Tap the ones you want to send your Snap to (a check mark will appear on those you select) and tap Send.
If you haven't got any Snapchat friends yet, here's how you can add them:
Go to your

profile screen

by tapping the profile icon in the top left corner of the camera screen.

Tap

Add Friends

.

You can add friends from the

Quick Add

list (people Snapchat presumes you might know) in the

Add Friends

tab, search for friends by a username in the

Contacts

tab or scan/share a friend's Snapcode by going to the

Snapcode

tab (if you're next to a friend or have a photo of their Snapcode).
Congratulations! You have just created and successfully sent your first Snap.
Time to Snap it up!
Now, when you know the basics, it's time to put your knowledge into action! Grasping the theory is great, but only practice makes perfect. Grabbing your smartphone, creating a Snapchat account, and exchanging a couple of Snaps with friends is the best way to master the app.
Hopefully, this guide has given you a basic insight into the app's essential features. Now you can explore its possibilities further and even consider using it for business purposes!
---