Education website builder that makes teaching easy
Nowadays, many schools, universities, and courses are abandoning the traditional teaching methods and physical classrooms, migrating to the web. Obviously, today's youth spends most of their time on the Internet, so there's nothing surprising in the fact that learning online is becoming more popular.
But what's the first thing to start with if you decide to apply your teaching skills on the internet? It's simple - create an educational community website. These online networks are appealing to the youth and offer features that are similar to traditional educational practices. They are the new era classrooms. But how can the entire education system benefit from online communities? Are they suitable for all types of institutions? The answer is yes, online communities can be shaped according to specific needs and expectations.
Create a school website to promote healthy learning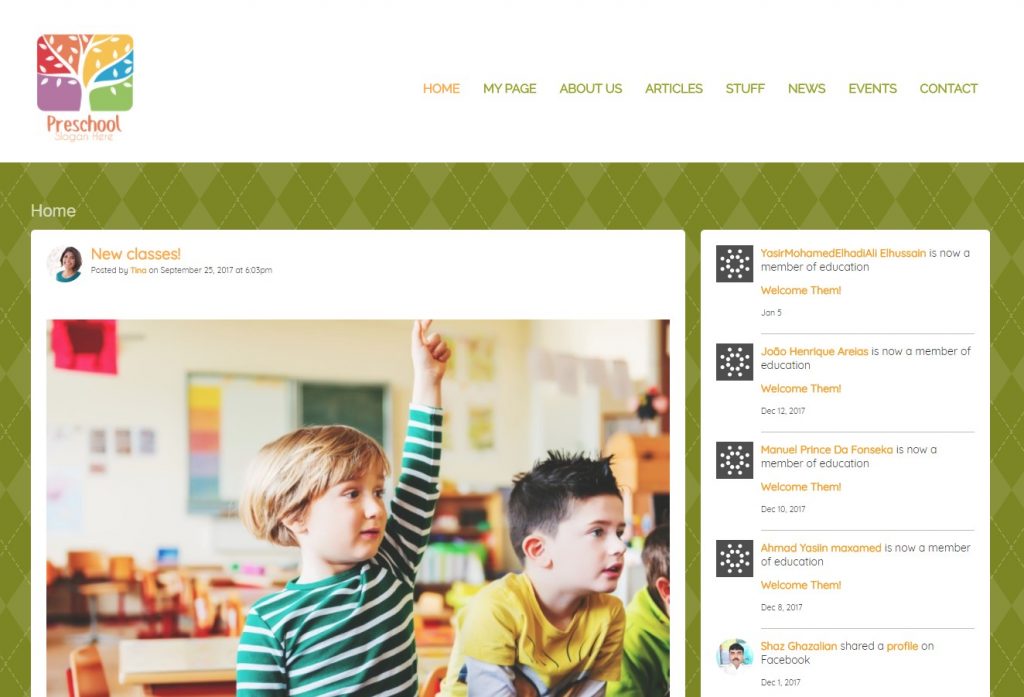 Why should every school keep up with time and create a school website? The answer is easy - children of all ages live on social media nowadays. There is a greater chance that your voice will be heard if you use the internet and digital media to communicate with them. Apart from this, there are many other benefits from creating an educational website.
Communication and partnership

The most important reason to create an educational website is making it easier to connect with your students. Creating quality community requires a school website builder that offers amazing communication features. For instance, with Ning, you can create a community that has blogs, comments, forums and chats that you can use to keep in touch with your students and provide them with necessary educational materials.

Access to information

When we talk about a quality education community, we also refer to a source that offers an easy access to various educational data. Students need to be frequently updated with new materials to learn from. With an educational website, you can provide them for free or use paid access options to share exclusive content and deliver unique study materials to specific groups.

Extracurricular activities

School is not all about classes and homework. Students want to explore, express themselves, and have some quality time after classes. Sometimes, organizing and planning extracurricular activities can be challenging. The online community can resolve this issue. Teachers can use their e-communities to reach students and organize groups where people with similar interest can discuss and plan extracurricular activities faster and easier than ever.

Safety for teachers and students

When you create a teacher website, it's important to not only provide your members with relevant information, but also check if the information comes from credible sources. Ning is a safe place for teachers and students. You can build trustful community and never worry about third-party threads.

Online Fun Times

When you build an educational website, you probably don't want to be all work and no play, at least if you want a good student retention rate. Win their hearts with some entertainment options and allow them to have some fun. Being one of the best teacher website builders, Ning enables you to upload different media materials like videos, photos, etc. on your network, as well as connect it to various social media channels!
Create a college website and make studying easier
Strict deadlines and a huge volume of studying materials can be tough on young people during their college days. Many college-level institutions sometimes fail to provide a comprehensive digital community where students can access necessary information fast and easy. That's why online communities can improve their life on so many levels.
Different educational features in one place

Education community websites provide features that will help you in structuring your student base better. You can create multiple groups and classify them by age, major, year of attendance, etc.

There is no need for your students to search for information in the vast internet space - they can find everything they need on the college website. You can build your own library of educational materials, making it easy for students to download everything they need. The best part about education website builders like Ning is that you don't need to have coding skills to build a community. With a user-friendly drag and drop interface, you can easily create and maintain your website.

A network of valuable connections

By creating an online college community, you open new opportunities for your students to make valuable connections and grow. For instance, students can find new friends, discuss relevant issues, suggest each other study materials, and share knowledge. Therefore, members of your college community can use chats, forums, messaging, and post all kinds of content. Ning endows you with a power and choice to create a website for students that will allow them to build connections for a lifetime.
Create a website for professional teachers and trainers
Education communities can be a good solution for private tutors and personal coaches. If you own a private school and want to establish a better communication with your students, the online community is the right tool for you.
Effective content monetization

The online community can provide you with amazing features you can use to enhance your teaching skills. For instance, you can build a community that offers paid courses and access to exclusive content. You can post educational articles, video tutorials, podcasts, etc. If your network building platform is Ning, you can easily monetize your content with options like Paid Access, Paid Membership, and Donations.

Flexibility and convenience

With a drag and drop site builder like Ning, you can easily customize your education website. You have a full control over its design and can change it anytime. Make your education community look flawless, and fill it with helpful content afterward.

Professional development

Are you planning to create a classroom website that will bring you to the whole new level in your career? Use features provided by Ning to build strong connections with other educators to promote your professional growth. Make use of chats, forums, and broadcast messaging to share ideas and partner with those who can boost your professional development.
Create a website for online courses
For everyone who's dealing with online courses, an online community will be a valuable tool to boost business. You can create a website to promote courses in different subjects: languages, marketing, programming, business, etc. Ning offers everything you need to reach your target audience, including comprehensive blogging platform, an ability to upload and download educational materials, options to classify network members into groups according to the subject or area of expertise. You can give a free access to demo lessons and restrict access to the premium content. Ning allows you to upload all kinds of materials, so you won't have any problem with diversifying your content. Educational articles, video lessons, podcasts - anything you need to launch quality courses. Additionally, flexible monetization options will reveal new ways to make money online.
Create an alumni website to keep in touch with your peers
If you want to keep contact with those who's been with you during your most exciting years, gather your friends in one place on the internet. With a community platform like Ning, you can build an alumni website and communicate with your peers no matter where they are now. Exchange interesting blog posts, share warm memories, funny photos and videos! The abundance of communication options will make it easier for you to contact your old pals any time.
Let's face it, technology has changed everything. New communication channels require a major shift in the ways we teach, learn and find information. Nowadays, it's not enough to use words, you have to be interactive and implement the latest social media trends to succeed. Online communities are the future of education, and the easiest solution to keep up with time is building one for yourself. Being the best website builder for teachers, lecturers, private tutors, and coaches, Ning can help you with any ideas you have on your mind.