Definitive platform for starting a blog
Why starting a blog?
Blogging has turned out to be increasingly popular because it can be viewed as a hobby and a way to make money at the same time. Many bloggers became famous and wealthy because their writings got high acclaim among internet surfers around the world.
Blogging is a very effective way to get your message out. If you feel the urge to share your knowledge, opinion or experience with others, there's nothing easier than starting your own blog. This will get you a cozy web space where you are free to express any ideas and try your writing skills in practice.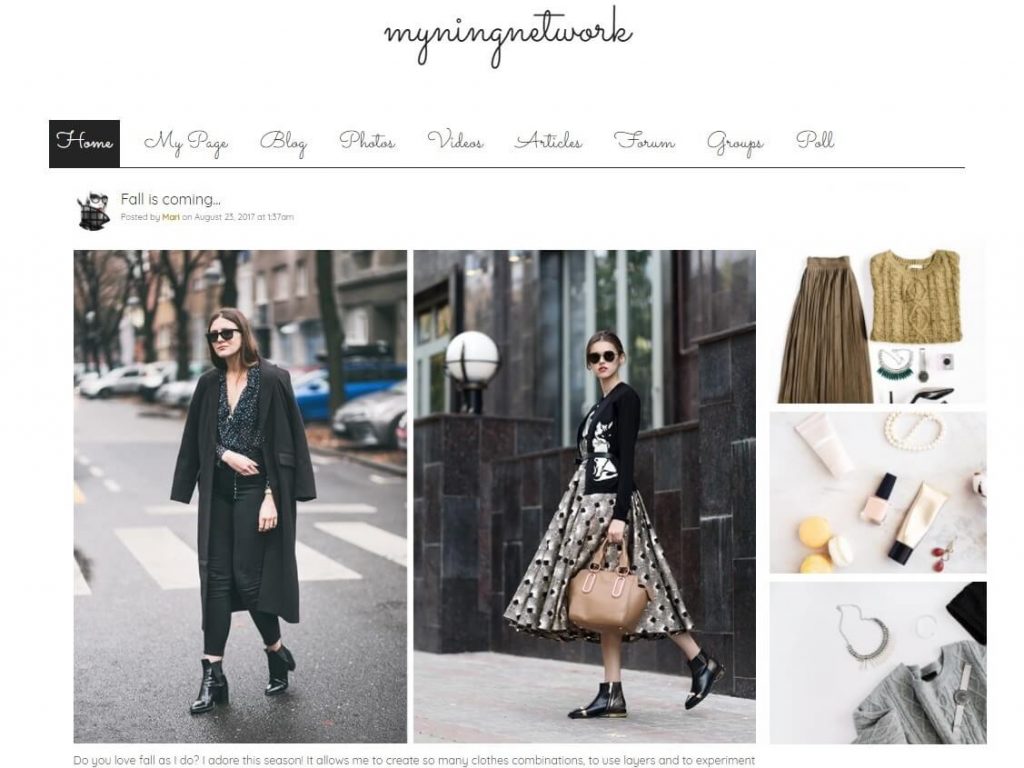 Setting up a blog, you can freely choose any topic you'd like to cover. If you are still unsure of your writing abilities, you can make a blog that would spotlight a subject-matter you are passionate about. This could be a great occasion to test yourself as an author.
Needless to say, blogging can be quite profitable if you approach it with a right attitude. Professional bloggers make good money making product reviews, incorporating in-text advertisements in their blog posts, writing reports on different events, selling ad space, generating leads, publishing sponsored posts, etc. The options are many, and if you decide to create your own blog, with a bit of luck and hard work, you will be able to utilize them all to your advantage.
No matter if you want to start a blog as a plain hobby or with a commercial purpose, a personal blog will be a great launching pad for your personal development or business.
How to set up a blog with Ning
Obviously, a desire to create a blog is not enough to actually set up a blog website. First, you need a blog hosting service to accommodate your future blog. Next, you need special tools to actually build a blog, adapt it to your personal needs and increase its usability for your readers.
The quickest way to get these tasks done is to find a blogging platform that will meet your requirements. Blog platforms like Ning allow you to forget about tedious technical concerns and jump straight into writing and posting.
This means you will be provided with a domain for your blogging site, as well as a comprehensive toolkit enabling you to shape your personal web space the way you like. Thus, the final looks of your blog depend only on your own vision. As soon as you're done with the design of your blog, you can focus on the most important part - the content.
Defining the best blogging platform
To make your own blog, you need a good blog builder that would live up to your expectations. If you are only to become a blogger, you probably don't know how to create a blog using the platforms available on the market today, and that means you don't really know what you should pay attention to while choosing the best blogging platform for your personal needs.
Before you dive straight into the world of blogging platforms, you should define for yourself what exactly you expect from your blog builder. Outline your objectives, decide what your short-term and long-term plans are. You should keep in mind that there are many free blog hosting platforms out there, but they provide only basic functions that will not take you far in revealing the potential of your blog. Free platforms usually offer only limited control over your content and do not include any monetization options which drastically reduces the range of opportunities for you. Even if you start a blog with no commercial intent, you should have these options readily available just in case you change your mind later.
If you decide to make a blog on Ning, you can be assured that all control over your content belongs only to you. Our platform allows you to set up a blog almost immediately. No coding is required, so you can easily create a blog even if you have never done this before. Additionally, Ning provides you with several monetization options, so you can consider making money from your content in advance. Furthermore, Ning is constantly evolving, adding new features on the regular basis. That means your blog will grow and develop in the similar fashion.
How blog creators benefit from Ning
Being a perfect blogging platform, Ning is always ready to surprise you with numerous features that make bloggers' lives around the world much easier. Here are some of them:
Easy start:

Create your personal site with its own identity representing your topic; no need to code anything - Ning's easy-to-use Drag & Drop Editor and intuitive Design Studio will make you feel like a professional web designer even if it's your first experience of creating anything on the web. If you are still unsure how to start a blog on your own, you will find no easier solution than Ning!

Domain and hosting:

Ning provides you with a domain and hosting services, so you can have a basis to build your online presence upon. Already have a domain? No problem - you can use it.

Running a blog is only the beginning:

Along with publishing the blog posts, you are free to employ media content to reach your audience. Photo galleries, video libraries, podcasts, music - everything that can amplify your message and engage more readers.

Forums and Comments:

Blog posts are ideal when you want to share your idea with others. But as soon as there's a need to discuss an issue with your readers, you can freely initiate a forum or communicate by means of comments. Easy and effective!

Social integration:

Make your blog more visible and accessible with the help of social media. Integrate it with your social accounts and let your friends and followers know what you post.

Customizable Design:

Even with no coding skills, you can make your blog recognizable with Ning. A variety of blog templates allows you to choose the most suitable layout for your website, appropriate background images, color schemes, fonts, etc. Apart from changing the blog themes, you can go even further and add custom HTML pages, CSS and JavaScript.

SEO:

Thanks to our simple search engine optimization tools, you can improve the searchability of your blog posts on the Internet.

Mobile responsiveness:

With Ning, you can be sure your blog will look amazing on any mobile device. Outstanding user experience will motivate more readers to follow your blog.

Content monetization:

If your question is not only how to make a blog, but also how to make money with its help, Ning can offer you several monetization options. Make your blog accessible to only those users who pay a Membership fee, limit the access to your best blog posts or articles with a new Paid Access feature, collect Donations, or accommodate ads having Google AdSense integrated with your blog. As you can see, there are many ways to make your blog profitable!
With all features provided by Ning, you have everything you could possibly need to create a unique and engaging blog. If you feel there's something you can share with the world, there is no reason to hesitate. Starting a blog with Ning is easier than ever before. The simplicity and user-friendliness of Ning's platform allow you to focus entirely on your writing, leaving all the technical details to us.