The best platform to create sport website conveniently
You can design your own sport website and create a community
Whether you are planning to create a sport league website or a sport team website, there has never been a better time than now. Why? Because now you have access to a number of affordable and convenient website building solutions.
In this day and age of busy lifestyles, people want to get information, whether about clubs, federations, or leagues at a time convenient for them. The best way to ensure that this happens is to have a portal they can access whenever they want when they want.
Even though salespeople from big companies, which make most of their money from creating websites, will tell you that you need great expertise to create a sports website, this is just no longer the case. You can now create your own sports website quite easily without having to spend lots of money on expensive service providers.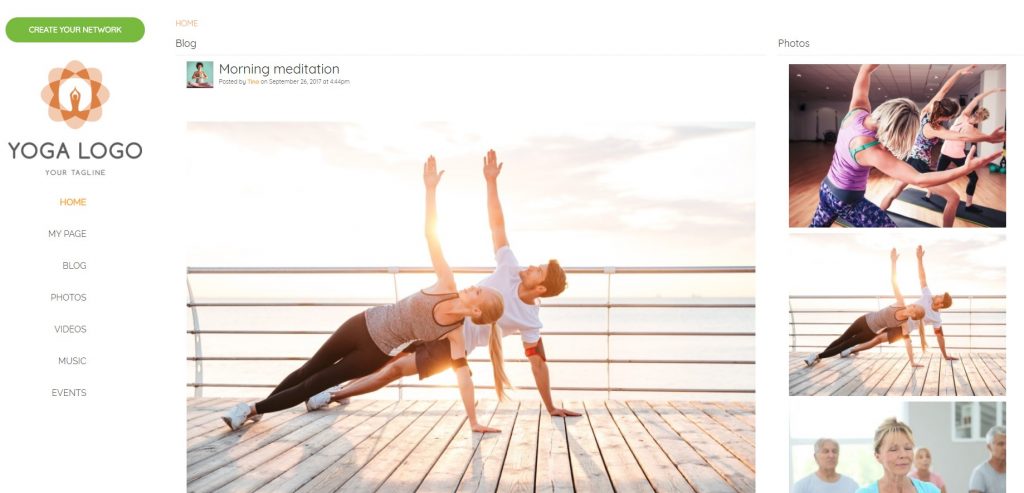 If your plan is to include sports updates, sports starts, sport venues, cities, states & countries with the aim of encouraging discussion, you can create your sport website with forum. This will enable professional players to mingle with sport communities and provide exciting information that will attract more visitors to your site.
Where can I find a convenient and solid platform to help me create a sports website? You may already be asking. Well, the reality is that you have just found one. We don't just say that we are one of the best, those who have entrusted us including individual sportsman are a testimony to the type of work we do.
The main reason why we are a trusted provider is that we have put our feet in the shoes of sporting institutions and asked ourselves what it is they want. Our answer to that question is simple: convenience and affordability. This is exactly what we have dedicated ourselves to delivering.
Our secret to creating great sports website templates
So what makes it much easier now to create a website from our platform? It's our understanding that you don't need to recreate the wheel and to this end, we create sports website templates from which you can select one whether you own a single gym or a chain of them.
We believe that we have been able to create the best sports website design because we have taken time to listen to what a standard athlete, team, or sportsman would want in a website. What each of these people wants is quite simple: affordability and convenience? After all, we know your main goal is to win championships and not to spend your time worrying if your website is delivering the results it should.
It's easy to think that our ability to offer you an affordable platform for creating your website would compromise on quality, but this is far from the truth. We make this possible by making sure that you are able to do most of the work yourself through the do it yourself sport website builder function on our platform.
Our DIY sport website feature is so easy that we have started to see a proliferation of young people approaching us and asking how they can make teen sport websites for themselves.
Maybe you are not involved in playing sports per se and all you want is to be involved with the communication aspect; we also have a product to suit your needs. You can easily use our platform to create a sports news website that can draw the types of crowds that will help you make money through hosting the kind of advertisements that appeal to people who love sports.
Our templates will make sure that you never have to start from the ground and worry about having sophisticated website building skills.
Each sports website made with you in mind
We understand that each of the sporting areas is different. This is the reason why we have taken some time to create specific designs for the individual needs of each sporting area. Within our templates, we have ensured that there is a team web page.
We design your website knowing that your teams consist of more than the people that wear the uniform. The idea is to ensure that the page is interactive enough that even your supporters are able to feel that they are a part of the team.
We have also created our designs cognizant of the fact that your sports website is the place where different people will meet to enjoy a sporting code they are all interested in. However, we also know that there are lots of fly by night providers who will promise you the world and deliver nothing. This is the reason why always advise anyone who wants to start a website such as this one to look at a few things first.
For your peace of mind, we will be happy to direct you to the websites which have been done using our designs. We also want to ensure that your website is always live because we know the type of damage that can be caused by websites that are not reliable.
From our platform, you can also build a sports streaming website so that your visitors get the news as it happens. We have done this knowing that no one wants to consume stale sports news.
For administrators of indoor games, we have also created the possibility for them to create an indoor league website where both team members and fans can interact and check information they need.
Our platform also caters for those who see their fans as an important source of revenue to support sportsmеn, athletes, or teams through buying team memorabilia. If this is your idea, use our platform to create your fan shop site.
We have taken time to create a solid platform where creating a sports website is not the dreaded task that many take it to be.