The Most Versatile Platform for Creating a Portfolio Website
Today's labor market is harsh and demanding. There are lots of candidates for all kinds of jobs out there, making the competition fiercer than ever. Whether you are a graphic designer, fashion designer, web developer, programmer, artist, model, photographer, freelancer, or student, sooner or later, you will encounter the question: how do I get a competitive edge over the other job-seekers? No doubt, your knowledge, skills, and experience mean a lot, but the way you present them often matters even more.
There's no secret that employers pay attention to the first impression a candidate makes. This is when you have to bring your "A" game and show what you're capable of.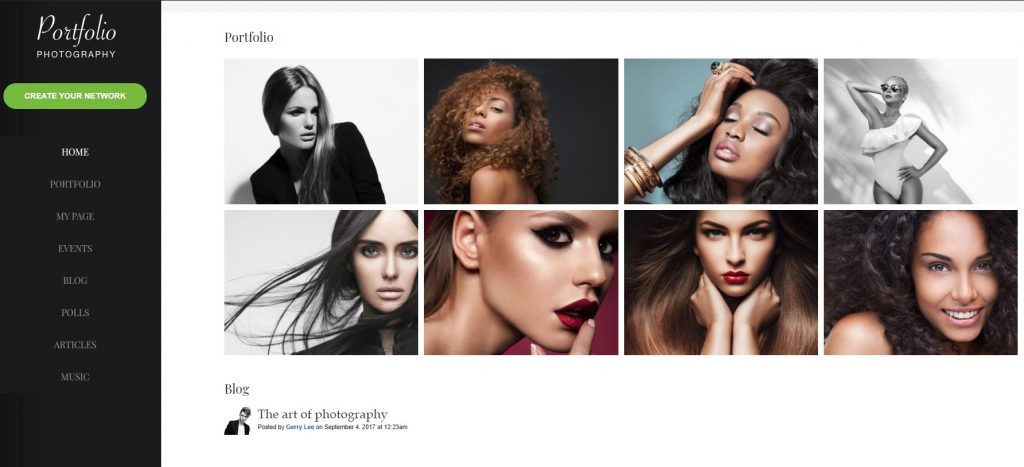 In the modern days, hiring online becomes more common. But to convince your potential employer that you can meet all the requirements and get the job done, you have to present a nice and shiny portfolio proving you're a candidate to reckon with.
There's nothing more compelling than a professional portfolio website. An online career portfolio can reassure an employer that you are not only a competent specialist but also a person who keeps up with times and is capable of using modern technologies to achieve goals.
But if you've had nothing to do with web design before and have no idea how to make a digital portfolio, there's no reason to think that it is a lost cause for you. The good news is that you can create an online portfolio having absolutely no skills in coding. All you need is just a functional portfolio website builder - the one like Ning!
Simple and versatile online portfolio maker
Building a good website from the ground up is not an easy undertaking. It requires time and effort investments, not to mention the financial aspect. If you don't have any technical background in terms of website development, you will imminently have to hire a specialist who's able to create a visually appealing and user-friendly web portfolio. The services of web designers are usually quite costly. Additionally, you will have to pay for a domain name and hosting to make your portfolio webpage fully functional.
Due to all these complications, creating a digital portfolio is considered a rather significant accomplishment which requires skills and resources. No wonder employers pay attention to things like that. This is why a quality career portfolio website can give you a competitive edge. But what if you don't know how to make a portfolio website? The answer is simple - just use an online portfolio builder.
Ning is capable of solving all the problems related to creating portfolios online at once. It is a convenient platform that offers everything you need to build a cool portfolio website in a matter of hours. With Ning, you don't need a web designer. All that matters is your creativity.
So if making a portfolio website is what you're after, Ning can offer a wide range of features you might find useful:
Domain name and hosting (custom domains are also supported);
Easy Drag-and-Drop interface;
Comprehensive Design Studio;
Lots of customization options;
Variety of portfolio website templates;
Platform for starting a blog;
Possibility of uploading photos, video and audio files;
Outstanding networking features;
Forums and polls;
Email broadcasting;
Seamless integration with popular social media;
Activity feed;
Customizable CSS, JavaScript, and HTML pages;
Advanced content management;
SEO tool;
Mobile responsiveness.
What to include in a portfolio
How to make an online portfolio? What exactly makes a perfect portfolio web page? Beyond any doubt, visual design matters as much as content. That's why it is important to make sure your digital portfolio looks dazzling and feels convenient to navigate through. These two aspects are vital if your goal is to present your prospective employers the best portfolio website.
At the same time, your job portfolio must be appropriately structured because people who will browse it will expect to find crucial information about you as quickly as possible. If your portfolio is overloaded with unnecessary details or lacks important information, on the contrary, your potential employer might get confused and move on to the next candidate to save time and trouble.
To avoid this, make sure your portfolio is clear and easily approachable. Most online portfolio websites include 5 core components:
Logo;
Tagline;
'About me' page;
Best work examples;
Contacts.
The way of presenting these components is totally up to you, so do your best to maximize their performance and make the best impression on the employer. Ning will gladly help you with this challenging task.
How to make a career portfolio with NING
Ning allows you to make a portfolio online spending minimum time and efforts. Creating a website on Ning usually takes just a couple of hours, but in this case, low time investment doesn't translate into poor quality. Websites built on the platform look fantastic and are packed with useful features that can make your portfolio stand out from the rest.
The Ning platform is not only suitable for building a personal portfolio. It allows you to make a company portfolio website as well - there are enough tools to make it look and feel 100% professional!
So why exactly should you choose Ning when it comes to creating the best online portfolio website? There are several reasons for that.
Convenience
There's nothing easier than making a website on Ning. Thanks to the responsive Drag-and-Drop interface, there's no need to possess any coding skills or have experience in web design. Just choose and arrange modules you would like to have on your site and pick the features you consider useful. Add as many pages as you like and fill them with any content that will help you showcase your strongest points.
Countless customization options
Of course, you want your online portfolio to look stunning. Ning took care that you have all the tools needed to bring your portfolio website design to perfection. The embedded Design Studio will enable you to customize the appearance of the site and make it a reflection of your personality.
Start with a portfolio template! Ning offers a variety of design themes to choose from. Pick the one that fits your area of expertise or industry and move on to further tweaking. You are free to implement your own logo, tagline, background image and website layout, so your employer will experience no difficulties figuring out who you are and what you specialize at. Make a statement with the dazzling look of your portfolio!
If you know your ways around coding, take the design of your website even further by introducing customized CSS, JavaScript, and HTML pages.
Ning has also made sure that your portfolio website looks perfect on any platform, be it a desktop, tablet, or smartphone.
Endless possibilities for self-promotion
Ning allows you to turn a portfolio into something bigger! You can certainly take a traditional approach and tell about yourself on the 'About me' page. But you could also introduce your own blog where you share knowledge and expertise on the subjects relevant to your niche. That will reassure your employer that you really know what you're talking about. If your blog attracts a number of readers who follow your posts and comment on them, you will have one more argument in favor of your competence.
Thanks to the variety of networking features provided by Ning, your online portfolio can turn into a whole community where you will be a central figure with a great credit of credibility, which will highlight your professionalism and leadership qualities. Spice it up with forums and polls where you can demonstrate your knowledge of the subject, and the job you apply for is in your pocket!
But there's no reason to stop on creating your own social network. Continue promoting yourself on other social channels by integrating your Ning portfolio website with Facebook, LinkedIn, Instagram, etc.
Multiple ways to present yourself
Obviously, in describing yourself and services you provide, textual content plays a key role. However, text alone cannot make a proper impression on your employer. That's why the content presented on your portfolio website must be diverse and memorable.
Ning allows you to upload images, as well as video and audio materials, that can make your portfolio more vivid and convincing. Share photos or videos demonstrating your best works, or let everybody hear your music if you are a musician or a DJ. Be creative and check other portfolio examples on the internet for interesting ideas!
Creating an online portfolio is easier with Ning
If you have ever wondered how to make a company portfolio website or a personal online portfolio, Ning is here to provide any answers you seek. It is a powerful platform capable of bringing your wildest ideas to life.
Countless functions and customization options are available to let you build a portfolio website that will showcase the best of you as a specialist and convince potential employers that you are the right candidate who's ready to meet the highest expectations!