Create a Music Website That Will Blow Your Fans Away
As a musician, you know how much work and love is invested in creating music. For all who don't take music for granted, cherishing it as a hobby and passion, the process of creation is only a halfway to the ultimate goal - sharing music with the world. Luckily, in the age of the internet we live in, reaching out to people who share similar music tastes is easier than ever before.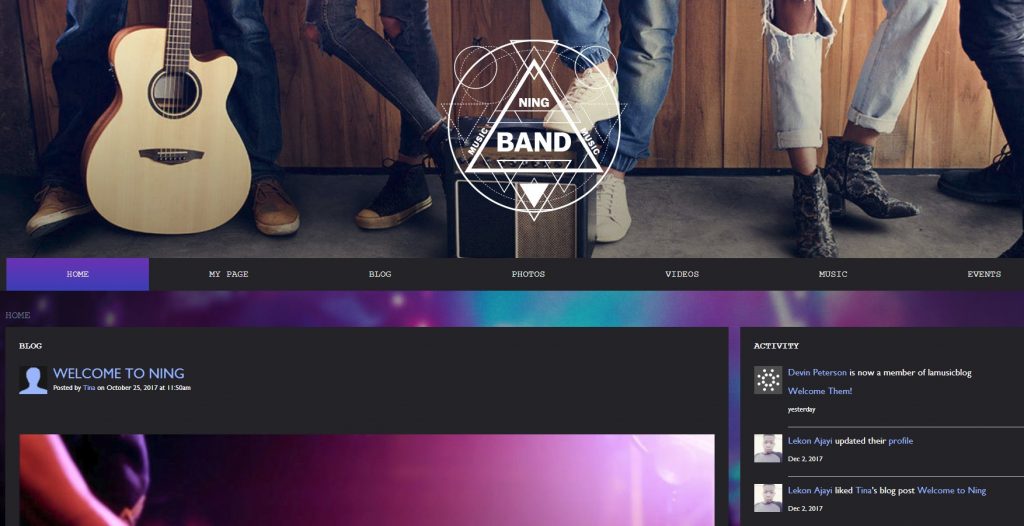 Obviously, one of the most effective ways to get your music out nowadays is to create a music website, which will enable you to:
Share your music;
Raise awareness about your band;
Keep in touch with fans;
Update audience on the latest news, releases, and events;
Announce concerts and tour dates;
Promote merchandise.
To become famous you have to knock on the doors of your potential listeners. And there's no easier way to do it than establishing an online presence by making a website for music you create!
How to make a music website easily
If you believe that the only way to create a band website is by hiring a professional web designer, you're just not aware of other options. The quickest and easiest way to make a band website is by using an advanced music website making software like Ning.
Ning is a powerful platform that allows you to:
Create a band page online;
Make a musical artist website;
Create a DJ website;
Create a music download website;
Create a tour promo website;
Build a music producer website;
Make an online community of musicians and/or music fans.
Ning's purpose is to enable musicians and music enthusiasts around the world to come into the spotlight by promoting themselves online. There's no need to possess programming skills or have prior experience in website development. Ning allows you to create your own music website from scratch using simple but effective tools.
The best platform to create sites for music makers
Ning is not only a perfect music website builder. At its core, it is a platform that allows users to create customizable social networks. This means that music websites built on Ning can function as online communities, which opens a whole range of unique opportunities for bands and individual musicians.
Thanks to the abundance of networking features, websites powered by Ning not only enable you to share content, but also communicate with your followers, set up multiple member groups, and build online presence incorporating all your social profiles.
You want your music website design to be unique and represent your own or your band's identity. That's why Ning provides a wide range of options to help you customize the appearance of your site.
As a result, you get a music social networking site with a vivid design and multitude of social features allowing you to promote yourself as an artist (or a band).
Tips to create the best website for musicians on Ning
A good music website should be informative, functional, well structured, and easy to navigate through. You must provide relevant information about yourself, your band, and the genre of music you compose, giving visitors an opportunity to listen to it. To make an impeccable impression on your audience, just follow the tips given below.
Pick a memorable domain name

Your music website should have a catchy URL address that represents you as a musician or a band. It can be either your own name or a title of your band. If the domain name is already taken, you can modify it to make unique. On Ning, you can get a native domain name (_______.ning.com) or use a custom domain from any registrar. Hosting is already included in the subscription plan, so you don't need to bother!

Select a website theme and customize its design

Ning offers a wide range of templates to make your band website design unique and recognizable. Just choose the one you consider suitable for your band's image and you're ready to go! You will then be able to customize the look of your site by adding a logo, setting a background image, adjusting a website layout, etc.

Website creation and design customization are performed via a convenient Drag-and-Drop interface and embedded Design Studio, so you won't encounter any troubles in the process. Need some advanced design solutions? No problem! You can introduce custom CSS, JavaScript, and HTML pages.

Make a cool home page

Your home page is the face of your website, so do your best to make it look as impressive as possible. Include the most relevant data about your band, as well as the music you play. Your home page is also a good place to post recent news and let your visitors know about upcoming events or new releases - albums, singles, clips, etc. Employing a sidebar can keep your most relevant information visible all the time.

Create your bio

Ning allows you to create as many pages as you want. Make sure you have a page describing in detail who you are and what you do. Tell people about the music you play, as well as the background of your band and its members.

Upload your music, photos, and videos

This step is one of the most crucial for a music website. You have to provide an opportunity for those who are new to your art to get acquainted with it, so don't hesitate to upload your songs or music samples.

Clips and videos demonstrating your band's stage performance will be much appreciated by your fans and those who'd be interested in inviting you to venues. Also, post some photos and showcase your album artwork to make a picture complete. With Ning, you are free to share any media content.

If your band is already popular enough and has a solid fan base, there's nothing preventing you from monetizing your website. Just set up a paid access to your music tracks and other exclusive content or configure a Donate button enabling your fans to support you.

Announce upcoming events

You can let your fans know about upcoming shows and tours by creating events in the dedicated section of the site. Just point out where and when the event will take place, drop a few lines to describe it, and the chances that it will be attended by more people increase.

Start a blog

Running a blog is a great way to promote your band. With its help, you can keep fans informed about recent news and introduce them "behind the scenes" by telling interesting stories about touring, creative process, recording sessions, etc. You can also set up an activity feed or integrate your website with a MailChimp account to keep fans updated and maintain communication.

Optimize your music website for search engines

Ning offers a simple and effective SEO tool that allows setting titles and descriptions for every page of your site. Titles and descriptions are displayed in search results and can improve your visibility on the web.

Make it easy to contact you

Create a Contacts page so that everybody who wants to get in touch with you can easily find your contact details. Since many people use social media to communicate nowadays, it is advised to integrate a music website with your band's Facebook, Twitter, LinkedIn, Instagram and other social accounts. To make it easier for fans to get your records and merchandise, provide relevant links to a music store website where your products are available.

Let your music be heard

Being a perfect band website builder, Ning offers a versatile and responsive platform for creating beautiful and functional music websites. Musicians, DJs, and bands can benefit from the variety of features allowing to take their online presence to the next level. Share your content, communicate with fans, promote your music, and make sure your creative efforts are fairly rewarded!
If you believe your music can touch the right chords in people's hearts, there's no reason to keep it to yourself.
Share it with the world and let everybody appreciate your talent!