Ning Networks are all about the relationships you make with other members. Your Ning Network comes with the features to allow you to send Friend Requests, manage your Sent and Received Friend Requests, view your list of friends, and even message your friends.
Send a Friend Request
If you find someone on your Ning Network you'd like to send private messages to or whom you'd like to invite to your Groups or Events, you'll need to be friends with them first.
You can add them as your friend by going to their profile page. Click on the "Add as Friend" link under their profile photo. A confirmation window will pop up. If you'd like to add a note to your friend request, click the "Add a personal message" link. Some people don't feel comfortable accepting friend requests from people they don't know, so this is a great way to let them know how you might know each other or why you'd like to be friends. Once you click "Send," they'll receive a notification that you'd like to be friends with them.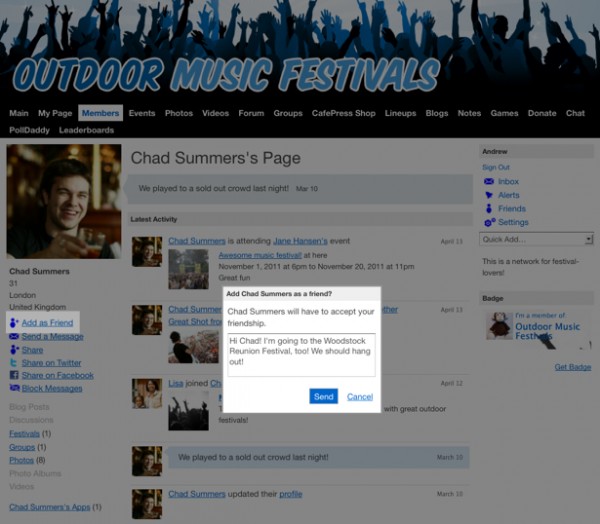 If you see a message stating you have too many outstanding friend requests, you'll need to withdraw some requests before you can add other people as friends. You can have up to 100 outstanding friend requests.
View Your Friend Requests
When someone sends you a friend request, you'll receive an email notification that they've done so. You'll also be alerted when you sign in to the Ning Network itself. At the top of the right column, you'll see how many friend requests you have next to the "Friends" link. To view who has requested to be your friend, click on this link to be taken to your My Friends page, with the Requests Received tab open.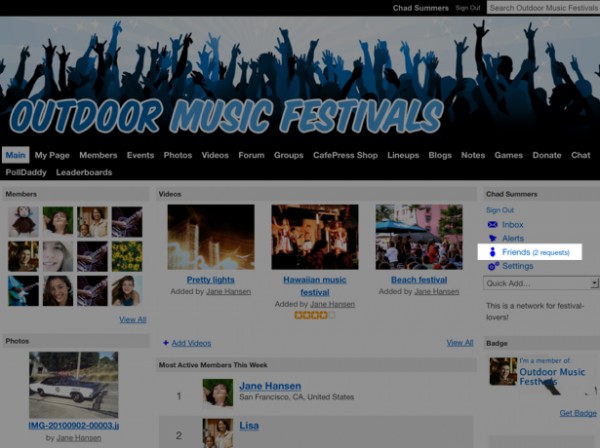 On this page, you will see the name and profile photo of each member who has requested to be your friend. You can click on the name or profile photo to view their profile page. If they've sent you a message along with the friend request, you'll see this note here, as well.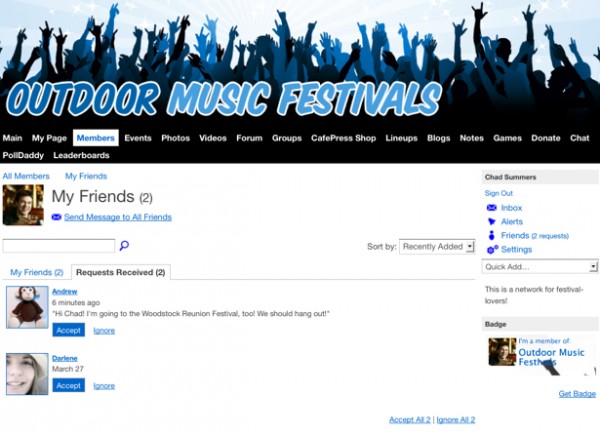 You can choose to accept or ignore these friend requests.
You can also withdraw any friend requests you've sent to others from this page. Just click the Requests Sent tab, and click on the "Withdraw Request" link next to anyone you no longer wish to be friends with.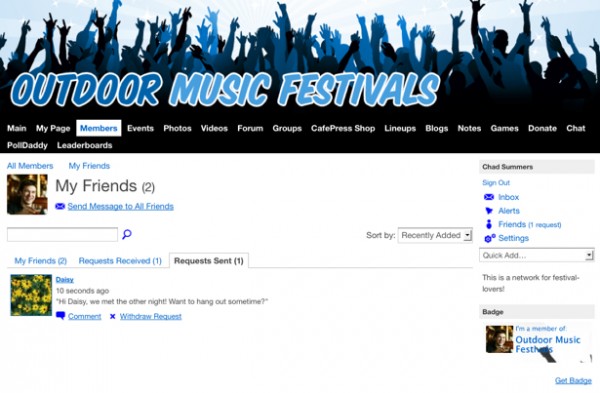 View Your Friends
To see the list of everyone you're friends with on a Ning Network, click the "My Friends" link near the top of the page, or click on the "Friends" link from the member module on the right side of the page. You'll be taken to a page listing all of your friends on this network.
You can also view your friends on your profile page. Head to your My Page and locate the My Friends section in the left column under your profile photo. You can go to the profile page of anyone else on the Ning Network and see who they're friends with on the network in this same location!
Message Your Friends
You can send a private message to anyone you're friends with – or to a group of people you're friends with. Just click the "Inbox" link from the top right side of the page, then click on the "Compose" link.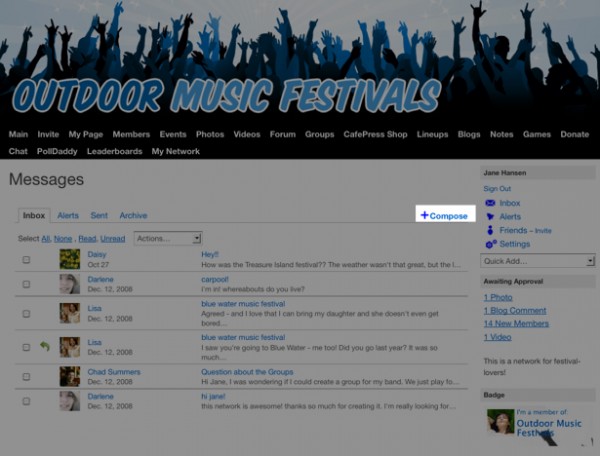 This will open up a list of your friends on the Ning Network, and you can select which of these friends you'd like to send your message to.
Along with sending your friends personal messages, you can also send them invites to any group you belong to or any event you've RSVPed to.
Similar Articles: