At Ning, we're all about social. It's in our veins. We play well with others like Twitter and Facebook; and we focus on how other services like them can best be implemented into the Ning Platform to give you a seamless and awesome experience for building and contributing to a Ning community, and sharing content elsewhere.
We encourage Ning Creators to take full advantage of other social platforms as they build a social strategy and online presence to reach their goals. Here are 8 ways your Ning community works with other social platforms, making your Ning site an integral part of that strategy:
Adding Social Sign-In to your Ning site allows people to sign-up and sign-in with their social identity on Facebook, Google, Twitter, Yahoo!, WindowsLive and LinkedIn. It's 1 less login account to remember, and allows for 1-click access and engagement. Learn more.

Track web traffic and see how people discover your Ning site and its content with full support of Google Analytics. It's simple to add, and gives you the valuable insights you need to make informed decisions on where else to focus your marketing and social efforts. Learn more.

Use our Social Feeds feature to automatically pull in the activity from your social channels into your Ning site. Easily add streams from your Facebook page, multiple Twitter accounts and custom searches, and RSS feeds. It just works. Learn more.

Members can post their status updates from your site directly to Facebook and Twitter, a simple way to share what's important across multiple social profiles. Learn about sharing to Facebook and Twitter.


Add Ning Apps and Extensions to enable full integration with other social services. Support for YouTube, WordPress, Ustream and SoundCloud add a streamlined and slick interface for you and your members, giving you options for pulling in content from across the web into your Ning site. Learn more.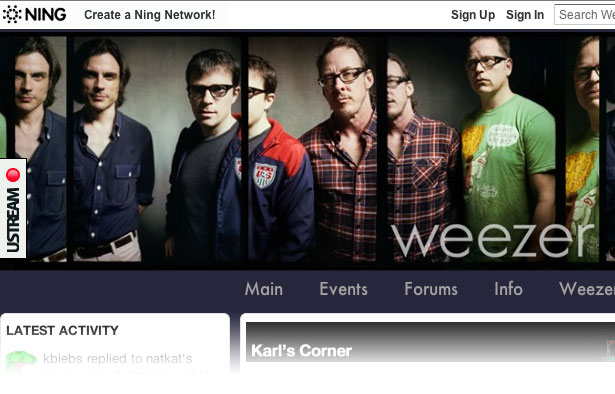 Big into photos? There's no reason to be uploading photos in 2 places if you use Flickr. We give you an easy way to import content added to your Flickr account directly into your Ning site. Learn more.

The share and Like buttons you want are always available to you. Add buttons for Facebook, Twitter and Google+. Or use the Network Like option to have the likes live within your community. Either way, get your members engaged with no coding needed. Learn more.

Constant Contact is a great platform for email marketing and communicating externally of your Ning site. You can synchronize your members' contact information to your constant contact account, automatically. Learn more.
Since we're on the topic, be sure to follow and stay connected with us:








As the saying goes, Rome wasn't built in a day — and we're a work in progress. What features and services do you want to see added to the Ning Platform?
No related posts.