As the Network Creator, you have access to tons of tools to help you moderate your Ning Network. You don't need to spend too much time focusing on the negatives, but to put yourself in the best possible situation, you should be prepared for a small number of people to test the limits.
Your best safeguard, should this happen, is to write a set of community guidelines regarding what is and isn't acceptable on your Ning Network. Guidelines are a good way to make sure all members are on the same page. Posting your guidelines prominently on your Ning Network, in a blog post, an HTML section on your home page or in a forum discussion, encourages a positive environment and makes members feel safe. You can even add a navigation tab pointing to your guidelines, so members can always find them.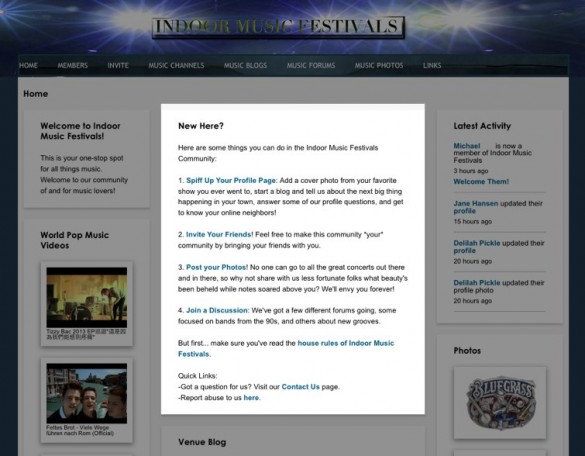 Your guidelines don't need to be written in legalese or cover every single specific type of behavior or content that is and isn't acceptable. In fact, the best community guidelines we've seen are written in everyday language, making them extremely relatable and even fun to read. They also cover the general types of behavior that aren't allowed on your Ning Network and the consequences, assuming members can use common sense.
Lightweight, flexible guidelines can be adapted over time to include more specific situations or behaviors that aren't okay on your Ning Network.
Occassionally, members will break your guidelines. If they've uploaded a piece of content that goes against your guidelines, delete it, then reach out to them and let them know that you've done so. Send them the link to your guidelines and let them know what they did wrong as nicely as possible. In general, people will appreciate that you let them know and they'll make sure not to do the same thing again.
If you'd like to take a look at Ning's Terms of Service for an idea of what you might want to address in your guidelines, you can visit our Terms of Service here.
Sometimes, members may become frustrated with you or repeatedly engage in behavior that simply doesn't belong on your Ning Network. That's alright too – your Ning Network isn't for everyone, and this may just not be a good fit. You don't need to suspend every member who does something wrong, and you'll probably have a good sense when you'll know when someone isn't going to work out as a member. These types of members typically take up a disproportionate amount of your time, and aren't worth the trouble. They steer other members off course and contribute to a negative vibe all-around. If that happens, you can always suspend a member from your Ning Network by going to your Members panel in the dashboard, checking the box next to their name, and then selecting "Suspend" from the drop-down menu.
Suspending Members
Suspending a member from the network gives you the option to delete their content when you suspend them. This box is checked by default, so make sure to uncheck it if you don't want to remove your member's content! Suspending a member for spam will automatically delete their content in addition to suspending them.
See "Suspend a Member" for more information.
Having guidelines in place not only protects your members, it protects you. If you have to delete something or suspend someone, you don't need to argue with them or engage them. You can simply point to the guidelines.
Examples of effective community guidelines:
On the 29-Day Giving Challenge, Network Creator Cami Walker has posted the Ning Network's guidelines in this forum discussion. In the right column of her home page, she has added an HTML section titled "New? Please read first," with a link to the guidelines. Cami's guidelines include things like no solicitation, no advertising, and general suggestions to make sure members guard their personal information.
Similar Articles: