Welcome Centers are great for guiding members through the features offered on your social network and for making them feel at home. A well-placed text box on your main page can become a highly visible and extremely useful Welcome Center for new members. The Indoor Music Festivals community uses a Welcome Center on their home page to greet new members.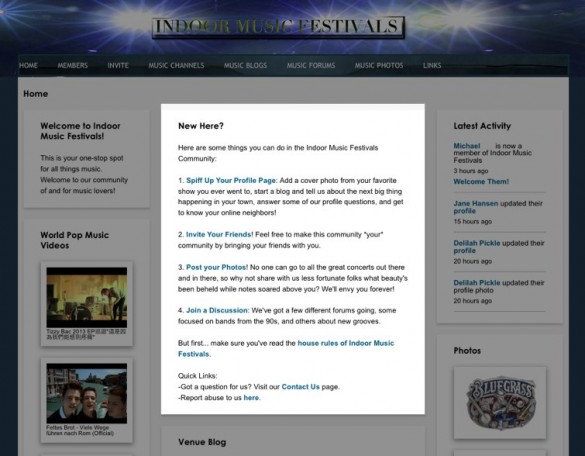 Here's a breakdown of what you might want to include in your social network's Welcome Center:
Introduce Yourself!: Create an "Introductions" discussion in the forum. Then invite new members to introduce themselves by replying to that discussion thread. An "Introductions" discussion can instantly become a great place to greet new members and find out who shares your interests.
Get Started: Show some ways new members can contribute right off the bat. Promote your most popular features, and give a little guidance about the best ways to use them.
Terms of Use: If you've created Community Guidelines, link members there from the Welcome Center. You can also refer members to the Terms of Service for all social networks on the Ning Platform.
Link to administrator profile pages: Introduce yourself and the administrators of your social network in the Welcome Center. One quick way to do that is to add an HTML section and just add a link to the profile page of your network's administrator. From here, new members can leave you a comment on your wall.
Provide a "Contact Us" link: Give your members a way to contact you when they need to report an issue or want to know more about you. The Indoor Music Festivals community provides two links — one to a contact page they created, and another to the built-in "Report an Issue" page.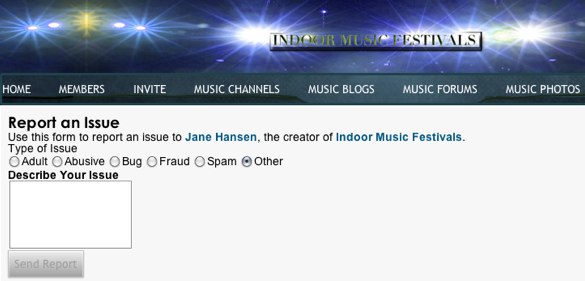 This is a great option for people who want to increase the visibility of the "Report an Issue" button in the footer of their social network.
Similar Articles: