With the Social Sign In feature, you can allow your members to sign up and sign in to your Ning Network using popular services like  Facebook, LinkedIn, Google, Yahoo!, and Windows Live . You can also choose whether you'd like to use Ning's native sign up and sign in tools, or if you'd prefer to only allow members to access your network with their existing third-party credentials.
If you've enabled any of these social sign in services, prospective members will just need to authorize your Ning Network to pull in their credentials from the third-party service of their choice, allowing them to bypass the selection of a unique username and password for your network. After authorizing this connection, members will then be directed to the second page of the sign up flow, which houses the profile questions for your network.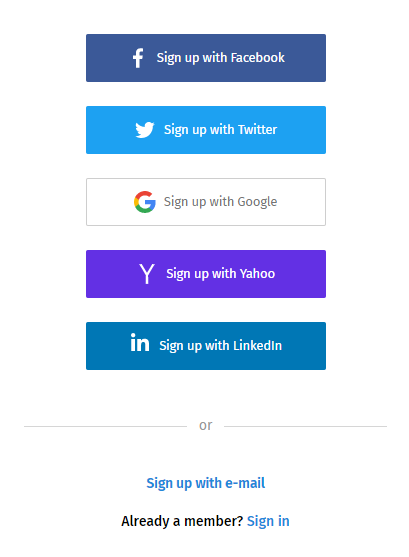 When a new member signs up, your network will automatically pull in his or her name and email address and in many cases a profile photo, birthday, gender, and location (when that information is available). In order to have this new sign up method pull in a profile photo, you'll need to make sure your network requests a profile photo from new members. To learn how to create a Profile Photo question, click here.
Every time one of these members returns to your Ning Network and lands on the Sign In page, he or she will just need to click the button for the service originally used to sign up or that they've since linked their network profile with, and no other email or password information will be needed to sign in.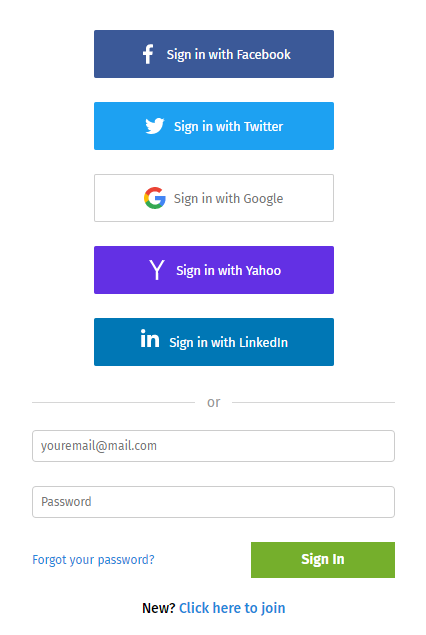 Please note that Facebook lets members choose to use an anonymous email address or their Facebook contact email address.
To enable social sign in services on your Ning Network, click on the "Sign Up & Sign In" link in your Member Management section: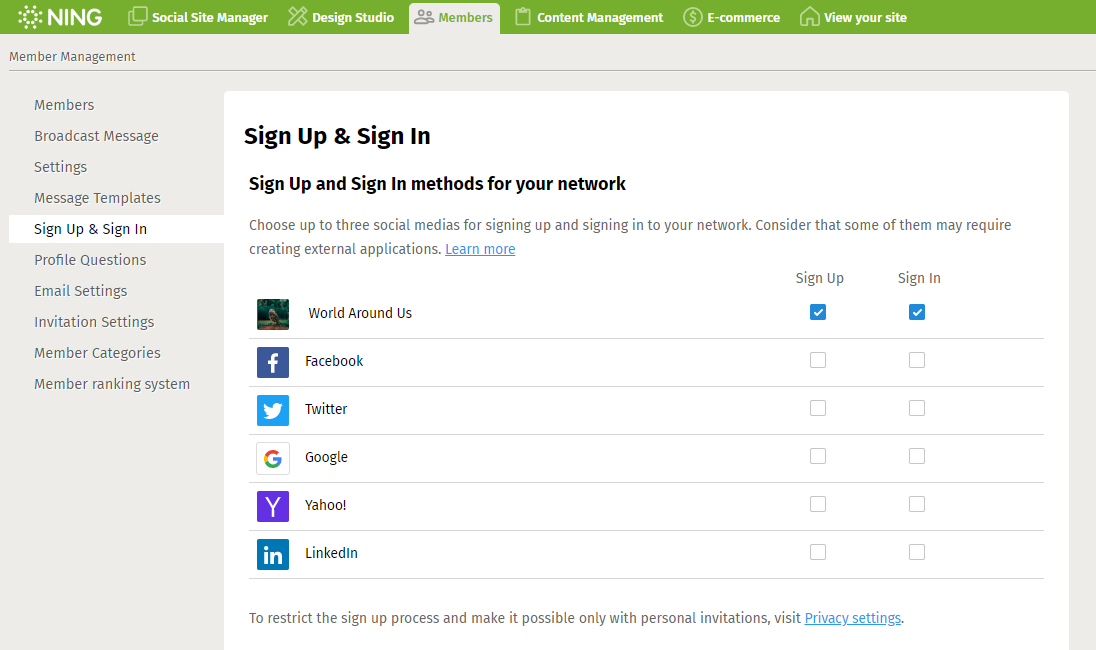 You'll see on that page the available sign up and sign in services for your Ning Network. By default, the native Ning sign up and sign in tool will be enabled. All other services are defaulted off until you activate them. You can decide for each service whether you'll allow members to sign up and/or sign in with a specific service by checking the appropriate boxes.
Any time you see a note next to the service that reads "(x members)," this indicates that you have that number of members currently using that service to sign in. If you then choose to stop allowing members to sign in with that service, these members will effectively be locked out of your network. For this reason, you can choose to only disable the sign up option if you no longer wish to enable new members to sign up with a particular third-party service  by unchecking the box in a service's "Sign Up" column. Remember to always click "Save" at the bottom of the page to activate any changes.
Existing members can head to the Connections page in their personal settings on your network to connect their accounts to those services so they can use them to sign in.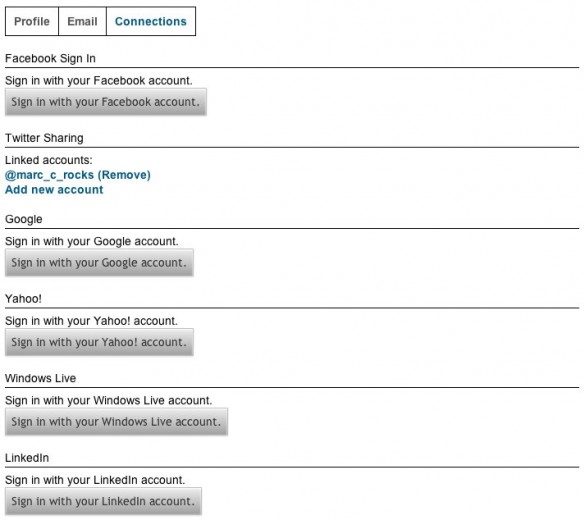 To activate any of these connections, just click the button for the service you'd like to use, enter your credentials and allow Ning to access that information. After you do, you'll then be redirected back to the Connections page where you'll see the account you just activated. You can click on that account at any time to remove the connection.
On the Sign Up & Sign In page in your dashboard, you'll also see that you have the ability to choose which page of your Ning Network new members will land on right after they sign up. You can read more about this redirection feature here.  
Frequently asked questions:
Q:
Should I turn on Social Sign-In?
For most of your members, turning this on is all about convenience. Existing members will now be able to sign in with a single click. Those who use Social Sign-In when signing up won't have to remember a password, nor will existing members who link their accounts using Social Sign-In. Even better, much of their basic sign-up info will automatically be filled out for new members.
Q:
What information is transferred when a new member signs up?
When a new member signs up with a Google or Yahoo account, we are able to automatically pull in their name and email address. When they sign up via a Facebook account, we can additionally pull in a profile photo, birthdate, gender, and location (if the user allows that data to be pulled). Note that to have this new sign-up method pull profile photos, birthdates, gender and location, you'll need to make sure your network has those profile questions set up.
Q:
Will new members fill out profile questions and be approved?
Yes! You'll continue to approve members in the same way you always have. If someone signs up using their Facebook account, we'll simply pre-populate information we are able to add to your existing profile questions.
Q:
Can my members find and invite their Facebook friends with Social Sign-In?
No. Social Sign-In focuses only on the sign-up and sign-in process.
Q:
I'm an administrator and not the Network Creator. Can I set it up?
Yes, you can. However, keep in mind that the Facebook App that is created in the process will be connected to one person's Facebook account. If you are an NC, you may want to tie the Facebook App to your own Network Creator account, in the event that your administrators leave the network at some point in the future.
Q:
What are these strange anonymized Facebook email addresses?
When signing up for web sites using Facebook Login, members have the choice of providing their real email address or giving a proxy email address, which will be something similar to xxxx@proxy.facebookmail.com. Email to this address will be delivered, but you won't know the member's real email address.
Similar Articles: