The Language Editor is designed to provide an easy way for you to change the text of your Ning Network from one place. For example, if you want to change "friends" to "contacts" across your network, or if you want to change "photos" to "pictures," then the Language Editor lets you do that! You can also edit the default translations of one of our six currently supported languages:
English (U.S.)
Spanish (Latin America)
Portuguese (Brasil)
German
Italian
French
To find the Language Editor on your Ning Network, go to "Language Editor" section of your Social Site Manager. From there, you can make these changes:
1. Edit the Language on your Network
2. Create a New Translation
3. Import/Export
4. Edit the Welcome Email
Edit the Language on Your Network: To edit any of the languages on your network, click the "Change Active Language" link from the "Language Editor" page. Alternatively, you can change the active language by heading to your "General Settings" page from the Social Site Manager.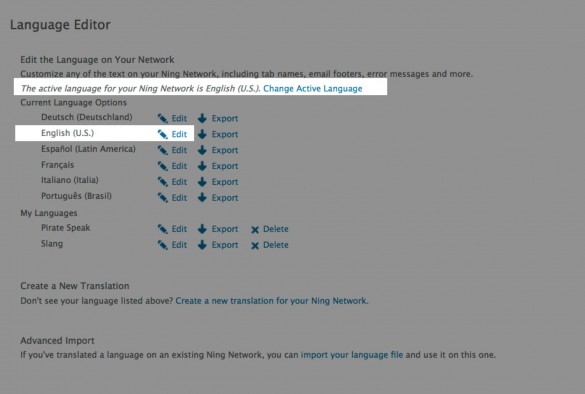 This editing page shows the existing text for an item on the left. To change that text, simply type in your replacement text on the right. Enter your changes one page at a time, then click the "Save Page" button to save them.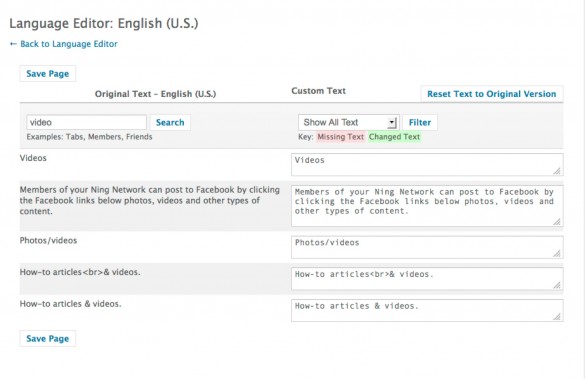 You can also use the pulldown filter to show any fields that you've left blank or changed from the original text. Items will appear red for missing text and green for text you've changed. To change everything on your network, there are about 30 pages to work through. You can work at your own pace and change items as you have spare time, or you can use the search field here to find specific items you'd like to change.
Custom text you add to your network's translation will not appear on your Dashboard and other administration panels.
If you make edits to a language and would like to reset the text back to its defaults, you can do so by selecting "Reset Text to Original Version."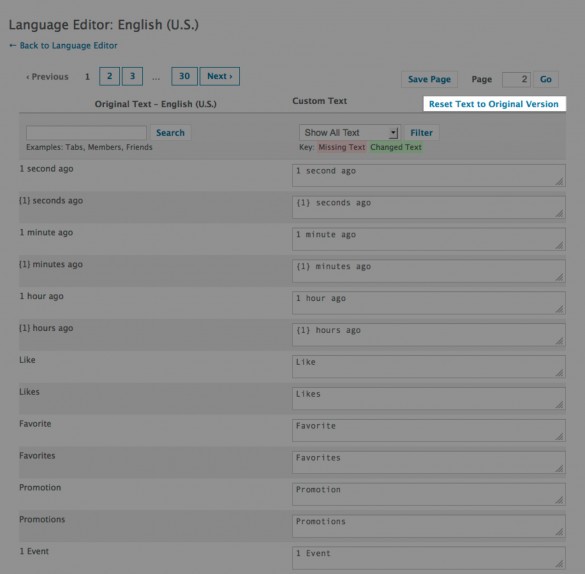 Create a New Translation: To add your own language translation, choose "Create a new translation for your Ning Network".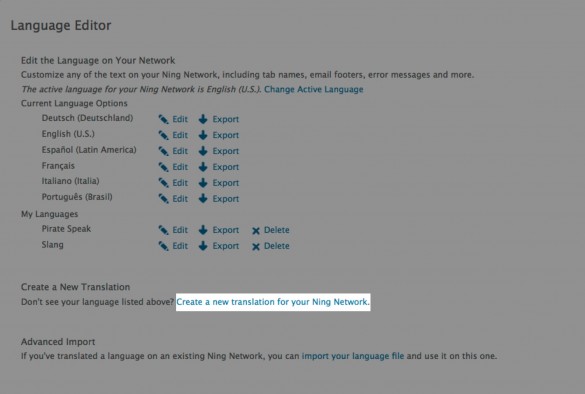 There, you can start from scratch and create a new translation for your Ning Network. Do this by entering a name for the new language, then picking an existing language as a reference point.
Import/Export: You can Import/Export a language file using the Language Editor. If you've created a new translation on another Ning Network, you can import your work here. The contents of the file will be added to the language of your choice.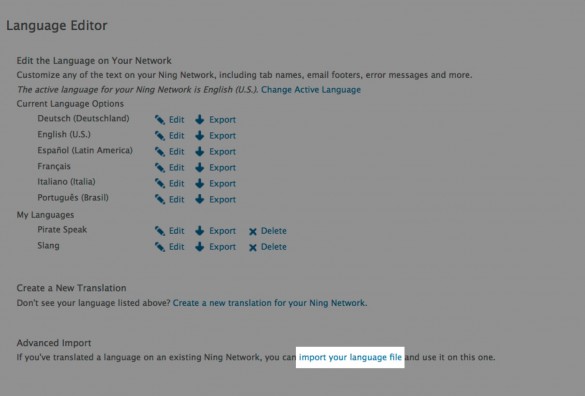 You can also export one of the Current Language Options or My Languages by selecting the "Export" link.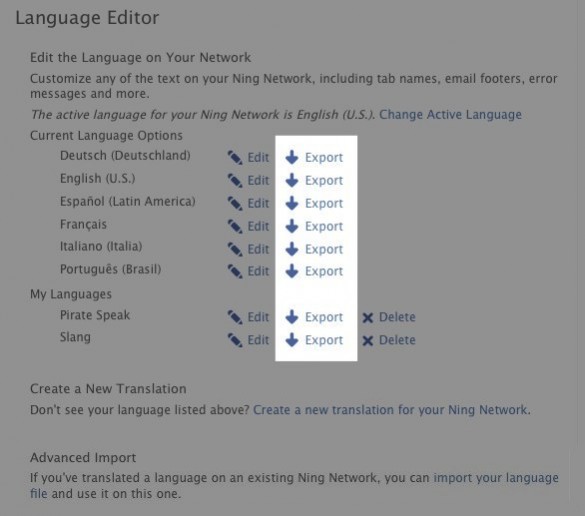 Please note: there are some differences between Ning 2.0 and Ning 3.0 language strings.
Edit the Welcome Email: If you'd like to customize your welcome email, you can do this from your "Message Templates" tab in your Member Management panel.
Similar Articles: