The new Ning 3.0 interface provides you with the custom tools you need to create your online community, combining publishing & community in a way you've never seen before. To top it off, Ning 3.0 offers some amazing new design options and even more flexibility for you to create a stunning community to reflect your unique brand or passion.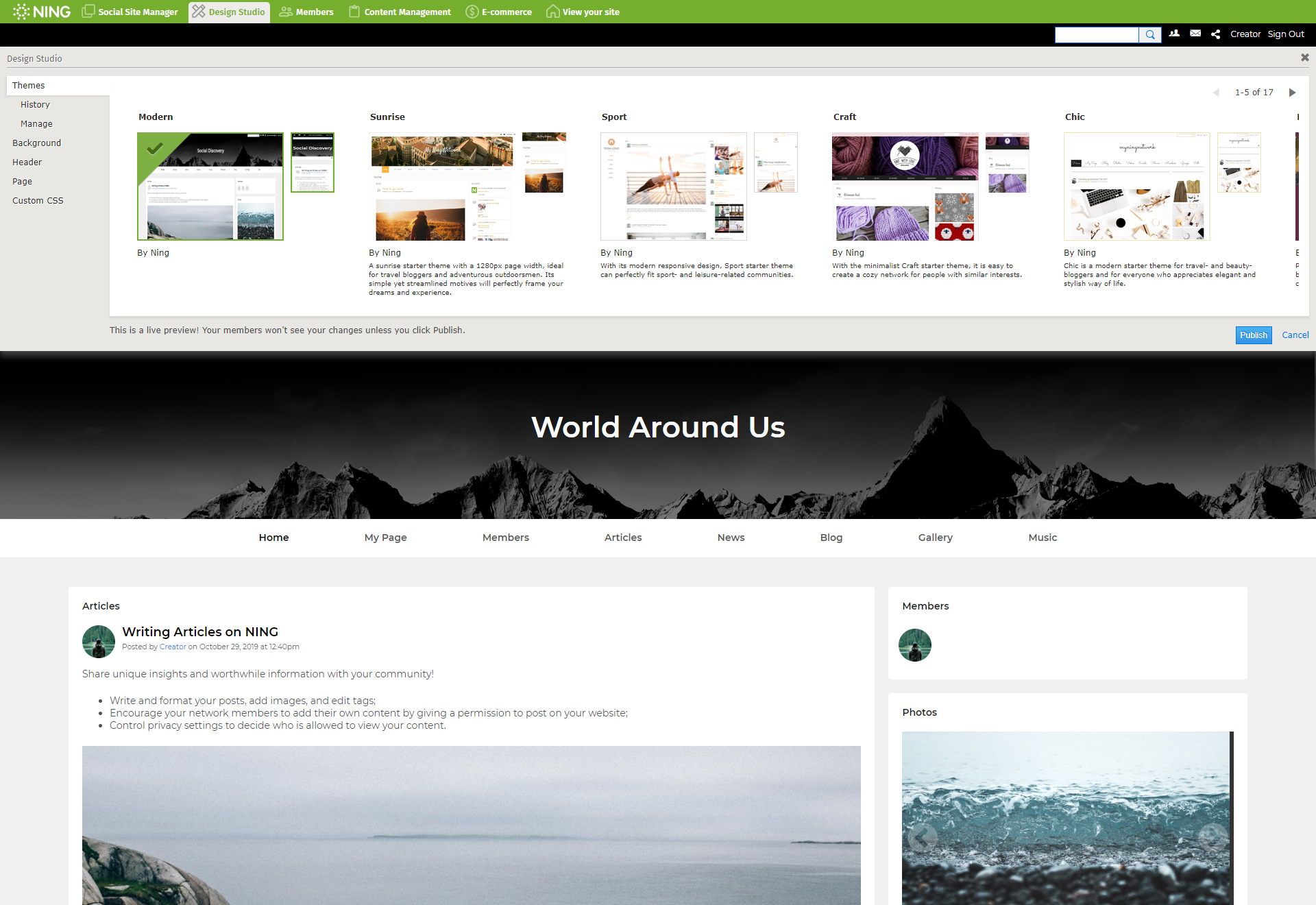 What's New?
Publishing + Community
Ning 3.0 has been re-architected to meet your core needs to both share your message and content with your members and foster engagement within your community. Ning 3.0 now provides powerful flexibility to interweave published or official content with community-generated content to maximize your member engagement.
Design
Ning 3.0 has a simpler and more powerful Design Studio with 1,400 background images, balanced color palettes and translucent options. It's now easy for anyone, from the non-technical to the advanced designer/developer, to create a stunning community design that reflects the high brand standards of a social leader. We've also redesigned the HTML of all features and pages, resulting in clean layouts and much improved ease of use.
Updated & New Features
• You can now have multiple instances of each feature, each with a distinct audience, contributors, commenting system and privacy settings. Need three Forums? You've got it. A community blog and an official blog? Done. That's the kind of flexibility we've built in that was never possible before.
• Social Site Manager The Social Site Manager is Page-based and allows for amazing flexibility and customization. Custom pages can now have different layouts and include listings of multiple features. Go ahead- get customizing!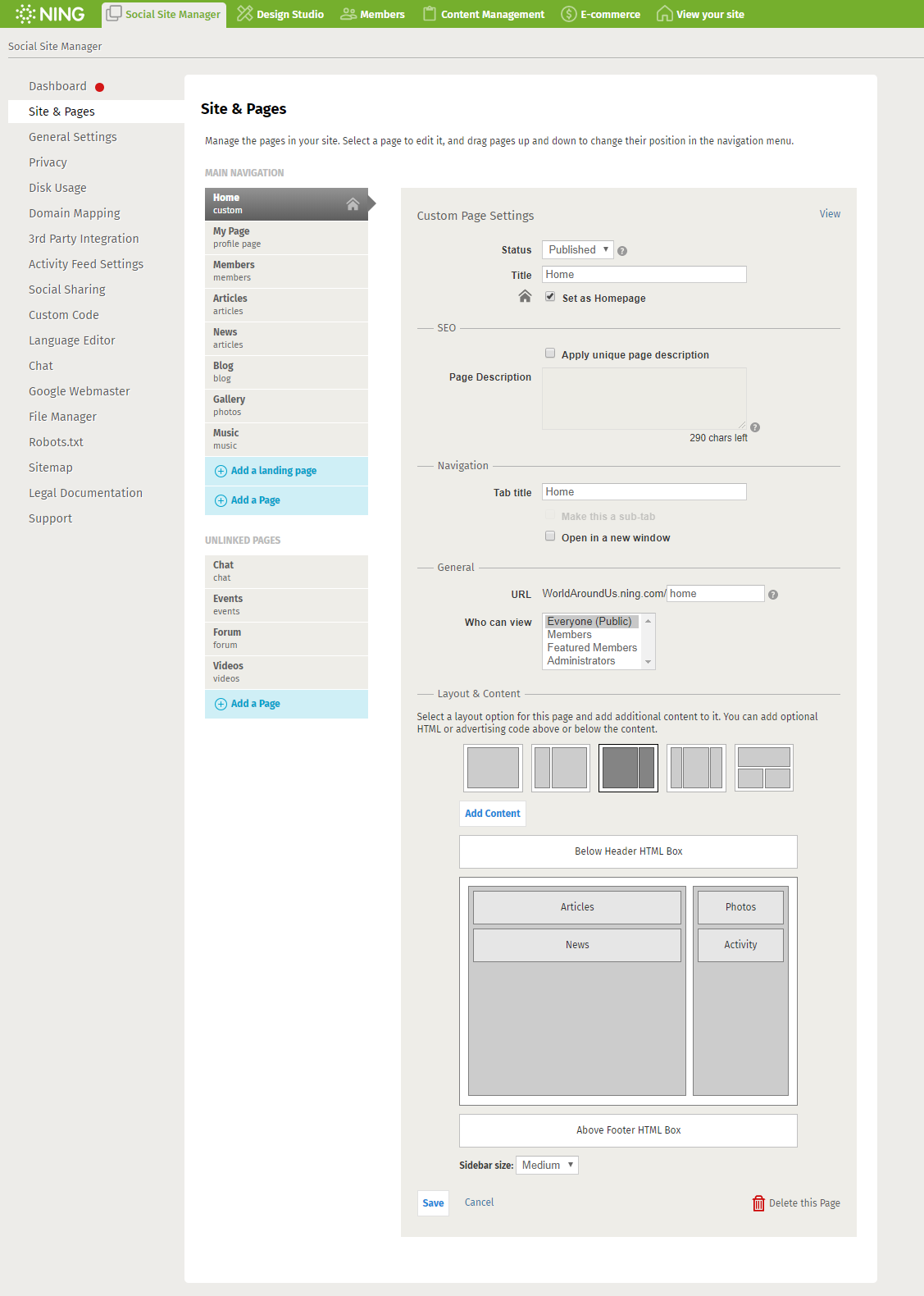 • Blogs We've redesigned the blog feature to be much cleaner. You can now have lead photos, excerpts, categorization and social options at the top of the post. You can even give non-members the ability to participate in the conversation, something that was never possible before.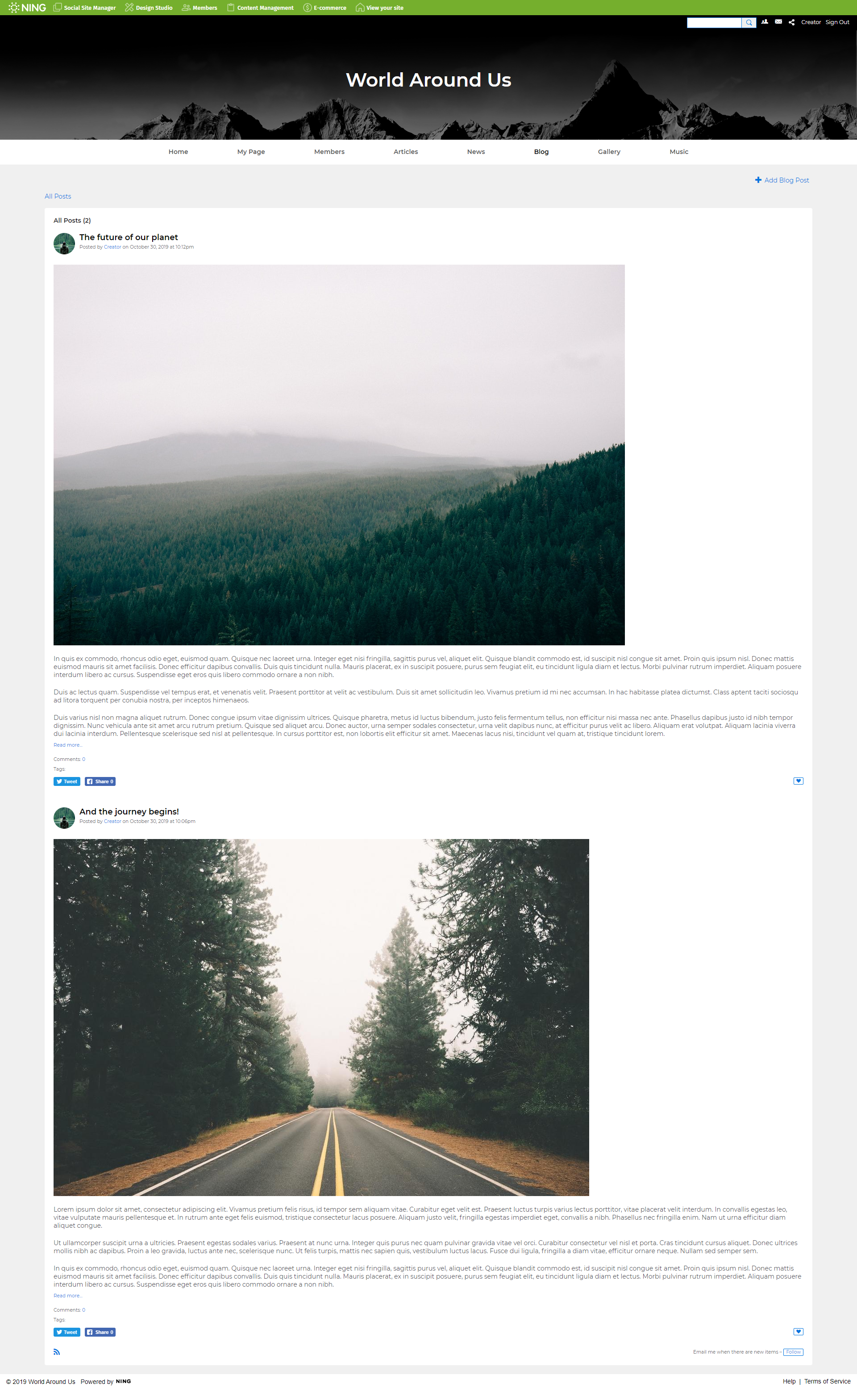 • Photos The redesigned photos feature is also much cleaner and consistent with other social photo platforms. They look sharper, more professional, and are more responsive on every device out there.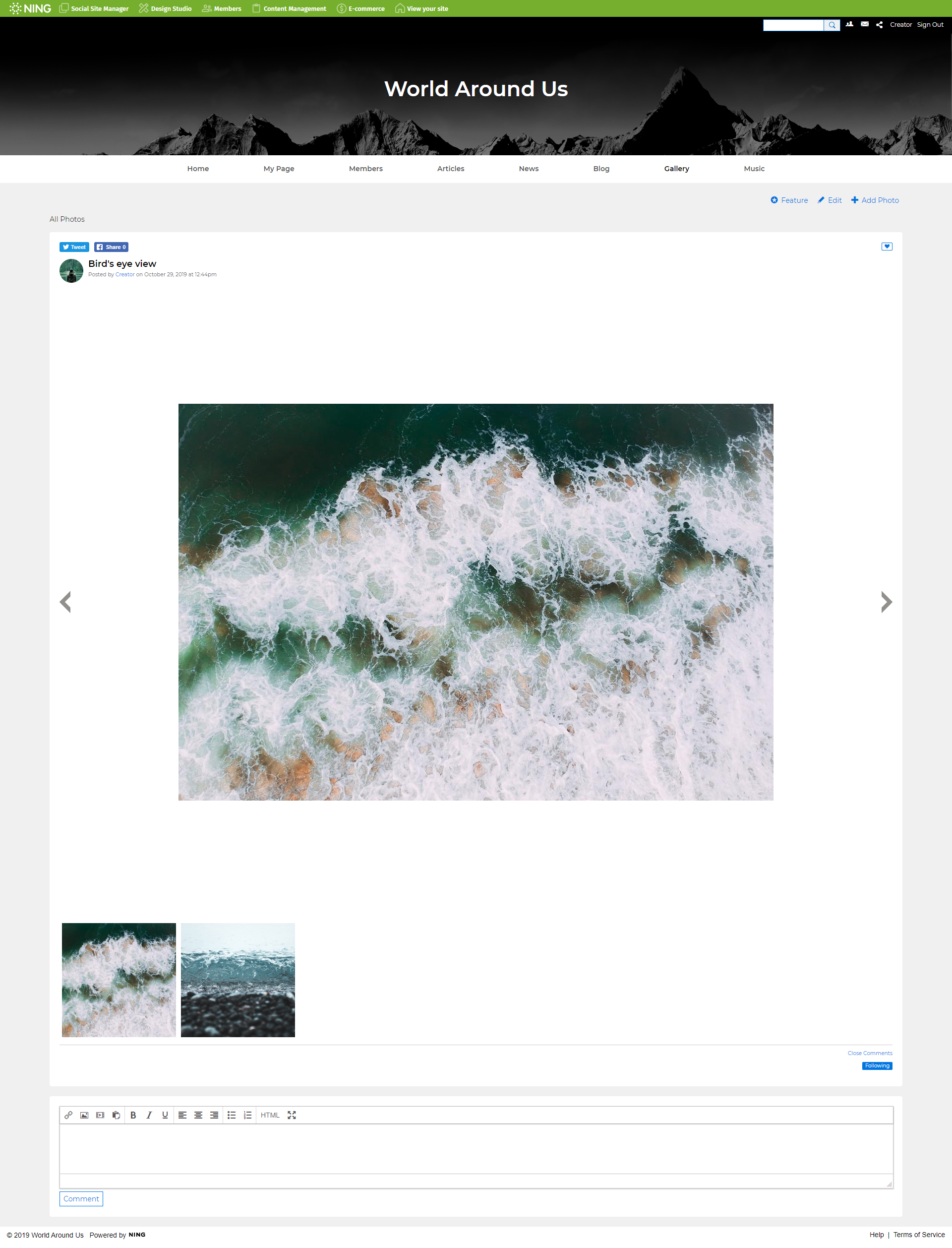 • Mobile  Ning 3.0's responsive design automatically re-sizes features and content based on the device you're using– smartphone, tablet or laptop. Pretty snazzy!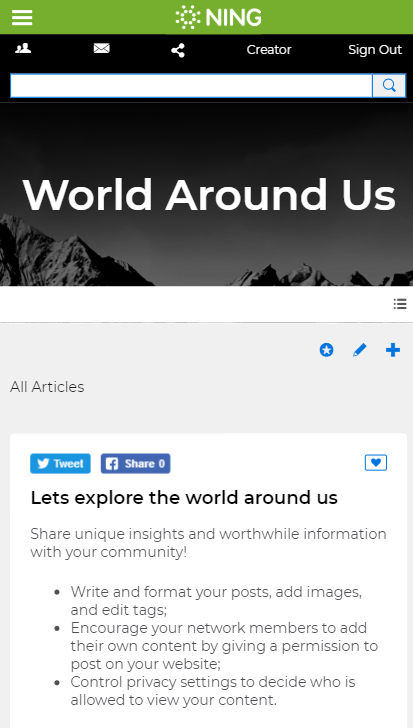 • Social Channels Ning 3.0 allows you to seamlessly aggregate your activities across other major social channels, like Facebook and Twitter, creating a social hub. Built-in sharing features enable your members to amplify your social reach and the new Social Channel feature allows you to pull in YouTube and Vimeo channels — getting your message across has never been easier!
• Commenting and Privacy All the features now have commenting systems: Ning or Disqus and you can enable or disable HTML comments. Public, private & everything in between? Why not! You can now control the privacy of nearly any page and feature. Mix and match to create teaser pages, restricted features, and exclusive content.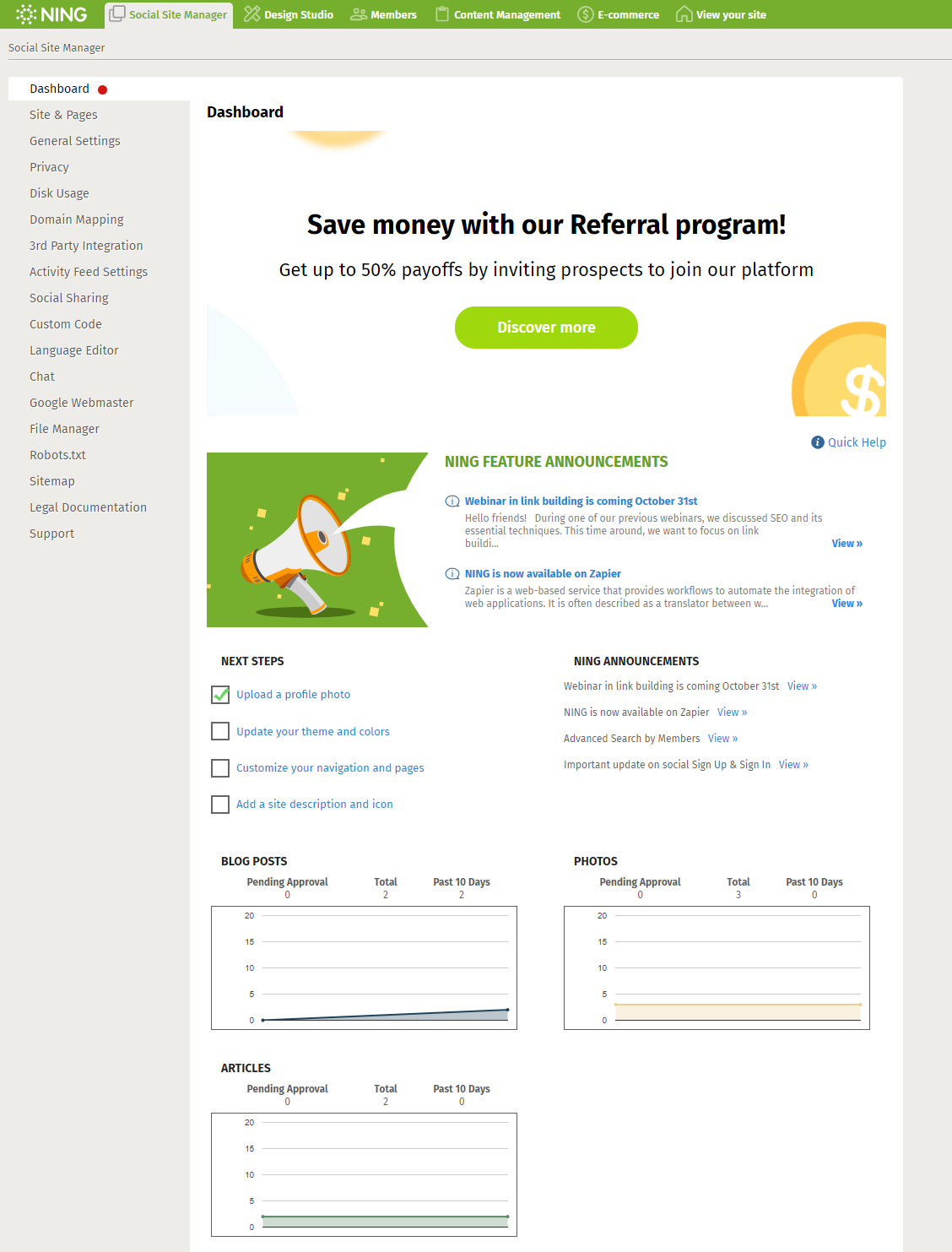 • Dashboard Ning 3.0 has a fully redesigned dashboard that feels infinitely more intuitive than the old one. It also has plenty of room to grow as we add analytics and data features to give community managers more insight into both the activity of your members and content performance.
Similar Articles: