Your Ning Network's Dashboard provides at-a-glance statistics about your Ning Network. It highlights recent announcements, showcases top content and is your gateway to customizing all of your Ning Network's features. As a Network Creator, you'll be directed to your Dashboard automatically when you sign in to your Ning Network. You can also access it by clicking the Dashboard Toolbar icon in the top-left corner of your network.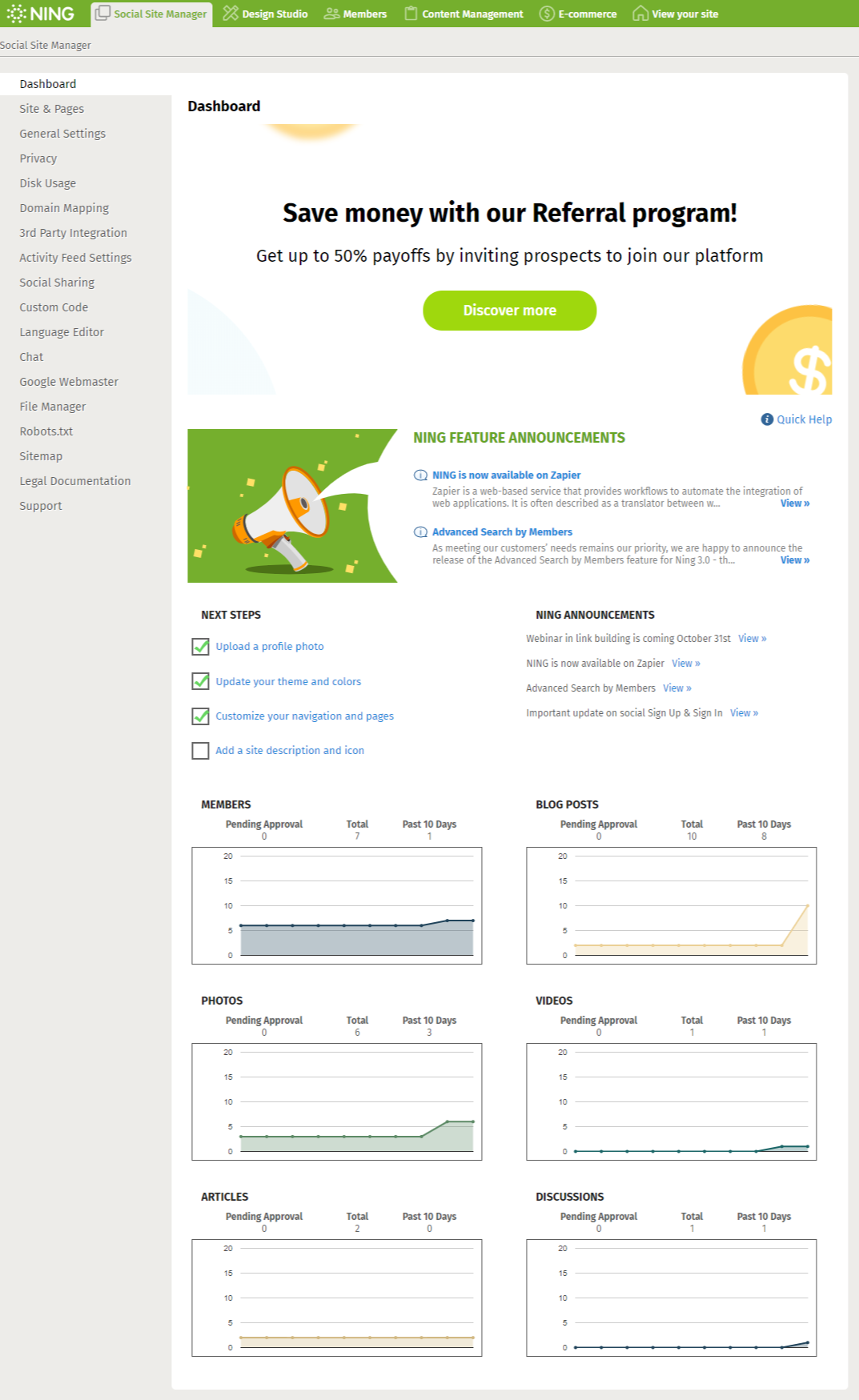 Graphs
The Dashboard breaks out various types of content into graphs. The Members section gives you a snapshot of information about members who have recently joined your Ning Network. It includes a table which shows members awaiting approval and members who have joined in the past 10 days. Clicking the number under the "Pending Approval" column will take you to the Member Moderation page.
You'll also see grapsh for Blog Posts, Photos, and Discussions with content pending approval and content added in the last 10 days. Click on the number in the "Pending Approval" column to moderate content in each feature, which will take you to the Content Moderation page for that content type. Underneath the Content Section table, a chart shows day-by-day contributions from your members. Hover over the line in the graph to see a daily breakdown.
Ning Announcements & Next Steps
Under Ning Announcements, you'll find messages from Ning Team about upcoming features, company updates, and other communications. The Next Steps section shows communication specific to your Ning Network. It will recommend features you haven't added yet but that are available and may be helpful, such as adding a site description.
Control Panels to Customize Your Ning Network
Along the top of the dashboard you'll see tabs to customize and control your Ning Network. These are divided into the following areas:
Social Site manager – Add and remove features, customize network details, add a custom URL, and manage social features
Design Studio – Customize the theme, color scheme, and other appearance details
Member Management – Moderate members, export member data, and set controls over what members can do on your network
Content Management – Moderate content
Let's start create a website with Ning: https://www.ning.com/website-builder/
Similar Articles: