On your Ning 3 Network, you have the ability to add categories to the features and feature instances that you create. In addition, for further organizational help, you can add tags to your individual content items. Tags are a great way to further categorize blog posts, forum discussions and photos on your network.
A tag will appear beneath the content item in question. Here's how this looks when viewing a photo that has been tagged with "stage," "bands" and "folk":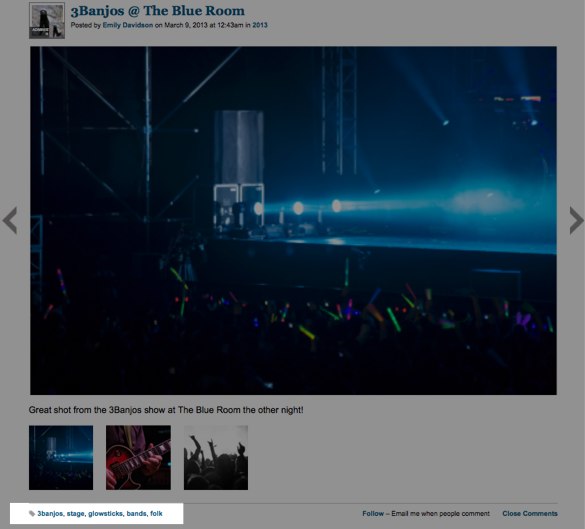 Click on any of those tags to see other content in this Photos instance with that same tag. In this example, I can click on the "stage" tag to be taken to a page showing that there is another photo tagged with the word "stage":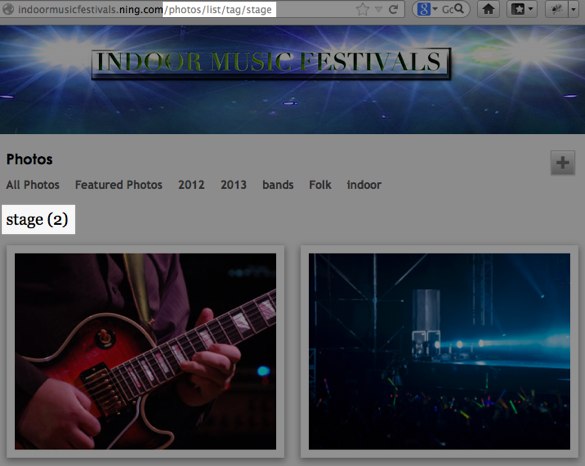 Clicking on the "stage" tag also generates a URL specific to your tagged query and will look something like http://yournetwork.ning.com/photos/list/tag/stage.
Did you know?
You can add up to 100 characters in the Tags section.
Separate tags with commas and put any multiple-word tags in quotes.
You can additionally copy these tag-specific URLs and add them to your navigation menu. This is a great way to highlight content with a particular tag, and also enables your members to quickly and easily find content of a specific sort on your network.
Creating tabs based on tags
To create tabs in your navigation menu, click on the wrench icon at the top of your network, then click on the tablet icon. This will take you to the Sites & Pages management of your dashboard. From here, go to your Social Site Builder and click on the "Add a Page" button (make sure it's under the Navigation section). From the "Page Type" drop-down menu, select "URL" and paste your URL in the space provided.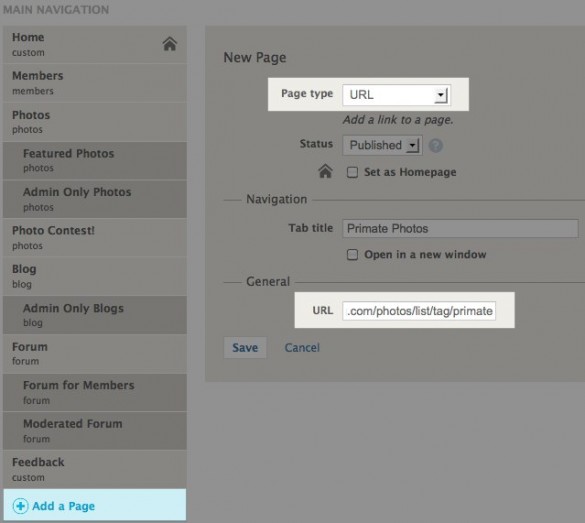 Save your changes, and you'll now have a tag specifically for photos in the Photos instance that have been tagged with the word "primate".
Similar Articles: