Every few weeks, we host open meetups called Ning Tech Talks at our headquarters in downtown Palo Alto, Ca. Our meetups cover a variety of engineering and technical topics as they relate to the Ning Platform, and more generally, to the development of web and social technology used by millions of people everyday.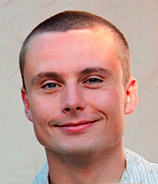 Next week, we have our first guest speaker, Luke Wroblewski, highlighting the key reasons to consider mobile first when designing and developing applications and Web products. Luke is currently Chief Product Officer and co-founder of Bagcheck Inc, and most recently he was an Entrepreneur in Residence (EIR) at Benchmark Capital and Chief Design Architect (VP) at Yahoo!, where he worked on product alignment and forward-looking integrated customer experiences on the Web, mobile, TV, and beyond. He has presented in over 50 cities across the world, and we couldn't be more excited to have Luke speak with us at Ning HQ.
We invite you to join us by RSVPing to Luke's Tech Talk on the Ning Tech Talks Meetup page. Be sure to RSVP early, as space is limited! Things kick off at 6 PM (Pacific) on Wednesday, August 3 at Ning HQ. We'll be serving food and refreshments, and you'll have time to mingle before and after Luke's presentation. We look forward to seeing a lot of new faces at Ning HQ for this Tech Talk.
We're also planning to broadcast Luke's Tech Talk through our partnership with Ustream, so if you can't make it, tune in online. We'll post more details here on Wednesday.